Ozone Generator
TGOGS™
Toshiba's Ozone Technology provides
Water Purification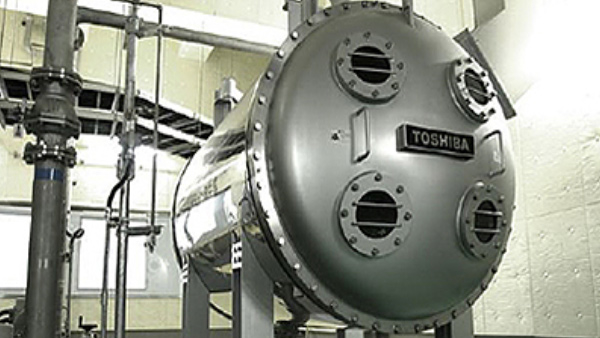 Why Ozone?
Effects of Ozone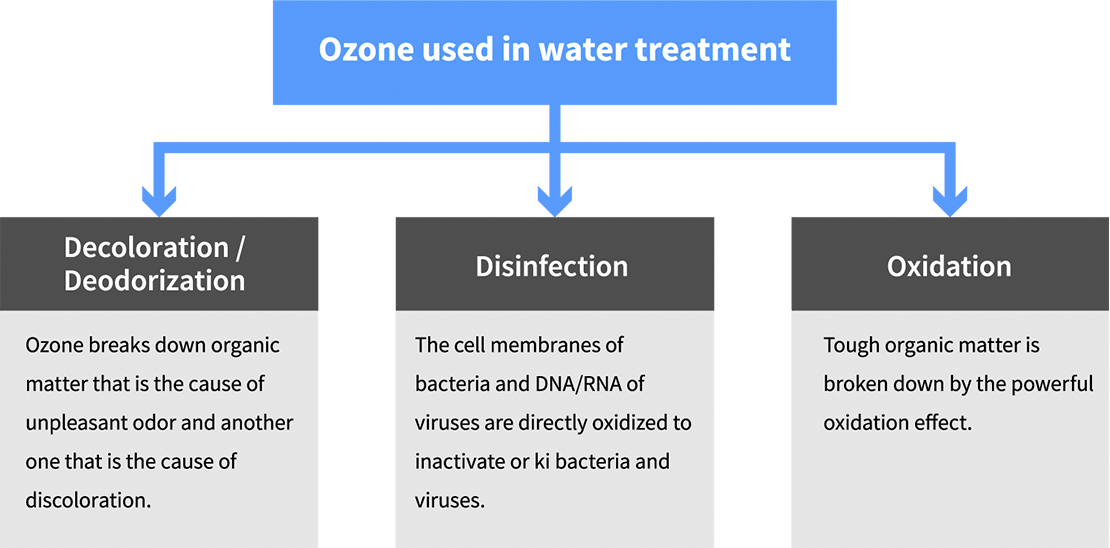 Highlights
1Ozone is a powerful oxidant, stronger than chlorine.
Ozone is used to disinfect, deodorize, decolorize and decompose organic substances in water. It is also used to prevent formation of THMs(*1) in water.
2Ozone molecules are unstable in water, decaying to ordinary diatomic oxygen molecules.
The ozone system has a low impact on the environment.
3Only feed gas and electric power are required for ozone generators.
Ozone is generated internally without transportation or storage.
(*1) THMs: Trihalomethanes

Ozone Generator
Principles of Ozone Generation
A large amount of ozone is generated efficiently by silent discharge.
The silent discharge continually occurs without spark when a high AC voltage is applied between the two electrodes placed parallel to each other through dielectric material.
When dry air or oxygen flows between the electrodes, oxygen atoms (O) are ionized, and ozone (O3) is formed in recombination of ionized oxygen atoms (O) and unionized oxygen molecules (O2).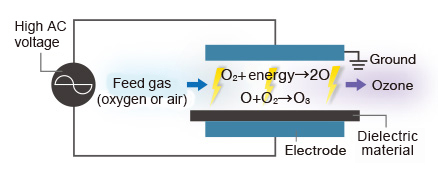 Features of the TGOGS™ Series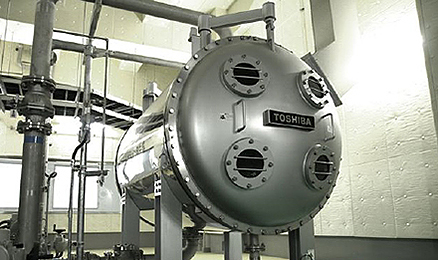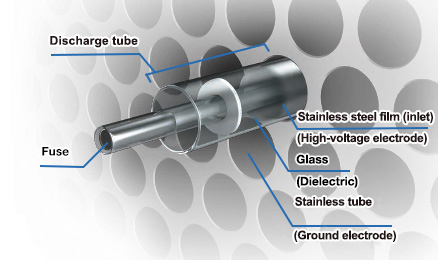 High efficiency and low power consumption
Accurate and narrow discharge gap
Designed using simulation technology
High level of safety
Subjected to rigorous testing
Substantial in test facilities
High reliability and durability
Equipped with discharge tubes on own fuse
Containing stainless steel high-voltage electrodes
Easy maintenance
Light and easy to handle
Simple in structure
Long life
Corrosion-resistant with high-voltage electrodes
Innovation
Developing new technologies in own research laboratories
History of Toshiba's Ozone Generator
This table can be scrolled horizontally.
History of Toshiba's Ozone Generator
1970s

Launched a large cylindrical ozone generator
Ozonated to oxidize NOx in exhaust gases by thermal power generation

1980s

Developed a flat plate ozone generator
Introduced a high-frequency (1 kHz) power device and cylindrical ozone generator to ensure high ozone concentrations and improve efficiency
Applied an ozone generator to discolor the water treated at night soil disposal plants in Japan

1990s

Delivered the largest scale (31 kg/h) air-fed ozone generator
Supplied an oxygen-fed ozone generator
Developed a coplanar discharge ozone generator
Introduced ozone generators for advanced water treatment to reduce THMs in tap water, and for advanced sewage treatment to reclaim water

2000s

Supplied a high-concentration air-fed ozone generator (3 wt%)
Introduced an optimized ozone injection control system with fluorescence intensity
Developed a generator with enhanced energy-saving performance and high ozone concentration

2010s

Won the Japan Business Federation Award for invention of ozone-based chemical decontamination technology
Won the Japan Ozone Association Award for development of ozone-based chemical decontamination technology for nuclear power plants
Developed the TGOGS™ high-efficiency ozone generator series
First introduced a fluorescence control method for a water purification plant in Japan to reduce bromic acid, inject optimized ozone and adapt to sudden changes in influent water quality
Wide Range of Applications
For Municipal Field
Water purification plants
The ozone treatment process varies according to the purpose of treatment. Ozone injection points are determined by the expected effect or substance to be treated.
Reduction of THMs
Improvement in odor and color
Reduction of organic compounds
Disinfection
Removal of inorganic matter such as iron and manganese

Sewage treatment plants
Disinfection
Improvements in odor and color

For Industrial Field
Factories
Reduction of COD(*2)
Improvements in odor and color
Decomposition of persistent substances such as endocrine disruptors and medicines
(*2) COD: Chemical Oxygen Demand
Suitable for application in:
Dye works
Oil and gas plants
Food and beverage factories
Iron-making factories
Pharmaceutical plants
Metal plating factories
Sugar factories
Leachate treatment plants
Pulp and paper plants
...and more
Cooling water for thermal power generation plants
Disinfection
Prevention of scaling
Highlights
Reduction in O&M(*3) costs
Reduction in blowdown and make-up water
Ozone is decomposed into oxygen, thus no harmful substances are left or contained in the blowdown water.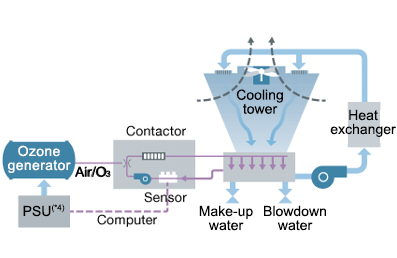 (*3) O&M: Operation and Maintenance
(*4) PSU: Power Supply Unit
System Configuration
We, Toshiba, provide flexible system configuration to meet the particular treatment requirements and capacities of our clients.
Ingredient gas suppliers, cooling systems, waste ozone decomposition systems and reaction tanks are configured according to the inflow water quality, treatment capacity and location of installation.
We ensure reliability, economic efficiency and maintainability to offer ozone treatment systems by taking into account different circumstances.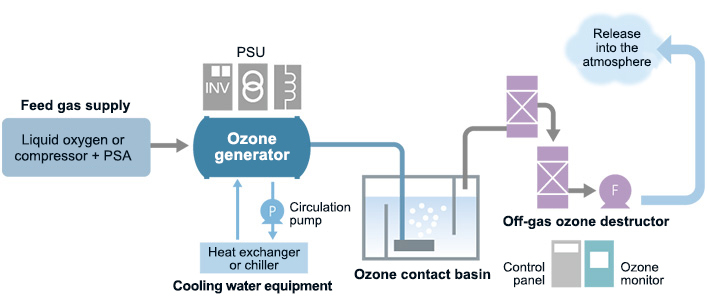 Layout of Devices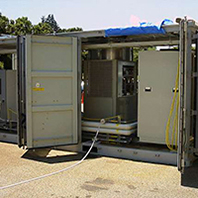 Example of containerized type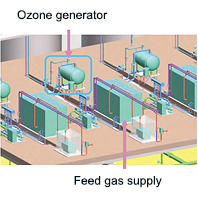 Example of layout and piping
We offer a system layout suitable for your needs by taking into account electrical equipment; ingredient gas piping, cooling water and gases containing ozone; ease of operation and maintenance; safety of the work environment; and efficient use of installation space.
Monitoring and Control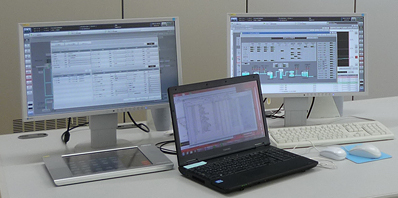 Based on reliable electrical and instrumentation technologies cultivated over many years of experience, we offer optimal monitoring and control systems.
Product Line-up
This table can be scrolled horizontally.
Product Line-up

| | | |
| --- | --- | --- |
| | Oxygen fed | Air fed |
| Ozone production | Max. 120 kg O3 /h | Max. 50 kg O3 /h |
| Concentration | Max. 13 wt% | Max. 3 wt% |
| Specific energy | 7 to 8 kWh/kg O3(*5) | 14 kWh/kg O3(*5) |
| Regulation range | 10 to 100% | 10 to 100% |
(*5) When the cooling water inlet temperature is 15 ℃
TGOGS™ Ozone Generators Brochure
Please download the TGOGS™ Ozone Generators brochure.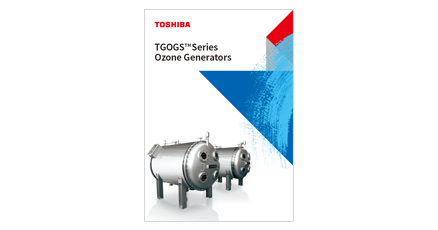 Contents
Introduction
Features of the TGOGS™ Series
Applications of Ozone in Water Treatment
System Configuration
Examples of Ozone Generators in Operation
TGOGS™ Ozone Generators (PDF)(8.88MB)
Personal data received from customers is encrypted and protected by SSL.
You might not be able to use the inquiry form if your browser does not support SSL or if you access this website from a corporate network protected by a firewall.
Your email address is required to download the brochure.
Global Network
With our expertise and rich experience in water and sewerage infrastructure development in Japan, we conduct business on a global scale.
We operate worldwide, and enhance capacity to provide the best solution to meet the needs of our clients.
We contribute to the creation of environmentally advanced communities with sustainable water infrastructure in response to regional, cultural and environmental requirements.