Stormwater Drainage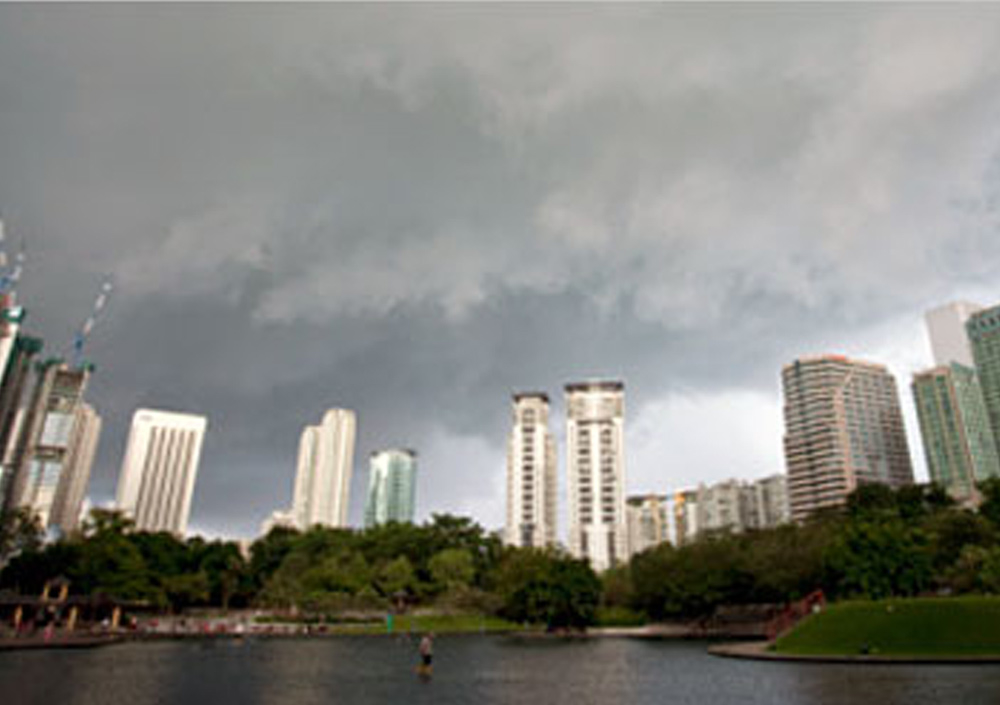 Overview
Flooding risk is increasing in urban areas due to localized torrential rains as well as decreasing land areas where stormwater is infiltrated due to urbanization.
We, Toshiba, effectively use IT systems and forecast stormwater dynamics to accurately observe the constantly changing rain conditions. We contribute to the safer drainage of stormwater and improvement in water quality discharged into combined sewer systems while comprehensively managing and operating sewage treatment plants, pump stations and stormwater reservoirs located in different areas.
Stormwater Drainage System
Overview
In recent years, floods due to sudden localized torrential rains, especially, caused by the unpredictable formation of huge cumulonimbus clouds, are increasing in urban areas. Even intense rainfall for several minutes can rapidly increase stormwater inflow into pump stations, causing stormwater drainage pumps to malfunction. By monitoring sudden torrential rains and predicting stormwater inflow into pump stations in real time, we combine rainfall data observed by the radar and ground rain gauges, to assist our clients in properly working their pumps.
Highlights
Here are our solutions for stormwater drainage based on the rainfall data observed by the radar and ground rain gauges.
Rainfall data (observed by the MP radar, radar rain gauge, phased array radar and ground rain gauge) is provided to sewage treatment plants.
Stormwater inflow into sewage treatment plants (stormwater inflow prediction technology) is predicted.
Functions to support the operation of stormwater pumps are performed based on the predicted inflow (real-time control, automatic stormwater pump control system, stormwater pump operation support system, confluence improvement and flood control measures).
Manpower assignment support is available to operators (manpower assignment support system).
Configuration Example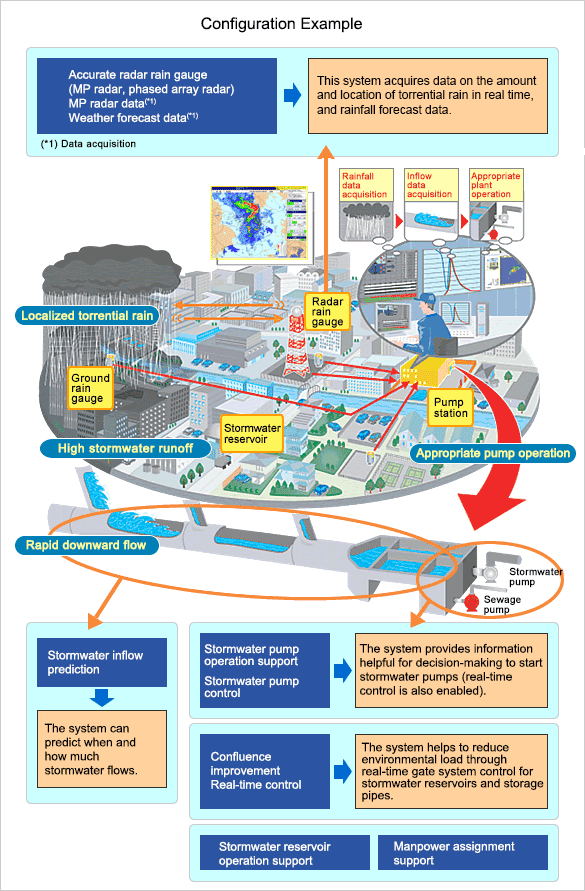 Related Systems
Related Products
Global Network
With our expertise and rich experience in water and sewerage infrastructure development in Japan, we conduct business on a global scale.
We operate worldwide, and enhance capacity to provide the best solution to meet the needs of our clients.
We contribute to the creation of environmentally advanced communities with sustainable water infrastructure in response to regional, cultural and environmental requirements.