O&M

Overview
Water supply and sewerage systems require stable and efficient O&M(*1). Various O&M services are in progress.
We, Toshiba, provide daily O&M services on a regular basis and help our clients improve systems, operations and maintenance.
We consider any issues on the part of our clients as our own, and work together to address the issues.
(*1) O&M: Operation and Maintenance
Highlights
We provide high-quality O&M services for water supply and sewerage systems, which meet the expectations of our clients.
Our energy saving and efficient operations helps to generate operation cost benefits.
We support our clients to provide stable water quality and quantity through appropriate O&M.
We provide condition-based maintenance with our technological expertise to prolong the system life.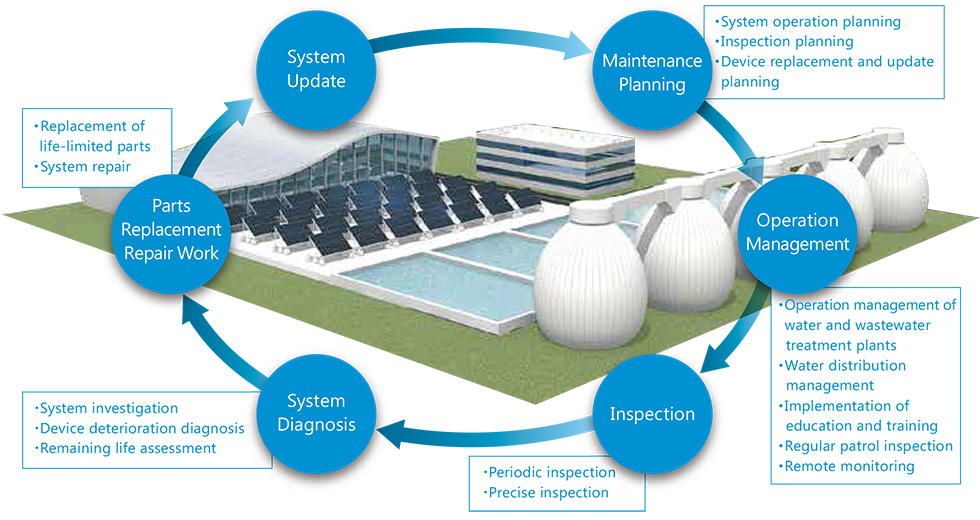 Global Network
With our expertise and rich experience in water and sewerage infrastructure development in Japan, we conduct business on a global scale.
We operate worldwide, and enhance capacity to provide the best solution to meet the needs of our clients.
We contribute to the creation of environmentally advanced communities with sustainable water infrastructure in response to regional, cultural and environmental requirements.