Partially-filled type
Electromagnetic Flowmeter
LF502
Partially-filled type Electromagnetic Flowmeter: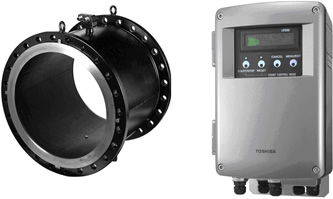 Partially-filled type Electromagnetic Flowmeter LF502
General Specificaition
Position of electrodes in The LF502 Electromagnetic Flowmeter is so designed that it can be used even in a partially-filled pipe to measure the flow rate.
Improved functional magnetic field distribution technique enables a high-precision flow measurement continually from low-level to fully-filled flow conditions. This eliminates unnecessary piping work such as lifting the downstream pipe section to fill the detector pipe.
Compared with flowmeters measuring the flow rate by means of flow level, the obstructionless LF502 flow-meter does not usually allow mud, sands and other solid sediment stay at the bottom of the detector pipe and is unaffected by wave or floating solids on the fluid surface.
The AF900 Hand-held terminal (HART(*1)Communicator) can be used for remote control.
*1

HART protocol (Highway Addressable Remote Transducer) is a communication protocol for industrial sensors recommended by the HCF (HART Communication Foundation).
Main Specifications
Main Specifications List
This table can be scrolled horizontally.
Main Specifications List
Mounting style
Flange connection type
Meter size
150mm, 200mm, 250mm, 300mm, 350mm, 400mm, 500mm, 600mm
Measuring range in terms of flow velocity
From 0 - 60m3/h (Standard) to 0 - 5000m3/h
See The Specification sheet for each meter size.
Note: Flow rate is almost 0 - 1m/s (Standard) to 0 - 5m/s flow verocity.
Accuracy
+/-2% FS
Fluid-level range
Meter size 150mm to 300mm: 30mm to fully-filled condition
Meter size 350mm to 600mm: 10% of inside tube diameter to fully-filled condition
Note: The fully-filled condition means a 100% of nside tube diameter.
Ambient tempearture
-10 to +50℃
Fluid temperature
0 to +55℃
Electrode materials
SUS316L (Standard)
Ti, Hastelloy C
Grounding ring materials
SUS316 (Standard for 150 to 400mm)
SUS304 (Standard for 500 and 600mm)
See The Specification sheet for optional materials and other related information.
Lining materials (Meter size: mm)
EPDM rubber (Standard for 150 to 400mm)
Chloroprene rubber (Standard for 500 and 600mm)
Teflon PFA (Option for 150 to 400mm)
Structure
IP67 (Standard), IP68 (Option)
Power consumption
50VA or less
Power supply
AC100V to AC120V, 50/60Hz Allowable voltage AC80V to AC132V