Partially-filled type Electromagnetic Flowmeter Measurement
Principle and Feature
Partially-filled type Electromagnetic Flowmeter Measurement Principle and Feature
Partially-filled type Electromagnetic Flowmeter Measurement Principle
The Partially-filled type electromagnetic flowmeter uses Faraday's Law of electromagnetic induction in the same way as conventional electromagnetic flowmeters to measure the flow rate.
However, new method is adopted for the electrode and the coil arrangement.
Direction of magnetic field is horizontal because a positon of electrode is designed at the bottom of measurement tube.
A reference point of potential is detected in grounding ring at the end of detector pipe.
Directly detecting electromotive force following flow volume, the flowmeter achieves a high-accurate measurement continually even in low-level flow condition.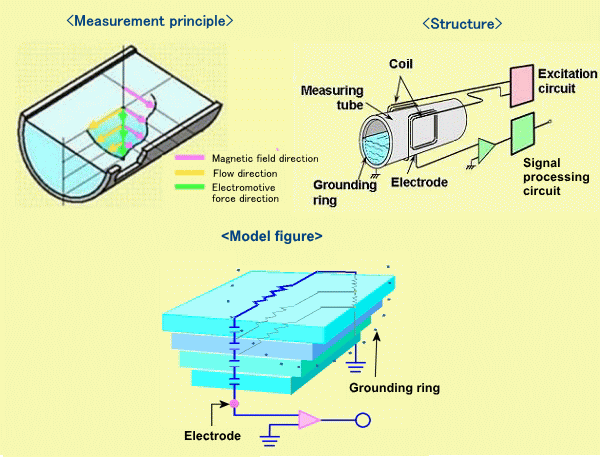 Partially-filled type Electromagnetic Flowmeter Measurement Feature
Direct detection by the flow volume, not by flow level
High accuracy within +/-2%FS from low-level to full-filled condition.
Unaffected by wave and floating solids on the fluid surface.
Obstructionless
Mud, sands and other solid sediment don't stay at the bottom of the detector pipe.
High reliability and easy maintenance.
No Pressure loss.
Cost reduction for install
Unnecessary for the additional piping work such as lifting the downstream pipe section to fill the detector pipe.