Policy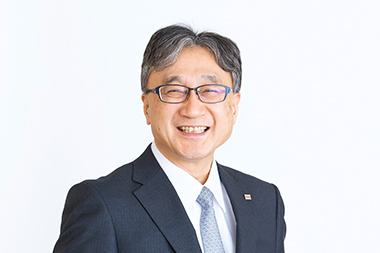 Toshiba Group aims to become a world-leading cyber-physical-systems (CPS) technology company by integrating experience and capabilities cultivated over 140 years in the physical field of manufacturing industry with strengths in cyber technologies derived from over 50 years of research in AI.
CPS collects data from the real, physical world through sensing, and then uses the digital technologies of the cyber world to analyze and predict, and to deliver repeated feedback flows to the real world. We create services and solutions through a constant feedback loop between the cyber and physical worlds that drives forward innovation.
Towards becoming a world-leading CPS technology company, we are promoting three technology development policies: to differentiate competitive components and enhance their capabilities for the Edge; to reinforce AI-based digital technologies; and to deploy the "Toshiba IoT Reference Architecture (TIRA)" and services.
By enhancing Edge capabilities, we mean to provide functions that link the cyber and physical worlds using IoT and AI technologies. That is the crucial basic function for deploying new services and platform businesses.
For instance, we are focusing on power electronics, the "Visconti™"- image recognition processor, the "SCiB™"- rechargeable battery, and intelligent robots, as components to enhance edge capabilities.
Our strategy for reinforcing AI is to transition from manual intervention that requires repeated learning of very large number of correct answers, to that the ability to learn from limited data, including missing data by using technologies to identify failure factor, and ultimately to advance to self-learning AI.
We systemize domain knowledge from our social infrastructure businesses, energy businesses, and manufacturing. We analyze data from our products and systems and use it to optimize their operation. We then use TIRA to create and deploy services to meet various needs for efficiency and convenience in operations and maintenance. As cutting edge technologies to solve social problems, we focus on three fields, – precision medicine, de-carbonization and carbon usage, and quantum applications – and continue to create new businesses.
Guided by the basic commitment of Toshiba Group, "Committed to People, Committed to the Future", and by realizing CPS underpinned by our technologies and venture spirits, we turn on the promise of a new day.

FY2021 "Toshiba IR Day" Technology Strategy Briefing presentation document
(February 7 and 8, 2022)
Organization
Toshiba R&D organizations are composed of Toshiba corporate's R&D organizations at headquarters and independent corporations' R&D organizations and technology and engineering divisions. We pursue research and development efficiently together with technological divisions. Toshiba corporate's R&D organizations have a mid-to-long term outlook to enhance fundamental technology, research new business areas, and work on innovative and future-looking research and development.
Toshiba Independent corporations' R&D organizations and technology and engineering divisions support fundamental technologies of our business domains, and develop new products and differentiated technology in line with our business plans. We work on commercialization of products and mass production that satisfy our customers' needs. Toshiba Group brings new products to the market in close collaboration with these divisions.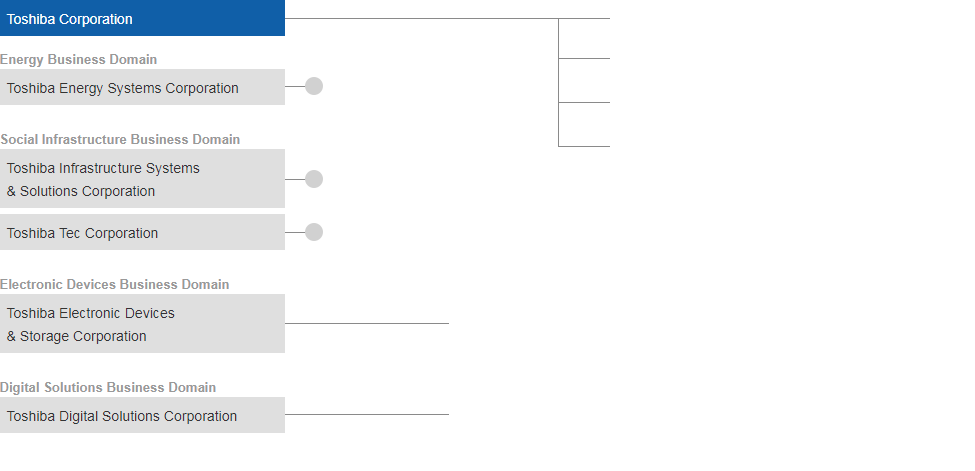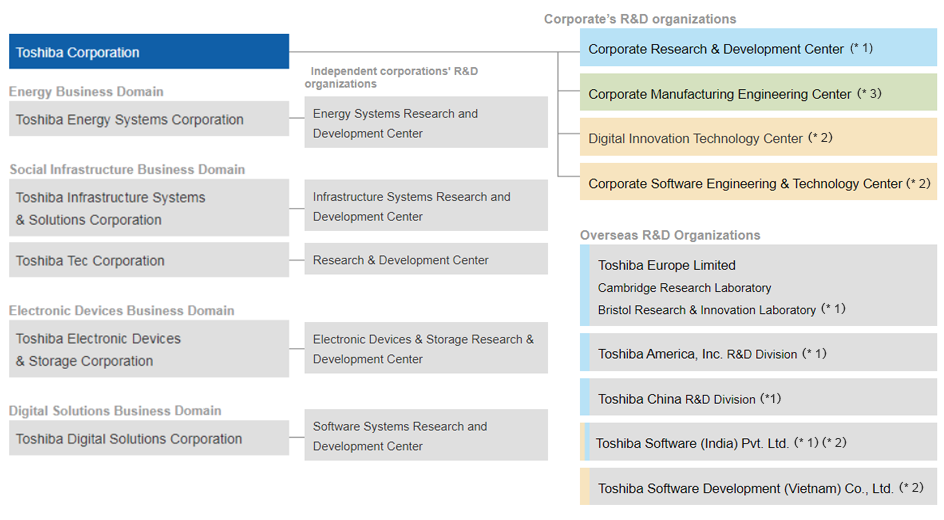 Independent corporations' R&D organizations

Research & Development Center

Electronic Devices & Storage Research & Development Center

Software Systems Research and Development Center
Corporate's R&D organizations

Digital Innovation Technology Center(* 2)
(* 1)This is the locations related to Corporate Research & Development Center.
(* 2)This is the locations related to Corporate Software Engineering & Technology Center.
(* 3)This is the locations related to Corporate Manufacturing Engineering Center.