Policy
Technologies playing leading role in realization of
carbon neutrality and resilient infrastructure,
guided by the basic commitment of Toshiba Group,
"Committed to people, Committed to the Future"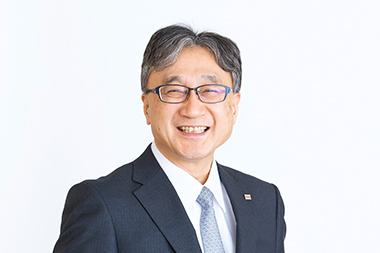 Recent years, carbon neutrality initiatives, centered on a renewable energy expansion, have been accelerated throughout the world. We also have to consider intensifying natural disaster, such as increasingly devastating earthquakes and flooding triggered by climate change, aging social infrastructure, a declining working population, supply chain disruption due to the COVID-19 pandemic and geopolitical risk, and cyber-attacks. All of these are causing major impacts on people's lives, and the need for infrastructure resilience is increasing.
Guided by The Basic Commitment of Toshiba Group - "Committed to People, Committed to the Future." - we will play a leading role in realization of a carbon neutrality and resilient infrastructure. We are striving to provide optimal solutions for urgent issues facing society and our customers by utilizing our strengths in CPS technologies, in line with our "Energy x Digital" and "Infrastructure x Digital" initiatives, which will enhance energy and infrastructure businesses with digital. Specifically, we will offer differentiated devices, components and systems that will lead the evolution of social and information infrastructure, and our "TOSHIBA SPINEX" brand infrastructure services and solutions based on open IoT reference architecture.
In "Energy x Digital" initiatives, our goal is to advance carbon neutrality throughout the energy chain of "generate," "transfer," "store" and "use smartly". We are promoting domestic production of electrical components for offshore wind power generation turbines, in a strategic partnership with other companies. We are also developing wind condition analysis technology in an industry-academia collaboration to optimize the overall efficiency of entire offshore wind farms. In addition, we are developing thin-film based perovskite module with the world highest efficiency of 15.1%*1. In energy storage areas, our SCiBTM lithium-ion battery offers the advantage of its long life and high reliability. We are also advancing P2G technology, power to gas, that converts renewable energy into CO2-free hydrogen. For stable supply and demand balance for renewable energy, we will provide energy aggregation, energy management and matching services based on our high-precision forecasting technologies for power generation and demand, as one of the TOSHIBA SPINEX for Energy.
In "Infrastructure x Digital" initiatives, throughout the resilience life cycle of Prepare, Find, Protect and Maintain, we will offer products, technologies, and managed services developed by the extensive knowledge and expertise cultivated through decades of experience in the infrastructure design, operation and maintenance, and combined with digital technologies such as AI and security. In water supply and sewerage solutions, we are contributing to the realization of safe, secure and sustainable water supply and sewerage services with public-private partnership, such as automation of plant operation, early detection of failure signs and optimal control of stormwater drainage. In logistics solutions, responding to emerging EC market, we will provide intelligent picking robots that can operate wide product types, and optimal warehouse operation services that deploy both workers and robots. And our industrial solutions based on Toshiba's manufacturing knowledge is Meister series that make data collected from factories effective and strengthen a supply chain. We are also engaged in development of quantum cryptography communications, which are impossible to eavesdrop, and we have succeeded in developing world-best and world-first technologies, including communications over a distance of 600km and miniaturization using optical integrated circuits.
In semiconductors and storage devices, our target business areas are automobiles and industrial equipment. We launched new 300mm mass production line for power semiconductor, and we will expand a lineup of our products, including power MOSFET*2 that deliver world-class performance, and IEGT*3 which we were first in the world to develop. Moreover, our next-generation compound semiconductors, such as Sic and GaN, can realize higher device reliability and efficiency, and advance miniaturization. In storage products, especially HDD for data center, we will continue to develop large-capacity nearline HDD products that use next-generation assisted recording technology to deliver higher recording densities.
Guided by The Basic Commitment of Toshiba Group - "Committed to People, Committed to the Future.", we will continue to make our best efforts on development and social implementation of our cutting-edge, fundamental and engineering technologies.
*1 As of September 2021.
*2 Metal Oxide Semiconductor Field Effect Transistor
*3 Injection Enhanced Gate Transistor

Preparing a message.
FY2021 "Toshiba IR Day" Technology Strategy Briefing presentation document
(February 7 and 8, 2022)
Organization
Toshiba R&D organizations are composed of Toshiba corporate's R&D organizations at headquarters and independent corporations' R&D organizations and technology and engineering divisions. We pursue research and development efficiently together with technological divisions. Toshiba corporate's R&D organizations have a mid-to-long term outlook to enhance fundamental technology, research new business areas, and work on innovative and future-looking research and development.
Toshiba Independent corporations' R&D organizations and technology and engineering divisions support fundamental technologies of our business domains, and develop new products and differentiated technology in line with our business plans. We work on commercialization of products and mass production that satisfy our customers' needs. Toshiba Group brings new products to the market in close collaboration with these divisions.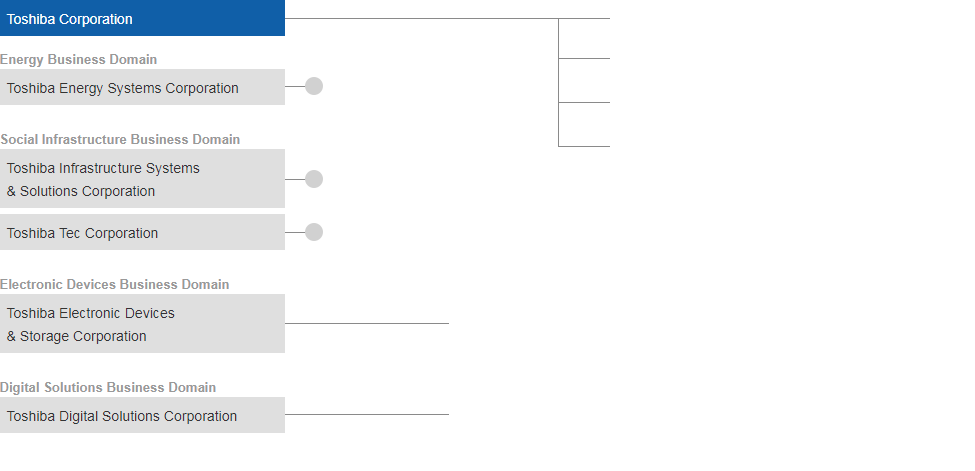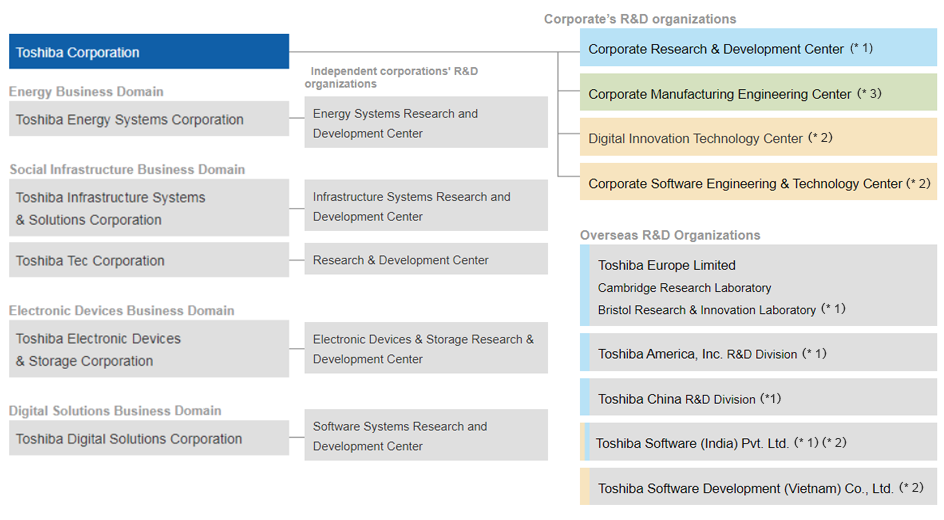 Independent corporations' R&D organizations

Research & Development Center

Electronic Devices & Storage Research & Development Center

Software Systems Research and Development Center
Corporate's R&D organizations

Digital Innovation Technology Center(* 2)
(* 1)This is the locations related to Corporate Research & Development Center.
(* 2)This is the locations related to Corporate Software Engineering & Technology Center.
(* 3)This is the locations related to Corporate Manufacturing Engineering Center.