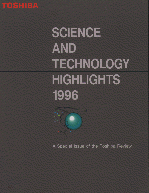 SCIENCE AND TECHNOLOGY HIGHLIGHTS 1996
---
---
---
Toshiba Corporation, founded in 1875, is one of the world's leading electronics manufacturing companies, with twenty- seven production facilities and six system engineering centers in Japan and over twenty manufacturing subsidiaries overseas. Toshiba is emphasizing the expanding field of "E&E," or energy and electronics. We are presently engaged in research and development in information and communication systems, information equipment and consumer electronics, power systems and industrial equipment, and electronic components and materials. From 1995 to 1996 Toshiba has released a wide variety of new products and technologies. Typical examples of developments are featured in this leaflet.
SCIENCE AND TECHNOLOGY HIGHLIGHTS

is published annually by Toshiba Corporation.

Editorial inquiries should be addressed to 

Toshiba Review Editorial Office, 

Toshiba Corporation, 

1-1, Shibaura 1-chome, Minato-ku, Tokyo 105-01,  Japan 

Editor: Satoru Yanabu 

Date of issue: July 1996

      


Product names appearing in this publication include those which are the trademarks or registered trademarks of their respective companies.
---