Smart Cards for the Public Sector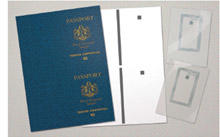 TOSMART™-P080
TOSMART™-P080 is the high functionality ePassport product with 80KB EEPROM. TOSMART™-P080 was developed, produced, and initialized in-house to satisfy the security and reliability requirements. Multiple form factors including eCovers, inlays, and pre-laminates are available to meet diverse customer requirements.
Specifications
Card OS : TOSMART™
Memory Size : 80KB
Protocol : T=CL
Interface : contactless
Security
Common Criteria : EAL4+ AVA_VAN.5
Crypto-Processor : Triple DES, Public Key
Secure Memory Encryption
Voltage/Temperature/Frequency Sensor and others
Supported Functions
Application : ICAO Doc 9303,EAC
Encyption Algorithms : DES, 3DES, SHA-1, SHA-224, SHA-256, RSA 4096bits, ECDSA & ECDH (160, 192, 224, 256, 384 bits)
ISO/IEC 7816 File system
TOSMART is a trademarks of Toshiba Corporation.
All other trademarks or brand names are the properties of their respective holders.
Features and specifications are subject to change without notice.
The Toshiba products listed in this document are intended for usage in general electronics applications (computer, personal equipment, office equipment, measuring equipment, industrial robotics, domestic appliances etc.).
These Toshiba products are neither intended nor warranted for usage in equipment that requires extraordinarily high quality and/or reliability or a malfunction or failure of which may cause loss of human life or bodily injury ("Unintended Usage").
Unintended Usage include atomic energy control instruments, airplane or spaceship instruments, transportation instruments, traffic signal instruments, combustion control instruments, medical instruments, all types of safety devices, etc. Unintended Usage of Toshiba products listed in this document shall be made at the customer's own risk.
The information contained herein is presented only as a guide for the applications of our products. No responsibility is assumed by TOSHIBA for any infringements of patents or other rights of the third parties which may result from its use. No license is granted by implication or otherwise under any patent or patent rights of TOSHIBA or others.
Toshiba does not take any responsibility for incidental damage (including loss of business profit, business interruption, loss of business information, and other pecuniary damage) arising out of the use or disability to use the product.
TOSHIBA products should not be embedded to the downstream products which are prohibited to be produced and sold, under any law and regulations.
The information contained herein is as of March 14, 2013.
Other Solutions & Products