News Releases
Toshiba Awarded Highest Rating in "CDP Climate Change Report 2020"
Recognized as an A List company for advanced climate change initiatives
9 Dec, 2020
TOKYO―Toshiba Corporation (TOKYO: 6502) has been selected for the prestigious "A List" in the Climate Change Report 2020 released by CDP, the international non-profit organization that promotes a sustainable economy based on companies measuring and understanding their environmental impacts. The listing recognizes Toshiba's determination to counter climate change in terms of environmental ambition, action and transparency.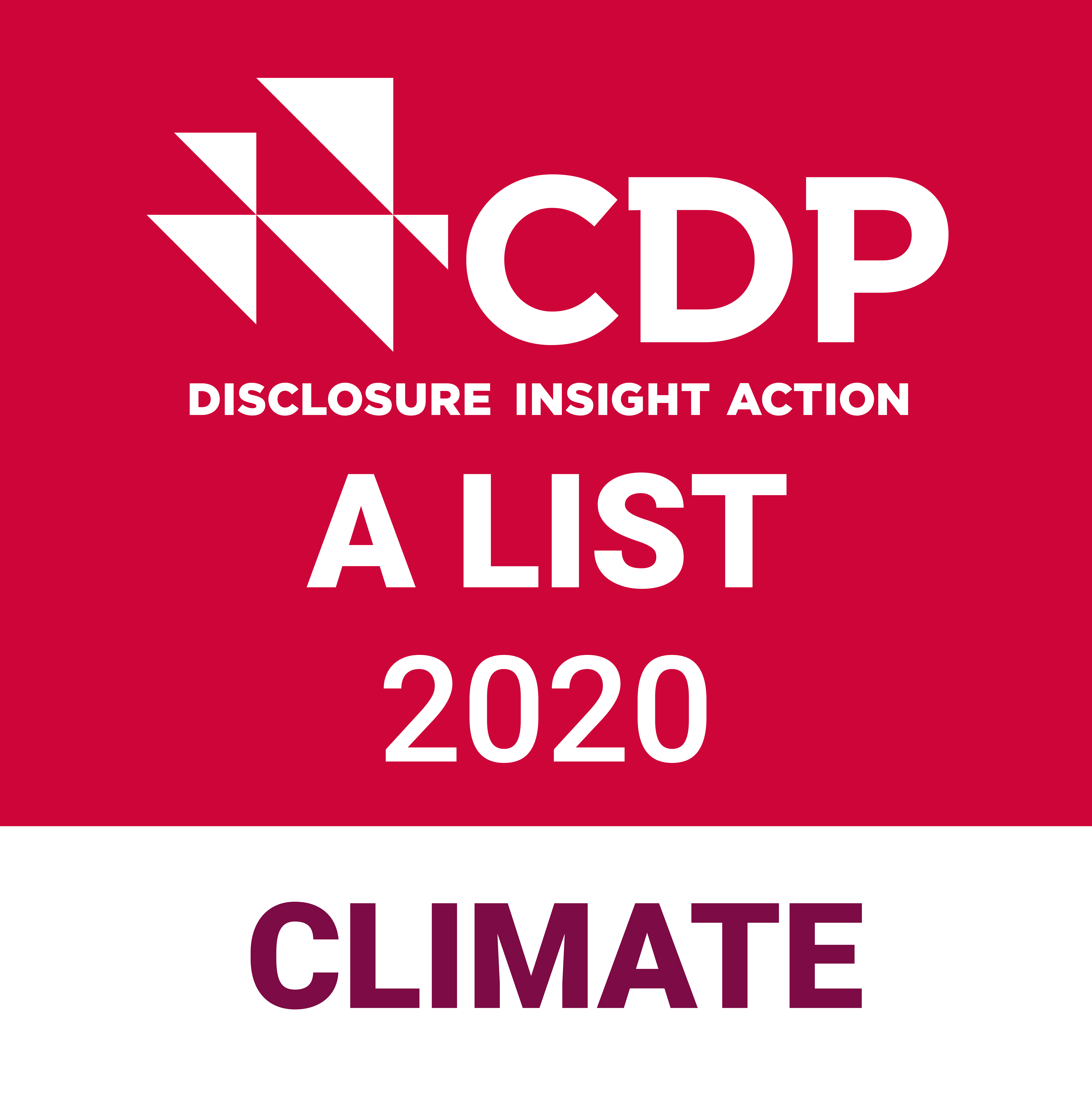 Since it was established in 2000, CDP has encouraged companies to disclose their environmental impacts, and investors to recognize these efforts in their evaluations of companies. Today, its annual environmental disclosure and scoring process is widely recognized as the global standard for corporate environmental transparency. This year, over 9,600 companies have disclosed such information through CDP, and over 515 investors and more than 150 major purchasers relied on its data on environmental impacts, risks and opportunities.
CDP's 2020 assessment of company performance is based on disclosed data and considers ambitious target setting, awareness and management of environmental risks and opportunities, and the comprehensiveness of disclosure. As a result, 270 companies were named on the prestigious "A List" for climate change in its Climate Change Report 2020.
Toshiba Group's management, motivated by the Group's basic commitment, "Committed to People, Committed to the Future," positions environmental initiatives as a top priority, and promotes initiatives toward realizing a sustainable society. Toshiba Group's "Environmental Future Vision 2050," announced in November this year, has "Response to Climate Change" as an important pillar for future action. Toward contributing to net zero greenhouse gas (GHG) emissions in society by 2050, Toshiba Group aims to cut emissions throughout its value chain by 50% in FY2030 against FY2019. Toshiba Group's GHG reduction targets for FY2030 have been approved as "science-based" by the Science Based Targets (*1) initiative.
Actions Toshiba Group will take toward achieving its targets and contributing to the realization of a decarbonized society include the following:
expanding investments in energy-saving equipment and increasing the group's use of renewable energy in its own business activities;
suspending acceptance of new orders for coal-fired thermal power plant construction work;
promoting businesses related to renewable energy supply, such as photovoltaic power generation and hydro power generation;
promoting energy aggregation (*2) and the development of CO2 separation and capture technology;
improving energy-saving performance through the application of power devices in social infrastructure products, building-related products, and retail and printing equipment;
reducing the operating loads of equipment by utilizing digital technology.
Through these initiatives, the group aims to reduce GHG emissions throughout the lifecycle of the products and services.
As an infrastructure services company, Toshiba Group provides society with highly reliable services and state-of-the-art technologies that contribute to solving social issues, such as climate change, and also strives to further enhance corporate value. Toward ensuring continued and sustainable growth, the Group is building an ethical and transparent management base by improving its environmental, social and governance (ESG) performance, and while cooperating with its diverse stakeholders it is seeking to create and provide rich value. Toshiba is particularly focused on 10 goals of the SDGs, to achieving maximum positive impacts and minimum negative impacts for each of them, and also contribute to the achievement of the overall SDGs through its corporate activities.
*1 Science-based targets are scientifically grounded GHG reduction targets set by companies on a medium- to long-term basis in order to keep the global average temperature rise this century well below 2 degrees Celsius above pre-industrial levels, and to pursue efforts to limit the temperature increase even further to 1.5 degrees Celsius. Science-based targets are validated by the SBT initiative.
*2 A mechanism for consolidating various energy resources, such as renewable energy and EV, and controlling output according to power supply and demand conditions.
Related Websites:
Toshiba Group Environment Website
https://www.toshiba.co.jp/env/en/index.htm
Toshiba Group Announces Environmental Future Vision 2050
https://www.global.toshiba/ww/news/corporate/2020/11/pr1001.html
Full list of companies named in the CDP A List 2020
https://www.cdp.net/en/companies/companies-scores