Corporate Research & Development Center

11 Nov, 2019
Shinshu University
Toshiba Corporation
Shinshu University and Toshiba Begin Collaborative Research on Application of
Biodegradable Liposomes in Cancer Gene Therapy
-Delivery of Genes via Non-viral Nanocapsules-
TOKYO─Toshiba Corporation (TOKYO: 6502) collaborates with a team at the Department of Pediatrics, Shinshu University Graduate School of Medicine, led by Professor Yozo Nakazawa (hereinafter "Shinshu University"), in a project that has begun collaborative research on an anti-cancer gene delivery technology that will deliver therapeutic genes to cancerous cells in nanosized capsules made with biodegradable lipids (hereinafter "biodegradable liposome". The biodegradable liposomes efficiently deliver the genes to target cells, are well suited to mass production, and are expected to find wide application. This integration of Shinshu University's cancer research and Toshiba's materials research will help to expand gene therapies for cancer(Note 1).
Cancer remains a serious problem on society. In Japan, it has long been the leading cause of death, where in 2018 alone claimed some 370,000 victims(Note 2). It also casts a long shadow over life, with lifetime risk of contracting a cancer now estimated at 62% for men and 47% for women(Note 3).
Gene therapy is expected to be a highly promising approach to the individualized treatment of cancers, seen as particularly useful for cancers that no longer respond to chemotherapy or radiotherapy. But current gene therapy often involves the use of viruses to transport and deliver the therapeutic gene. Thus this approach suffers from problems with safety and mass production. By developing a non-viral approach, Toshiba will work on the development of a gene transfer tool using biodegradable liposomes for efficient therapies that are safe and easy to mass-produce.
Shinshu University and Toshiba are collaborating on research into delivering therapeutic genes using biodegradable liposomes as a non-viral tool. Shinshu University is working on the identification of therapeutic genes, while Toshiba is developing biodegradable liposomes that will effectively deliver the genes to cancer cells, where they can exert their therapeutic effects.
The biodegradable liposomes developed by Toshiba are composed primarily of a unique lipid that degrades in cells, and that deliver genes to cells easily without the use of viruses. In addition, the liposome structures are designed to the properties of the target cancer cell, ensuring delivery to the targets.
Going forward, Shinshu University and Toshiba will integrate their cancer research and materials research to the spread of gene therapy.
The Toshiba Next Plan announced Toshiba Group's full-fledged return to the medical business, primarily precision medicine that concentrates on the very early detection of conditions and the provision of individualized treatment. Biodegradable liposomes, a Toshiba materials technology, can be used to deliver genes tailored to the characteristics of an individual patient's cancer cells. Toshiba will use the technology to contribute to the improvement of gene therapy and the expansion of gene therapy applications.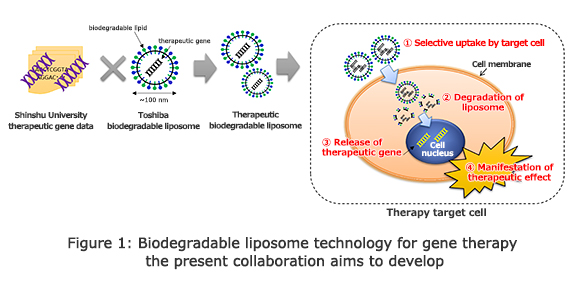 (Note 1)

Gene therapy
A method of treating disease that involves inserting a certain gene into a cell to produce proteins that will modify, enhance, or inhibit the function of the cell.

(Note 2)

Cancer is the leading cause of death in Japan
The leading causes of death in 2018 were as follows. #1: Cancer (malignancies <tumors>), 373,547 deaths (mortality rate (per 100,000 population): 300.7); #2: Heart disease (not including hypertensive heart disease), 208,210 deaths (167.6 per 100,000 population); #3: Old age, 109,606 deaths (88.2); #4: Cerebrovascular disease, 108,165 deaths (87.1).
Cancer (malignancies <tumors>) has been responsible for an increasing number of deaths every year and has been the leading cause of death every year since 1981.
https://www.mhlw.go.jp/toukei/saikin/hw/jinkou/geppo/nengai18/dl/gaikyou30.pdf (Ministry of Health, Labor and Welfare)

(Note 3)

Cumulative morbidity risk based on 2014 nationwide estimations https://ganjoho.jp/reg_stat/statistics/stat/summary.html (National Cancer Center Hospital)
Media Inquiry
Shinshu University Department of Pediatrics: +263 37 2642
Toshiba Corporation Media Relations Group: +81 3 3457 2100