Corporate Research & Development Center
Toshiba's Development of Wireless Multi-hop Video Transmission Technology
Capable of Transmitting Full HD Video from Multiple Surveillance Cameras
9 Nov,2017
Toshiba Corporation
Overview
Toshiba has developed a wireless multi-hop video transmission technology that applies a bucket brigade method to realize full HD video transmission from multiple wireless cameras without any delay. This technology enables autonomous configuration of wireless networks considering the installation environment of surveillance cameras, making it possible to freely arrange surveillance cameras or construct wide-area video surveillance systems that connect multiple drone-mounted cameras. This technology will be demonstrated on 9 November 2017 at the Toshiba Open Innovation Fair 2017.
Development Background
Surveillance cameras for crime prevention and disaster prevention are increasingly used in buildings, facilities, urban areas, and other locations. When constructing surveillance camera systems, laying wiring for video communication requires significant time and effort. Once the wiring is in place, frequent changes in the installation location are problematic.
Features of the Technology
To resolve these issues, Toshiba has developed a wireless multi-hop video transmission technology. In wireless multi-hop communications, camera images are transmitted by a bucket brigade method across multiple wireless devices. This makes wiring for video communication unnecessary and allows unrestricted installation of wireless cameras that are not bound by the communication range of the access points.
Wireless multi-hop video transmission involves rapidly changing wireless communication, causing the quality of communication lines to greatly fluctuate, so transmitting HD video without delay is an important issue. To address this, Toshiba has developed a routing control method in which wireless devices autonomously observes the network environment to generate and maintain stable communication paths; a method for speeding up the process of observing the network environments; and a video transmission method that simultaneously utilizes multiple routes (Fig. 1). Application of these three technologies allow five wireless cameras connected to form five hops and realize transmission of full HD video (30 frames per second) in less than one second. Experiments jointly conducted with the Kondo Laboratory at the Tokyo University of Marine Science and Technology successfully demonstrated application of these technologies to a marine surveillance system using multiple drones.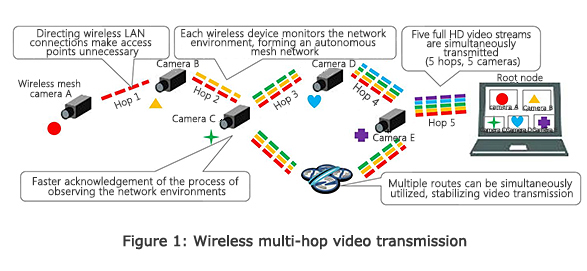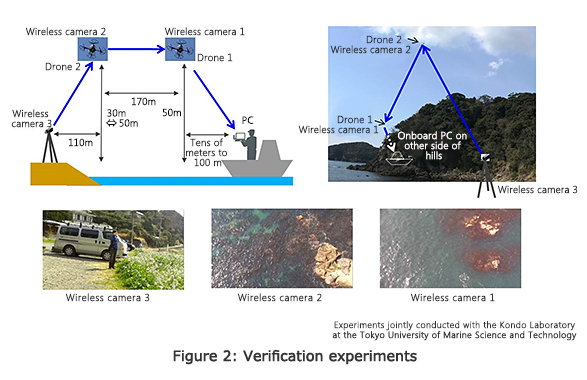 Future Development, Plans, and Goals
Toward the goal of practical application of this technology in surveillance camera systems, Toshiba will continue working to increase the number of cameras and verify transmission stability when mobile cameras are used.