Corporate Research & Development Center
Toshiba and Toshiba Memory are Gold Medal Recipients of the 2016 JSAI Field Innovation Award
2017/6
Toshiba Corporation
Toshiba Memory Corporation
The success of Toshiba Corporation and Toshiba Memory Corporation (TMC) in boosting output at Yokkaichi Operations, TMC's memory plant in Mie prefecture, was recognized today when the companies were presented with the Japanese Society for Artificial Intelligence's 2016 Field Innovation Award for "Improvements in Semiconductor Manufacturing Productivity at Yokkaichi Operations."
The JSAI Field Innovation Award honors individuals and organizations that develop and apply artificial intelligence (AI) to issues at business sites. This year's award recognizes Toshiba and TMC for winning improvements in manufacturing productivity through AI-based analysis of big data collected from manufacturing and inspection equipment at Yokkaichi Operations.
Toshiba and Toshiba Memory will continue to apply AI to improvements in semiconductor quality and reductions in production costs, while further increasing memory capacities and expanding production scale.
Background
At the Yokkaichi Operations, skilled technicians have long analyzed data collected from manufacturing and inspection equipment to improve quality, reduce production costs, and expand production. However, rapid increases in memory capacity and the complexity of large-scale manufacturing processes have made manual analysis of data increasingly difficult. Toshiba and Toshiba Memory responded by developing technologies to partially automatedata analysis. They relied on AI and machine learning techniques, both of which have made remarkable progress in recent years.
Overview of the Awarded Winning Initiatives
▪ Automated failure analysis
The technologies automatically identify causes of failure using defect data collected through full inspections during final processing. Failure and their causes are visualized in a "Yield Bulletin"(Note 1) (Fig. 1), that engineers use to eliminate the causes and failures. The Yield Bulletin is created using clustering and pattern mining technologies. Failures are registered in the system as they occur, and their reoccurrence is constantly monitored. Use of the technology has shortened the average analysis time per failure from 6 hours to 2 hours.
▪ Automatic classification of defect inspection images
In sampling inspections between processes, any defects in inspection images (Fig. 2) acquired with a scanning electron microscope are automatically classified by defect type. Earlier methods for automatic defect classification had only a 49% success rate, but deep learning has improved it to 83%.
▪ Rapid improvement of manufacturing processes
Sensors attached to manufacturing equipment used in intermediate manufacturing stages deliver data on various conditions related to manufacturing processes, which is used to predict quality and characteristics. The predictions enable improvement and control of the manufacturing process. Conventionally, constructing quality prediction models from huge amounts of sensor data required expert knowledge. However, a machine learning method called sparse modeling has made possible automatic creation of highly accurate prediction models.
▪ Automatic determination of the timing for equipment maintenance
Low-cost, stable operation of manufacturing equipment is secured by automatically determining maintenance times. Late maintenance raises the risk of failure, but if it comes done too early, maintenance costs are unnecessarily high. It is difficult to model appropriate maintenance times for every single piece of equipment. However, reinforced learning techniques can quickly analyze and help to identify maintenance timing that minimize costs while automated decision determines the most appropriate timing of maintenance.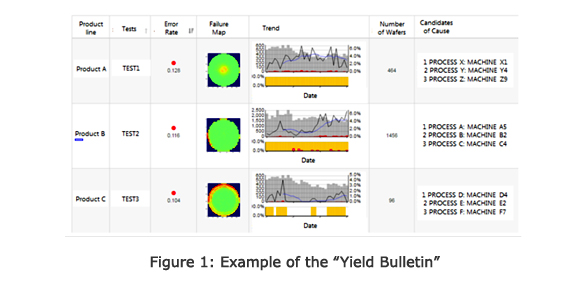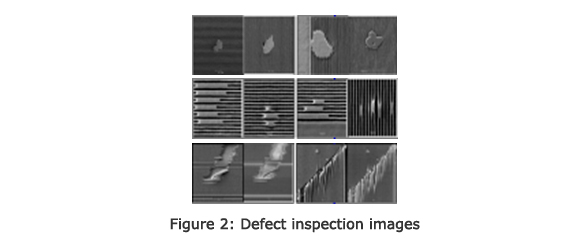 JSAI Field Innovation Award
The JSAI Field Innovation Award recognizes cases of problem-solving through the application of AI technologies to issues at business sites, and honors the individuals and organizations that conducted research and development leading to those technologies. It has been awarded in each of the past eight years, since 2009. Award recipients are selected based on issues extracted from problem sites and the originality and utility of technologies developed to solve them.
URL:https://www.ai-gakkai.or.jp/about/award/#INNOVATION (The Japanese Society for Artificial Intelligence)
(Note 1)

Yield Bulletin: A system that utilizes big data to generate a list for verifying wafer defect distributions, occurrence trends, and candidate defect-generating devices.