Corporate Research & Development Center
Toshiba Awarded 49th Ichimura Prize in Industry for Distinguished Achievement
-- Development and Commercialization of High Power, Heavy Rare-Earth-Free, Demagnetization Resistant Magnet for Motors--
2017/3
TOKYO─Toshiba Corporation (TOKYO: 6502) and Toshiba Materials Co., Ltd. have been awarded the 49th Ichimura Prize in Industry for Distinguished Achievement for the development of and commercialization of a high power, heavy rare-earth-free, demagnetization resistant(Note 1) magnet for motors.
Awarded annually by the New Technology Development Foundation the Ichimura Prizes are among Japan's most prestigious awards for achievements in industry and science. The industry awards are given to individuals or groups in Japan who have advanced industry by developing innovative technologies. This year's awards will be presented at a ceremony on April 26, 2017.
Toshiba and Toshiba Materials developed the world's first high energy samarium-cobalt magnet to achieved high magnetic properties and demagnetization resistance without relying on heavy rare-earth metals, which are expensive with often unstable supply. They also established essential production know-how for the new magnet, allowing it to be applied to drive systems for trains.
Recipients of the 49th Ichimura Prize in Industry for Distinguished Achievement
Mr. Yosuke Horiuchi

Specialist, Corporate Research & Development Center, Research Planning Department, Strategic Planning Group, Toshiba Corporation

Mr. Shinya Sakurada

Chief Research Scientist, Corporate Research & Development Center, Functional Materials Laboratory, Toshiba Corporation

Mr. Masami Okamura

Senior Division Manager, Materials & Components Division, Toshiba Materials Co. Ltd.
Overview of Achievement
Electric and hybrid vehicles and wind power generators are equipped with motors that utilize neodymium magnets whose heat-resistance is boosted by heavy rare-earth metals, such as dysprosium. However, such metals carry risk: limited sources and unstable supply, and a price premium. This stimulated interest in a new technology for a heat-resistant high performance magnet with high Maximum Energy Product(Note 2), ((BH)max), but without any use of heavy rare-earth metals.
Toshiba selected the samarium-cobalt magnet as a candidate, as it has high heat-resistance and high (BH)max, and started work to boost the latter. The challenge to overcome was that coercivity(Note 3), the resistance of a magnetic material to changes in magnetization, a key factor in motor design, was lowered by utilizing a samarium-cobalt magnet with high iron content. Toshiba overcame this by developing a structure-control technique based on its original heat-treatment technology, achieving a (BH)max of 280kJ/m3 at room temperature, the highest ever recorded(Note 4) for a samarium-cobalt magnet. Toshiba also successfully applied its heat treatment know-how to establishing basic mass production process for 265 to 275kJ/m3 class magnets. This realized the world's first(Note 5) heavy rare-earth-free magnet to surpass heat-resistant neodymium's (BH)max and coercivity at 140°C, the temperature at which most heat-resistant motors operate. (Fig.1)
The new magnet has been adopted in train drive systems, and rolling stock using the magnet it has been in operation since February 2015. Extended application to electric vehicles, hybrid-cars and wind power generators is expected in the future (Fig.2), reducing the risk of unstable supply of magnets with heavy rare-earth metals, and deterring price increases.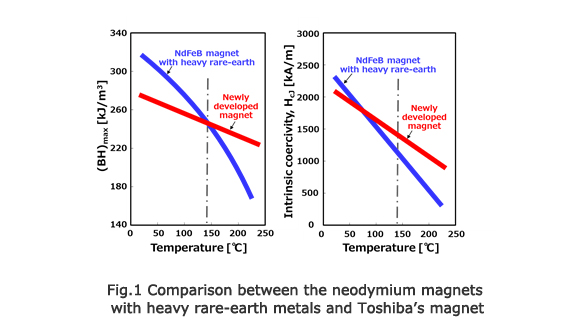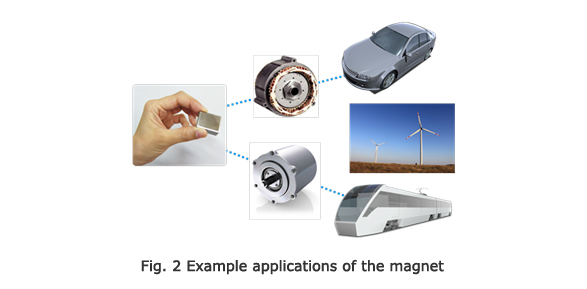 < About the Ichimura Prize >
The Ichimura Prize is awarded by the New Technology Development Foundation to individuals or groups who make significant contributions to Japanese industry and science. It is recognized as one of Japan's most prestigious awards. The awards were introduced in 1969, and this year marks their 49th year. The awards go to a creative, revolutionary, world class technology, technology that has had a remarkable impact on new industry creation and market expansion, and technology that is expected to promote industrial and social development.
(Note 1)

Demagnetization resistance: the characteristic of a magnet's to maintain its magnetism against heat and external magnetic fields.

(Note 2)

Maximum Energy Product: a measurement of the magnetic energy stored in a magnet, which is in proportion to the product of magnetic flux density (B) and magnetic field (H). The maximum value of a magnet is its Maximum Energy Product.

(Note 3)

Coercivity: a magnet's ability to withstand an external magnetic field.

(Note 4)

Toshiba survey

(Note 5)

Toshiba survey