Corporate Research & Development Center
Message from the Director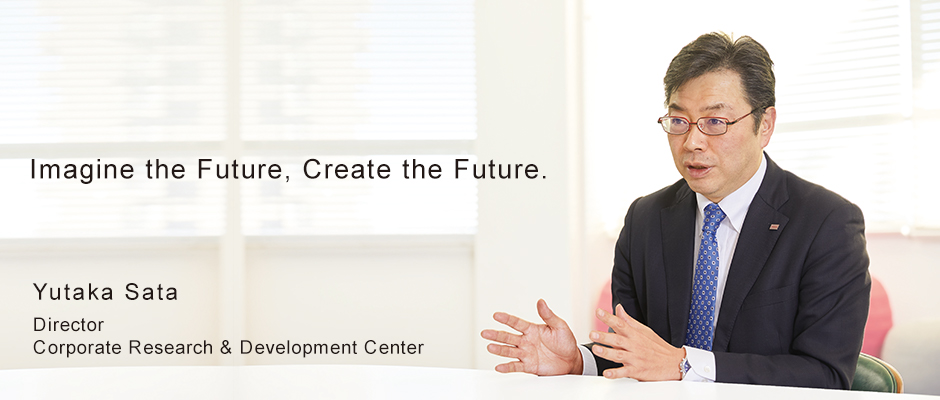 Towards an Excellent Research Center that resolves social issues under the banner of "Open Research & Innovation".
■Our mission is to shape the future through cutting edge technology research with sharing concepts of the future society and its social implementation.
The important role of Toshiba Corporate Research & Development Center is to pursue innovation making people's lives enrich through acquiring cutting edge technologies that will form the core of new projects, products and services, and by implementing and validating these in society. The R&D Center is working under the banner of "Open Research & Innovation" to achieve this. We will start by imagining the future, conduct research and validate those achievements in society. In other words, we will go as far as validating based on the values of society and customers. At every stage, we will have ongoing dialogue with universities, public research institutions, partner corporations including start-up companies, and customers. We firmly believe that working this way will lead us innovation through a cycle of experience where we encounter needs that we could not have imagined ourselves, create unprecedented answers, and have all stakeholders validate ideas and technologies in terms of their value to society and customers.
■Envisioning Toshiba Corporate Research & Development Center working towards Toshiba's transition to a Cyber Physical Systems (CPS) Technology Company.
Toshiba is driving reform to become a world-leading Cyber Physical Systems(CPS) technology company. As SDGs show, social issues are becoming more diverse, complex and serious. The CPS that Toshiba seeks will lead to sustainable solutions that enhance "Social Value", "Economic Value" and the "Richness in People's Lives" together. The Corporate Research & Development Center is engaged in numerous CPS-related technologies but we are all one as a society facing complex issues on a global scale. We believe it is vital for everyone to focus on the future of society, and to create sustainable solutions while sharing ideas, both within and outside the company. Furthermore, the key of creating value in the cyber world lies in social and customer data. It is important to become directly involved in social and customer scenes, to consider issues and methods to resolve them, and subsequently incorporate our technologies there.
■Giving shape to the ideas of individual researchers. Further advances under "Open Research & Innovation".
One of the strengths of the Toshiba Corporate Research & Development Center is its climate of respect for the ideas and capabilities of individuals. Having an extremely wide range of technologies and diverse researchers gathered in one organization who share and refine their technologies and ideas gives rise to unpredictable results. A recent case in point is the "Application of the Simulated Bifurcation Machine to Financial Arbitrage" created by researchers in quantum computers and computer architecture. While fostering this type of climate, we believe that also motivated persons who support the Toshiba group, and by extension Japanese industry, is also a valuable mission. By further developing "Open Research & Innovation", we also intend to create large-scale projects in which involvement in the past was not possible, which will involve individuals both within and outside the company. We envision a research center that enhances ideas and technologies through mutual respect and intellectual stimulation, and one that will give rise to new value for a better society.