Toshiba Corporate Manufacturing Engineering Center
Core Manufactuing Technology
Knowledge and information promoting technology
We are endeavoring to improve productivity and product quality through the development of production management systems that realize the visualization of planning and progress and the optimization of inventory control, production scheduling, and shipment, as well as through the development of product quality control systems that implement the visualization of product quality data, statistical analysis of defect factors, and process control.
CIM: Computer Integrated Manufacturing
QC: Quality Control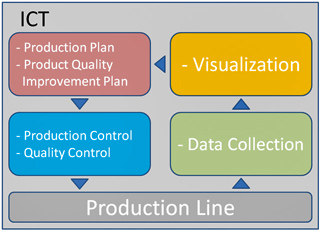 Production control systems utilizing ICT
Targeting the fields of semiconductors, social infrastructure systems, AV and digital equipment, and home appliances, we are developing product flow control systems utilizing big data from manufacturing sites, formulating production planning algorithms using production simulation and mathematical programming for improved productivity, and enhancing production management systems for Toshiba's global manufacturing sites.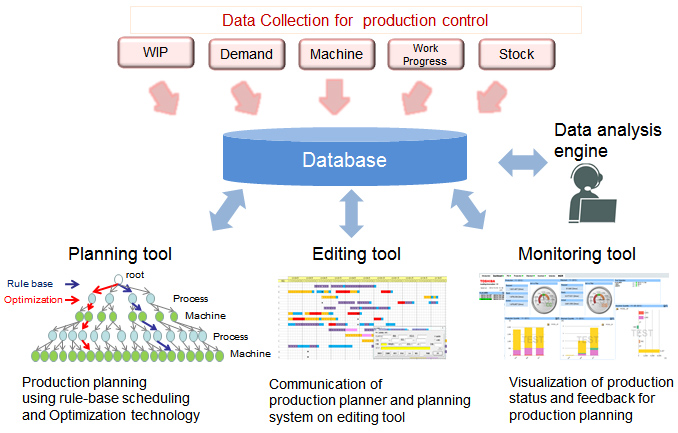 QC systems utilizing big data and cloud technology
Utilizing production line and market information, we are developing visualization methods, data mining technologies, and statistical process control algorithms to analyze factors for quality improvement, and are constructing quality control cloud systems using these technologies.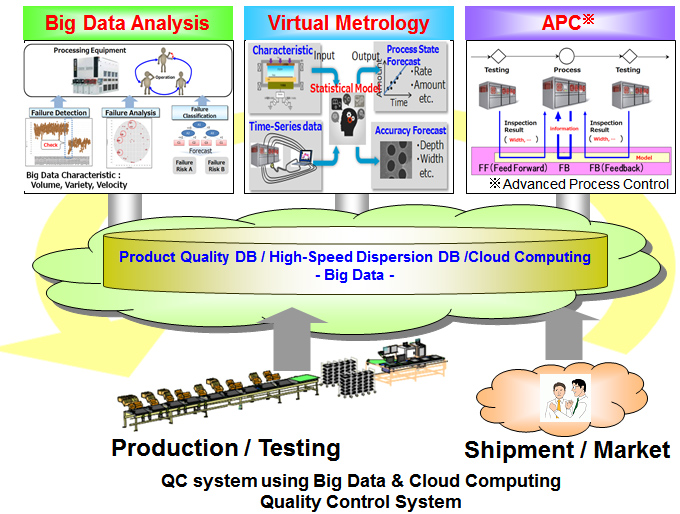 Design systems taking cost and efficiency into account
We are engaged in the creation of design systems for manufacturing the full range of Toshiba products from semiconductors to heavy electrical machinery, using cost engineering as a criterion to evaluate the planning of products and design policies, design methods that enhance the efficiency of the design itself, various search technologies to integrate knowhow and knowledge for making evaluations, and acceleration technologies.