Toshiba Corporate Manufacturing Engineering Center
Core Manufactuing Technology
Electronic device packaging technology
To improve the quality and reduce the cost of Toshiba Group products, we are developing various technologies, including those for CAD/CAE simulation, evaluation of advanced electronic components, printed wiring boards, surface-mount processes, and physical-chemical analyses.
We are also developing assembly technology that directly facilitates product development.

Development of CAD/CAE simulation technology
To reduce size, improve performance, and increase the functionality of electronic devices, we are working on the development of assembly and reliability evaluation technologies coupled with simulation technologies for electrical, mechanical, and structural analyses.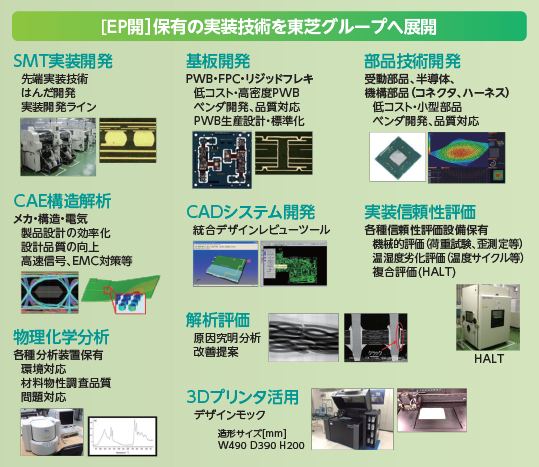 Major assembly technologies
Development of high-density PCB assembly processes
Drawing on our evaluation technology for next-generation semiconductor packages and small parts with a narrow lead pitch, we are working on parts approval while developing assembly materials (such as solder paste and adhesion reinforcing members) and advanced mounting processes.
Development of printed wiring boards
We are developing impedance-controlled printed wiring boards suitable for high-speed signal transmission as well as AnyLayer printed wiring boards in which all layers serve as interconnection layers. We are also looking for excellent vendors with the aim of achieving high quality, low cost, and a stable supply.