Toshiba Corporate Manufacturing Engineering Center
Message from the Director
Toward the process innovation of the Toshiba group
Takehisa Seino
Director
Toshiba Corporate Manufacturing Engineering Center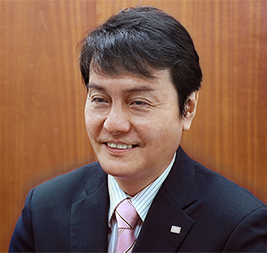 The Corporate Manufacturing Engineering Center is the laboratory of research and development division that is researching and developing technology, technique, structure and system to make the products of the Toshiba group efficiently with high quality and low cost and provide the products to customers timely.
"Energy business" such as generations and transmissions of the Toshiba group, "the society infrastructure business" such as traffic, railroads, buildings (elevator, air conditioning, illumination), batteries, "the device storage business" such as semiconductors, hard disks, "digital system solution business" such as production IoT, and other various business of affiliates are objects of the corporate manufacturing engineering center. The Corporate Manufacturing Engineering Center is active from the research and development of necessary technology, technique, structure, and tool until use, entrenchment widely in each stage of "products development and design", "production and manufacturing preparations" and "production and manufacturing (practice) ".
(1) Development and design stage of products
Development of parts to constitute products, methods for processing, assembling, coating and washing of products, design of manufacturing processes, the product design that is easy to manufacture it, and manufacturing methods to raise the flexibility of the design are developed.
(2) Preliminary stage of production and manufacturing in factories
Die design and fabrication for production and manufacturing, the production facility development that utilized robots and image processing technology, design of effective production facilities layouts and production lines, construction control of new factory buildings, and so on.
(3) Production and manufacturing stage in factories
System to manage progress and quality of production, to evaluate that represented by system and tool of production planning and scheduling, manufacturing IoT (Internet of Things), technique, tool development to improve production efficiency, and quality of production and manufacturing spot and so on.
The Corporate Manufacturing Engineering Center enlarges the activity territory more recently, promote innovation of various operations and does not remain in efficient product development and design methods, installation and setting methods of products made in factories, maintenance methods of products which customers use, production and manufacturing to sell to customers.
The Corporate Manufacturing Engineering Center evolves every day, continues expanding the activity territory while aiming at "the center revolutionizing processes" to improve all productivity and quality of the business from a research laboratory or a center for production and production of the Toshiba group so far.