Toshiba Water Solutions India Receives a Contract for Construction of a Sewage Treatment Plant in the Philippines
26 Aug, 2021
Gurugram, India--Toshiba Water Solutions Private Limited (hereinafter TWS), having its registered head office in India, today announced that a consortium of TWS and Frey-Fil Corporation, a construction company in the Philippines, has concluded a contract with Manila Water Company, Inc. for a project to construct a sewage treatment plant. TWS will be responsible for design, supply, installation, testing and commissioning of process and electro-mechanical equipment as well as one-year operation & maintenance (O&M) of the plant.
This is a testimony to Toshiba's commitment to develop India as an export base for supplying products and services from India to the world.
Since 1997, Manila Water has been engaged in the construction and operation of water supply and sewage facilities in the east zone of Metropolitan Manila (Metro Manila) as per the concession agreement with Metropolitan Waterworks and Sewerage System (MWSS).
This project involves the construction of the Hinulugang Taktak Sewage Treatment Plant in the Province of Rizal to the east of Metro Manila, Philippines.
Scheduled to be completed in 2023, the Hinulugang Taktak Sewage Treatment Plant will have a sewage treatment capacity of 16 million litres per day (MLD). In 2016, the Philippines introduced stringent regulations on wastewater, including requirements for biological nutrient removal (BNR), i.e., the removal of nitrogen and phosphorus from wastewater. This project includes the construction of an advanced treatment plant compliant with these regulations in order to contribute to the improvement of the water environment in Metro Manila led by Manila Water. The process technology of the new plant is "Moving Bed Bio-film Reactor (MBBR)", which has an advantage in space efficiency.
TWS engages in EPC*1 and O&M businesses for public water supply and sewerage plants and industrial water treatment facilities around the world, including in India, Southeast Asia, South Asia, Middle East, and North and Central Americas. Toshiba Group endeavors to contribute to the establishment of sustainable water circulation systems and the creation of environmentally advanced communities by leveraging its water treatment and solutions technologies cultivated through years of development and extensive experience in overseas EPC and O&M projects."
*1 EPC: Engineering, procurement, and construction
PROJECT OVERVIEW
| | |
| --- | --- |
| Project name | Construction of the Hinulugang Taktak Sewage Treatment Plant |
| Project owner | Manila Water Company, Inc. |
| Description | Construction of a sewage treatment plant (capacity: 16MLD) and 1-year operation & maintenance after the completion of the plant |
| Construction period | July 2021 to August 2023 |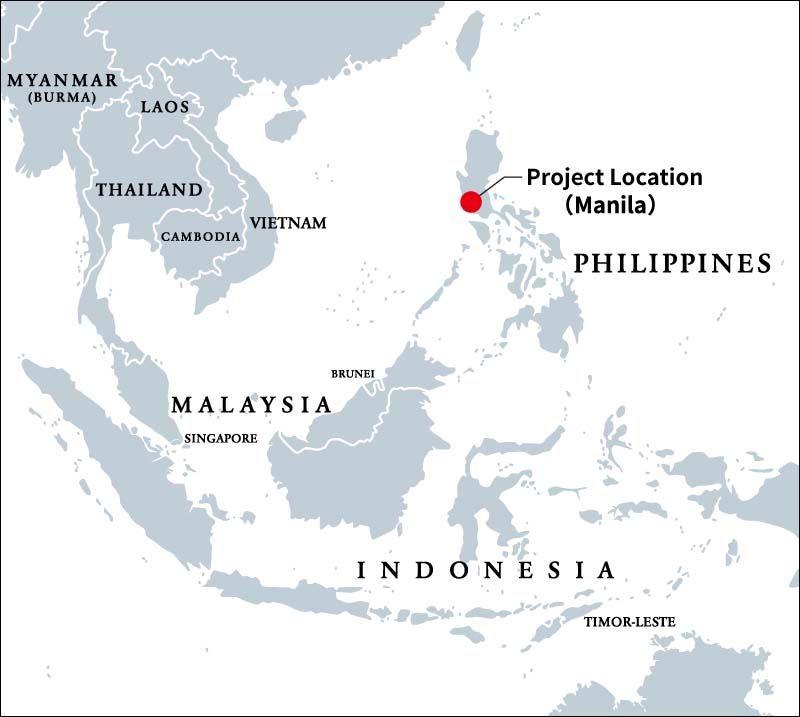 Project Location
About Toshiba Water Solutions Private Limited (TWS):
Toshiba Water Solutions Private Limited (TWS) is an international multi-disciplinary environmental services company, headquartered in India that specializes in providing turnkey services in water and wastewater collection, treatment and disposal. A wholly owned subsidiary of Toshiba Infrastructure Systems & Solutions Corporation (TISS), TWS provides complete, single-source services from engineering and design to construction and installation of water, wastewater and domestic waste treatment facilities.