Battery improves climate footprint: DB Cargo buys 50 Toshiba hybrid locomotives
23 Jan, 2020
DB Cargo is starting the sustainable renewal of its shunting locomotive fleet - series assembly in the current Rostock maintenance depot creates state-of-the-art jobs
(Tokyo/Kiel/Frankfurt (Main), 23. January 2020) Deutsche Bahn is making rail freight transport even more environmentally friendly. Following the successful feasibility study on the joint development of a new hybrid locomotive, DB Cargo is now ordering the first 50 locomotives. The freight operating company will lease another 50 locomotives. Preparation of series assembly of the locomotives starts in 2021 at DB Cargo's maintenance depot in Rostock.
The 50 new hybrid locomotives will replace 61 legacy locomotives and are a component of DB's "Strong Rail" strategy, which promotes growth in rail freight transport. "Together with Toshiba, we are setting standards in what is a vital technology for the future", said Dr Sigrid Nikutta, Board Member for Freight Transport and DB Cargo CEO. "Their new drive systems will allow our shunting yards to work in a more resource-efficient way, with annual energy savings of 30% and diesel fuel savings of 1 million litres per year. Alongside this, modern technology will make using the vehicles easier for our staff."
Takayuki Konno, Corporate Senior Vice President of Toshiba Corporation and President/CEO of Toshiba Infrastructure Systems & Solutions Corporation said, "This is the start of a brilliant collaboration. Toshiba is very proud to design its first European shunting locomotive for DB Cargo combining European and Japanese high standards of engineering. Our Toshiba HDB 800 is equipped with state-of-the art technologies including our SCiB™ lithium-ion battery system*1 which was certified by TUV Rheinland*2."
Dr. Stefan Rudolph, Secretary of State, Ministry of Economics, Employment and Health in Mecklenburg-Vorpommern: "The decision in favour of Rostock is a worthy negotiation success and a commitment to the innovation site Mecklenburg-Vorpommern. The symbiosis of DB Cargo and Toshiba means better and more sustainable work. We need more long-term investments in machines and plants as well as in research and development. In the future, this will ensure greater prosperity for our citizens."
As well as the considerably reduced diesel consumption and lower maintenance costs, the diesel-battery hybrid locomotives offer greater quality to customers through higher average fleet availability. Furthermore, the battery modules can be charged via external power supply, further increasing the proportion of renewable energy used in rail freight transport.
*1:

SCiB™ is a trademark of Toshiba Corporation, registered in Japan and other countries.

*2:

The battery system consisting of i.a. SCiB™ TypeS-20 battery modules and SSU fulfills the qualitative and quantitative safety requirements according to EN 50129 for SIL4 applications (highest safety integrity level defined in EN 50129) based on the assessment according to EN 50126 and EN 50129.
Source: Certificate "Functional Safety" of TÜV Rheinland Rail Certification B.V. (TRRC/CB 18/471, 02/08/2018), www.tuv.com, ID: 0000064266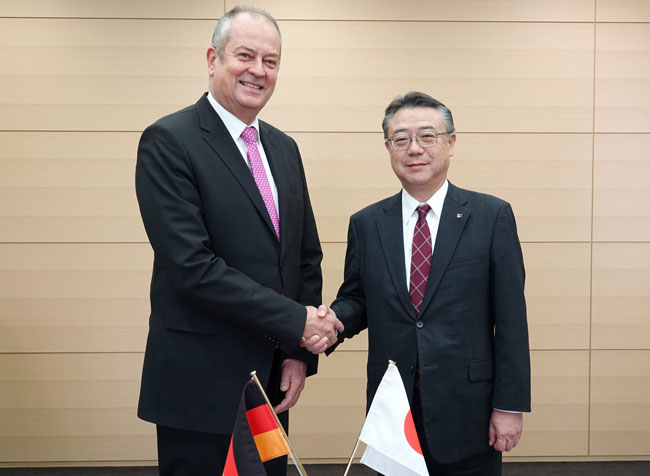 Mr. Matthias Reichel, member of the board DB Cargo AG (left), Mr. Takayuki Konno, Director, Corporate Senior Vice President of Toshiba Corporation and President/CEO of Toshiba Infrastructure Systems & Solutions Corporation (right) at the signature ceremony at Toshiba, Kawasaki, Japan.