Toshiba to showcase Hybrid-Diesel-Battery Locomotive Demonstrator at Transport Logistic 2019
28 May, 2019
Kiel-Toshiba Railway Europe GmbH (hereafter TRG), a wholly owned subsidiary of Toshiba Infrastructure Systems and Solution (hereafter TISS), Toshiba Group's (Tokyo: 6502) core group in the infrastructure business, today announced its participation in transport logistic 2019, the world's leading trade fair for logistics, mobility, IT, and supply chain management in Munich, Germany from June 4 to 7, 2019.
TRG can be found in the outdoor area of Messe Munich at 705/7. TRG will introduce Toshiba's cutting-edge solutions for modern freight transportation namely modular diesel electric hybrid locomotives with environment friendly propulsion systems. Furthermore, TRG will showcase its Toshiba HDB 800 locomotive demonstrator in pantograph version which is Toshiba's first European hybrid shunting and short line locomotive (open to visit on track 2/5).
Key features of TRG's modular diesel electric hybrid locomotive are:
series hybrid system consisting of two diesel engines and the re-chargeable lithium-ion battery system SCiB™*1,
high-efficient Permanent Magnet Synchronous Motor (PMSM),
ergonomically improved driver's cab, and
catenary operation via pantograph (optional).
Toshiba's SCiB™ battery system and the high-efficient PMSM are the main drivers of the energy consumption reduction of this modular diesel electric hybrid locomotive.
SCiB™ is the world's first and the only rechargeable lithium-ion battery to be recognized as compliant with the highest safety integrity level (SIL4*2) of the European Norm 50126 standards (RAMS*3) for rolling stock.
"The demand for new environment-friendly technologies in rail freight transport is increasing" says Sei Shigeoka, Chairman Managing Director of TRG. "We are delighted to present our latest hybrid shunting locomotive jointly developed by European and Japanese engineering talents."
Toshiba is aiming to further contribute to a sustainable future by proactively developing hybrid locomotives that realize efficient use of energy, enhance the operational availability and maintainability, and reduce emissions.
*1

SCiB™ is a trademark of Toshiba Corporation, registered in Japan and other countries.

*2

SIL4: Safety integrity level with a probability of failure per hour (PFH) of less than 1X10-8

*3

RAMS: Specification and demonstration of reliability, availability, maintainability and safety
About Toshiba Railway Europe GmbH
Toshiba Railway Europe GmbH (TRG) is a wholly owned subsidiary of Toshiba Infrastructure Systems & Solutions Corporation (TISS), a core group in Toshiba's social infrastructure business domain. TRG's headquarter is based in Kiel with an additional office located in Dusseldorf.
About Toshiba Infrastructure Systems & Solutions Corporation
Toshiba Infrastructure Systems & Solutions Corporation (TISS) is the core company promoting Toshiba Group's business in social infrastructure. Split off from Toshiba Corporation in 2017, TISS and its group companies promote realization of a reliable products and systems for a sustainable future that is safe and secure, and seeks to improve value for customers with solutions for social and industrial infrastructure, buildings and facilities.
Find out more about TISS at https://www.global.toshiba/ww/company/infrastructure.html
About Toshiba Corporation
In over 140 years, Tokyo-based Toshiba Corporation has built a global network of almost 400 companies that channels reliable technologies into "Social Infrastructure", "Energy", "Electronic Devices" and "Digital Solutions"-the basic infrastructure that sustains modern life and society. Guided by The Basic Commitment of the Toshiba Group, "Committed to People, Committed to the Future", Toshiba promotes value creation that helps to realize a world where generations to come can live better lives. In fiscal year 2017, the Group and its 141,000 employees worldwide secured annual sales surpassing 3.9 trillion yen (US$ 37.2 billion).
Find out more about Toshiba at https://www.global.toshiba/ww/outline/corporate.html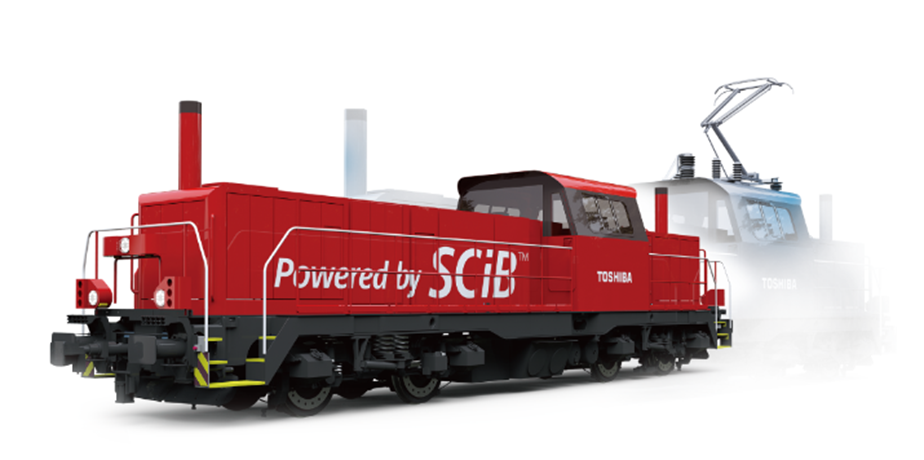 Toshiba Hybrid Locomotives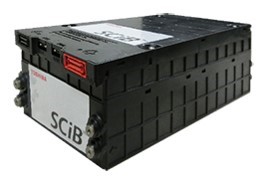 Lithium-ion rechargeable battery "SCiB™"(Module)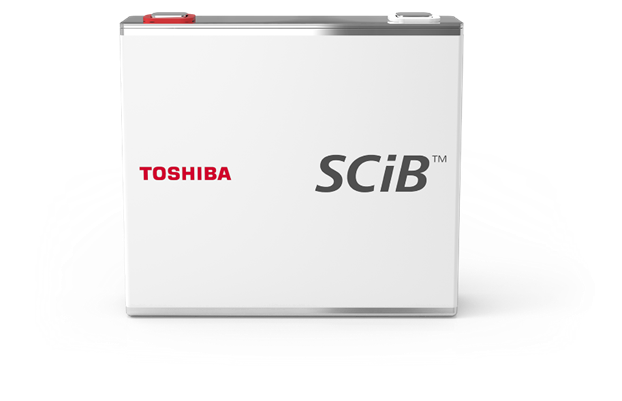 Lithium-ion rechargeable battery "SCiB™"(Cell)