Toshiba Subsidiary in India Changes Name from UEM India Private Limited to Toshiba Water Solutions Private Limited
19 Feb, 2019
Kawasaki, Japan--Toshiba Infrastructure Systems & Solutions Corporation (hereinafter "TISS") today announced that its Indian subsidiary, UEM India Private Limited (hereinafter "UEM"), an international multi-disciplinary environmental services company specializing in providing turnkey services in water and wastewater collection, treatment and disposal, changes its name to Toshiba Water Solutions Private Limited, on February 12, 2019.
Toshiba Water Solutions Private Limited is a global leader in the provision of EPC*1 and O&M*2 services for municipal and industrial water and wastewater treatment plants in India, North and Central America, the Middle East and Southeast Asia.
Toshiba Water Solutions' capabilities cover a wide range of services, including fresh water, wastewater and regenerated water treatment. It offers unique technologies, primarily to oil and gas plants and the auto industry, such as Zero Liquid Discharge (ZLD) systems that employ a highly efficient Reverse Osmosis (RO) membrane able to reuse more than 95% of wastewater.
Since Toshiba Group (hereinafter "Toshiba") acquired a stake in UEM in March 2014, Toshiba and UEM has been working together to create mutual trust and to create synergies that support continued expansion of the water treatment business. The name change is expected to increase the recognition of the brand, as Toshiba Water Solutions Private Limited will be positioned as the core company for Toshiba's global expansion of its water treatment service.
Commenting on this name change, Mr. Hirofumi Yoshino, Director, Vice President, Water & Environmental Systems Division of TISS said: "Improved water treatment facilities are an issue in emerging countries, where population growth and industrialization are boosting demand for water. In developed countries, where populations are aging and declining, demand is for more efficient operation of water treatment plants and equipment.
"By combining Toshiba Water Solutions' global EPC and O&M experience and know-how with the capabilities in supervisory control systems and energy reduction technologies we have cultivated over many years in Japan, we will accelerate the global expansion of our businesses and continue to contribute to solving water environmental problems around the world."


Overview of Toshiba Water Solutions Private Limited
Overview of Toshiba Water Solutions Private Limited
New company name
Toshiba Water Solutions Private Limited
Share Holding
Toshiba Corporation: 56.11%
Toshiba Infrastructure Systems & Solutions Corporation: 43.89%
Representative
Koichi Matsui, Chairman and Managing Director
Corporate Office
Gurugram, India
Office sites
India, Trinidad & Tobago, Oman, U.S.A and Philippines
Established
1984
Headcount
660
*1

EPC: Engineering, Procurement and Construction

*2

O&M: Operation and Maintenance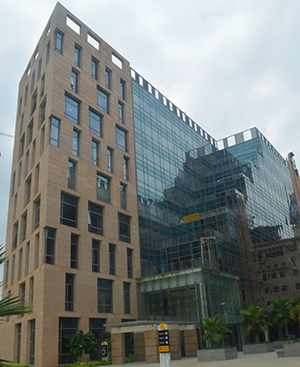 Toshiba Water Solutions Private Limited (Gurugram, India)