Toshiba's Permanent Magnetic Synchronous Motors Now started commercial operation in South Korea's Busan
--Energy-efficient totally-enclosed and natural cooling motors reduce power consumption by 30%, require less maintenance--
2018.07.31
Busan, Korea and Tokyo, Japan--Toshiba Infrastructure Systems & Solutions Corporation (hereafter Toshiba-ISS) has announced that new five 8-car trains equipped with its permanent magnet synchronous motors (PMSMs) have entered service on the Metro Line 1, operated by the Busan Transportation Corporation in the southeastern Korean city of Busan.
Metro Line 1 runs north to south through South Korea's second largest city, a route approximately 40 km long. It is Busan's busiest subway line, and now the first in Korea to operate trains driven by Toshiba-ISS's advanced PMSM propulsion system.
The PMSM is high-efficiency motor that deploys permanent magnets in the rotor.
Since the heat generated inside the motor is reduced, totally-enclosed and natural cooling structure is adopted. As a result, less noise and minimizing maintenance, eliminating the need for cleaning inside throughout the service life, is succeeded.
Toshiba-ISS delivered PMSM and other key components in the traction inverters used to control the PMSM system, to Hyundai Rotem Company, the manufacturer of the new trains, via Woojin Industrial System Co., Ltd. The PMSM propulsion system used in the new trains are expected that a reduction in power consumption of over 30% compared to conventional propulsion systems.
Toshiba-ISS released its first generation PMSM in 2006. The motor was soon adopted by numerous rail companies in Japan, and its excellent performance characteristics and reliability have been confirmed over countless passenger kilometers of operation. Overseas, Toshiba-ISS delivered PMSM propulsion system to the Singapore Mass Rapid Transit (SMRT) in 2015, and the Busan Transportation Corporation is now the second overseas railway company to adopt the PMSM system.
South Korea is planning that the introduction of a new generation of new energy-efficient trains to their urban mass transit systems from now on. Toshiba-ISS will continue to actively promote energy-efficient PMSM systems in Korea and the global rolling stock market as an energy efficient solution that reduces environmental impacts.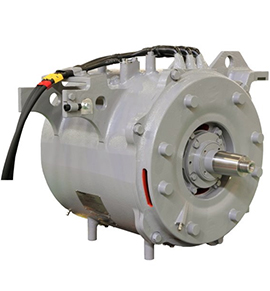 Toshiba-ISS's PMSM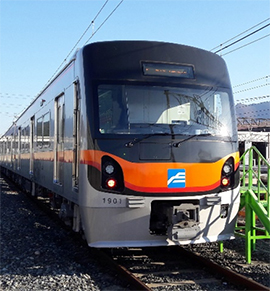 Train of Metro Line 1