Toshiba Delivers Emergency-Running Battery System for Tokyo Metro Ginza Line

- SCiB™, a rechargeable lithium-ion battery, supplies electricity for passenger transportation in the event of power outage -
2016.06.14
TOKYO—Toshiba Corporation (TOKYO: 6502) has delivered battery-based emergency running systems that ensure trains operating on Tokyo Metro's Ginza Line, Tokyo's oldest subway line, can safely carry passengers to the nearest station in the event of a total power loss. The system, based on Toshiba's SCiB™ lithium-ion battery, is installed on 40 new Ginza Line 1000 series trains that started service from April 2016.
Any power outage in a subway line could strand trains full of passengers in a pitch dark tunnel and force them to walk to the nearest station. Toshiba's new emergency running system—an SCiB™ lithium-ion rechargeable battery with a charge/discharge control unit—ends that prospect, and makes sure that trains can make it to the next station under their own power, while maintaining passenger safety and comfort. Toshiba started to deliver and install the systems in the new Ginza Line 1000 series trains from March, in readiness for start of service from April. The new trains are the first operated by Tokyo Metro with the emergency system.
Toshiba's SCiB™ lithium-ion battery is ideal for the emergency system. It is safe, with a materials and structural design highly resistant to internal short-circuits and thermal runaway, and immensely resistant to external shock, even applied directly. It also recharges rapidly, has a long life, excellent low temperature operation, and high effective capacity over a wide range of environmental conditions. These performance characteristics achieve the safety and reliability Tokyo Metro required for the emergency running system.
On board the trains, the SCiB™ draws power from the third rail during normal operation, and supplies stored electricity to the propulsion system in the event of power outage or other emergency. It can also supply the power necessary for rolling a train into or out of rail yards.
Toshiba is recognized for the advanced train electronic systems that it has supplied to train operators in Japan and around the world, while its SCiB™ has delivered solutions in diverse applications, including e-vehicles, household and industrial storage batteries and large electrical power storage systems. Toshiba will continue to draw on its wide-ranging capabilities to offer innovations that add to quality of life.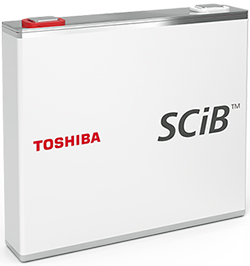 SCiB™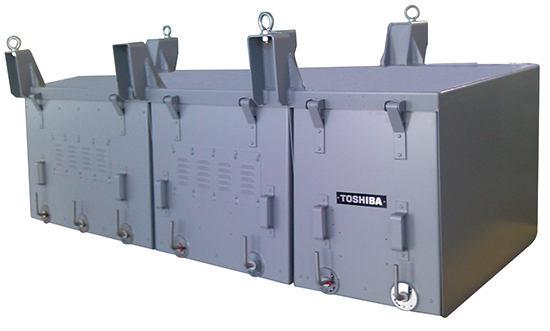 Battery-based Emergency Running System