Toshiba to Supply Energy Efficient Propulsion System to Railise Pte. Ltd.
03 Aug 2015
TOKYO -Toshiba Corporation (TOKYO: 6502) has received an order to supply Permanent Magnet Synchronous Motors (PMSM) to Railise Pte. Ltd (Railise). Toshiba's PMSM based system will be used to upgrade the drive systems of Singapore rail operator SMRT's 19 C651 series trains. The systems will be delivered through Railise, a joint venture between Toshiba and Singapore Rail Engineering Pte. Ltd. (SRE), the engineering subsidiary of SMRT Corporation Ltd. Delivery to Railise is scheduled to start in 2016.
The PMSM based systems will be installed in trains running on Singapore's 45km North-South Line, running from Jurong East to Marina South Pier, and the 57km East-West Line from Joo Koon to Pasir Ris.
PMSM achieves an energy efficiency of over 97% by using a permanent magnet in the rotor. This cuts heat generation inside the motor, allowing a fully-sealed, self-cooling design that radiates heat, and that also reduces operating noise and simplifies maintenance.
This new order follows a contract awarded to Toshiba Corporation in July 2013 for the refurbishment of existing drive systems for 66 C151 series trains.
In October 2014, Toshiba and SRE established Railise, a joint venture to market and supply propulsion systems using Toshiba's PMSM technology to mass transit operators around the world.
Building on its track record in overseas market, including the Singapore contracts, Toshiba will continue to market high efficiency rail equipment and systems, including PMSM, to overseas railway operators, and will work to strengthen its transport system business at the global level.
Overview of Order
Products:

PMSM, VVVF inverter and peripheral devices

Trains:

C651 trains owned and operated by SMRT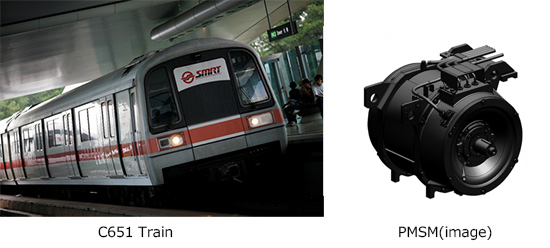 This image has been updated. The previous image showed the wrong angle (12 Aug, 2015).