News Releases
Toshiba and University of Tokyo to Collaborate in Preventive Medicine using Genomic Data
Agreement to develop next-generation personalized healthcare based on individual genetic information. Will contribute to improved QOL and Work Productivity.
16 Feb, 2021
Toshiba Corporation (TOKYO: 6502) and the Center for Epidemiology and Preventive Medicine at the University of Tokyo Hospital have signed a collaborative research agreement aimed at using genomic data to promote advances in preventive medicine. The agreement, signed on February 10 in Tokyo, will promote construction of a next-generation health management system that takes into account the genetic background of individual patients. The research efforts will center on the vast trove of information collected by health checkups in companies, and combine this with a personalized medicine approach based on genetic background. The outcomes are expected to contribute to improved quality of life (QOL) and workplace productivity.
Larger Japanese companies offer their employees annual health checks, and by doing so create records that build up over the years and that have the potential to provide a wealth of usable data. Toshiba aims to realize this potential and to advance precision medicine, the ultra-early detection of ailments and personalized treatment, by developing databases that combine multiple-year health checkup results with genomic data.
Using the health records of employees of Toshiba Group companies in Japan, as well as cooperation with partners working in healthcare*1, Toshiba is building a health data database and analytical base. Using health data voluntarily provided by a large cohort of Toshiba employees not only provides a rich source of big data for analysis, it also facilitates easy contact, simplifies data protection, and ensures that all participants provide informed consent. It also makes it easier to secure high re-consent rates in the event that further data collection is required.
Toshiba started to recruit participation in building the database in 2019, and to date over 10,000 people have agreed to participate. Their DNA is being analyzed with Japonica Array®, a genome sequencer that is configured to analyze genomic base sequence variations common in the DNA of Japanese people*2.
The Center for Epidemiology and Preventive Medicine at the University of Tokyo Hospital will provide the medical know-how essential to advance the research work and to realize a database and analytics based on clinical data and preventive epidemiology. It expects the project to produce results that find application in clinical practice, and to advance lifestyle guidance supported by scientific data.
Going forward, under the scope of the joint research agreement, Toshiba and the University of Tokyo Hospital will initiate research on lifestyle-related diseases that have a significant impact on QOL and workplace productivity by adding genomic data to information obtained from health examinations, personal interviews, and fee statements*3 from medical facilities, pioneering a new approach to using company cohort data*4. Toshiba and the University of Tokyo Hospital aim to provide optimized lifestyle advice and personalized treatment for each individual by developing a system that returns real value to data providers and supports healthy working lives.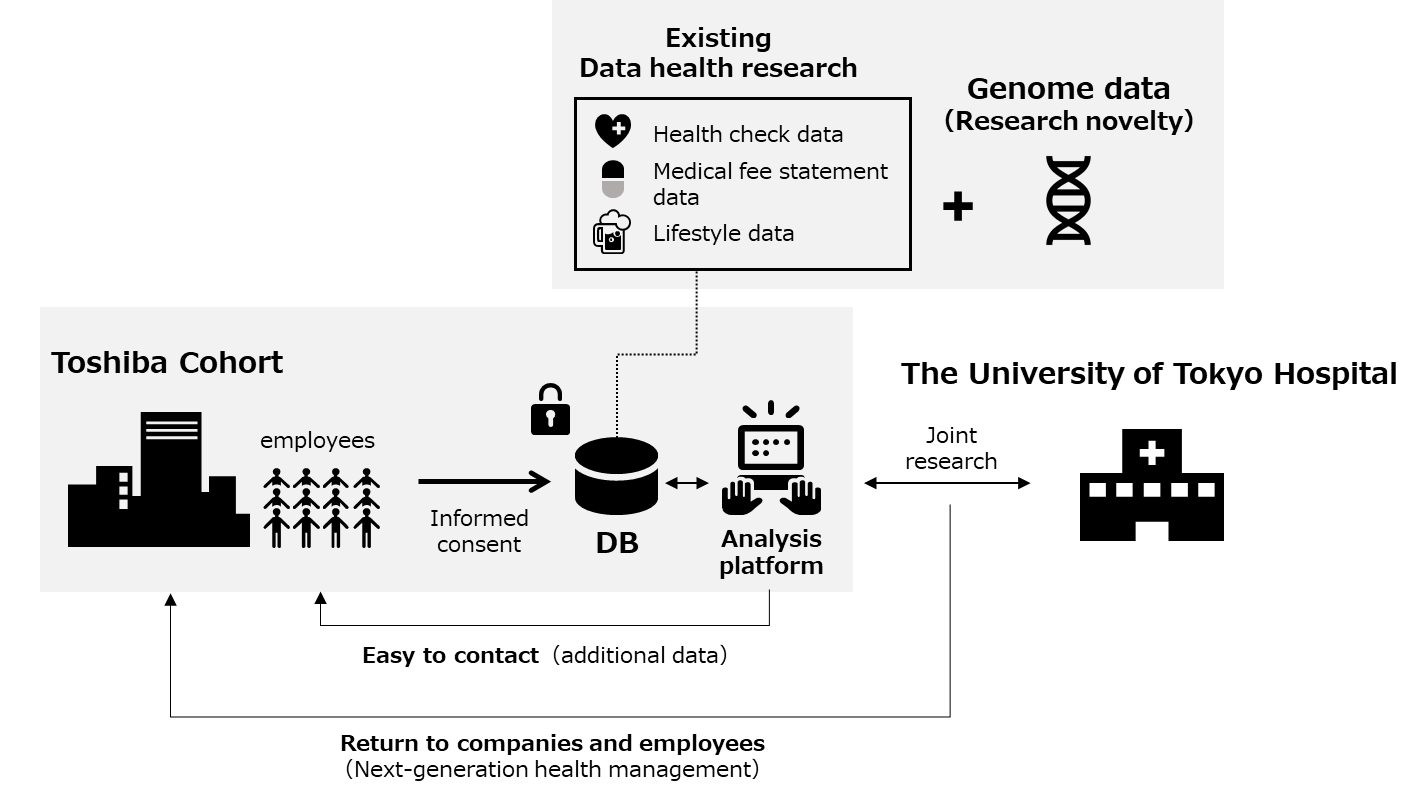 Fig. Using the Company Cohort to Advance Research
■Comments on the study.
・Nobutake Yamamichi, Director of the Center for Epidemiology and Preventive Medicine at the University of Tokyo Hospital
"In recent years, many people in the medical research community, especially those working in genome research, have been actively working not only to create academic findings but also to truly reduce them to society based on an exit orientation. Against this background, it is a major step forward to conduct joint research with Toshiba's research team, which is on the cutting edge of related development work in Japan, and directly linked to product development and production activities. Representing academia, by forming a team of specialists that includes experts in preventive medicine at the University of Tokyo, we will do all we can to advance medical research that gives back to the people of Japan."
・Minoru Yonezawa, General Manager of Toshiba's New Business Development Office
"As part of our work on precision medicine at Toshiba, we have considered the potential for using health data from company employees to contribute to future medical care development. We hope that this initiative, which will allow doctors to verify the value of our growing database from a multidisciplinary point of view, will open up new possibilities."
Under the umbrella of precision medicine, Toshiba is advancing value creation to support the provision of optimal individual medical care characterized by ultra-early detection of problems and the delivery of personalized treatment.
In the area of disease prevention, Toshiba is using digital technologies to advance three goals.
1. Contribute to improved QOL by preventing life-threatening diseases
2. Use genome data to recognize optimal preventive strategies for individuals
3. Promote partnerships to create new businesses, from R&D through to realization
*1 http://www.toshiba.co.jp/about/press/2019_05/pr_j1001.htm
*2 Japonica Array®. A Japanese genome sequencer developed by the COI-Tohoku base, based on a genome-wide reference panel constructed by Tohoku University Tohoku Medical Megabank Organization (ToMMo). Approximately 660,000 single nucleotide polymorphisms (SNPs) with nucleotide sequences characteristic of Japanese individuals are mounted on a single chip, enabling high-throughput analysis. Japonica Array® is a registered trademark of Tohoku University.
*3 Fee statement data Fee statements issued by Japanese health facilities contain valuable information: the name of the medical facility providing treatment, the name of the injury or illness, the medication provided, and the course of treatment and the like.
*4 Research will be initiated under a finalized research protocol that is subject to approval by the University of Tokyo and by Toshiba's Ethics Review Board.
* Company names, brand names and service name, etc., may be company trademarks.