News Releases
Launch of IIoT Service Portal Site TOSHIBA SPINEX Marketplace
Towards improving user experience with a single IIoT service portal site with creating over 30 new service menus and customer acquisitions in FY2022
3 Dec, 2020
TOKYO— Toshiba Corporation (TOKYO: 6502) today opened the TOSHIBA SPINEX brand (*1) industrial IoT (IIoT) service (*2) portal site "TOSHIBA SPINEX Marketplace" (*3). By this site, it enables to browse whole IIoT services of Toshiba Group on a single portal site. In the future, the company will realize the world standard UI / UX by adding contract conclusion function, payment function, and services by other corporations.
Toshiba Group aims to develop over 30 service menus and more than 30 new customers in FY2022
Toshiba Group has been providing IIoT services as TOSHIBA SPINEX brand. On launching the marketplace, Toshiba Group decided to establish TOSHIBA SPINEX brand standards (*4) for IIoT services based on global standards, and to use TOSHIBA SPINEX brand only for services certified by our in-house accreditation committee.
TOSHIBA SPINEX brand has two standards; one is that the service has API (*5) to create new value by linking services. The other is that the service has sufficient information security. By imposing strict standards, Toshiba Group will further enhance the credibility of the TOSHIBA SPINEX brand.
By opening the marketplace, reliability and convenience were highly improved. In the future, Toshiba Group will realize a one-stop service by adding a contract conclusion function and a payment function, and significantly strengthen the service lineup by expanding the TOHSIBA SPINEX brand to other corporations.
The opening of the marketplace represents the direction of digital transformation that Toshiba Group aims for. As an example, by user registration, function user's interest will be collected and they will be reflected in service development. Digital technology will transform the traditional requirements-based service development into customizable standard service provision.
Toshiba Group will position this marketplace as one of the foundations of our offering strategy (aggregate of providing value to customers) to realize an infrastructure services company, and enhance its presence in Systems of Systems (*6).
Hiroshi Yamamoto, Managing Executive Officer, Corporate Digitization CTO of Toshiba Corporation said "I finally opened TOSHIBA SPINEX Marketplace as the culmination of two years after joining Toshiba. We have stood on a start line to catch up with world class competitors in IIoT field and even overtake them in the near future, but I declare it's just a passing point.
We will provide online hands-on from the user's perspective and realize superior UI / UX than competitors. We will strongly drive the growth as strategic foundations for offering (aggregate of value provision to customers) that supports to make Toshiba Group an outstanding infrastructure services company."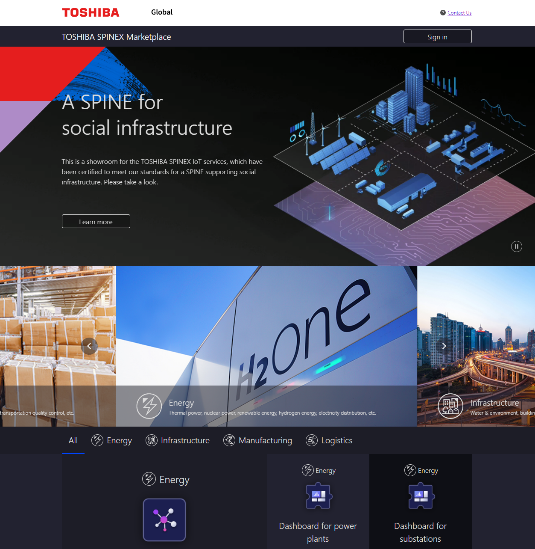 Web design for TOSHIBA SPINEX service brand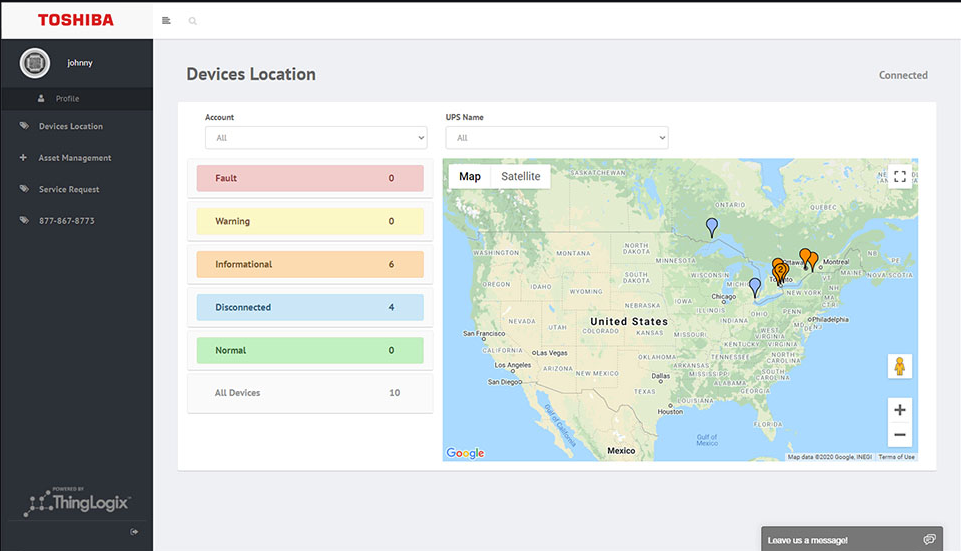 Going on the expansion of online hands-on
* 1 See below for TOSHIBA SPINEX
English: https://www.global.toshiba/ww/cps/corporate.html
Japanese: https://www.global.toshiba/jp/cps/corporate/spinex.html
* 2 Industrial Internet of Things
* 3 https://www.spinex-marketplace.toshiba
* 4 https://www.spinex-marketplace.toshiba
* 5 Application Programming Interface
* 6 A system formed by integrating multiple systems, each of which is operated and managed independently. It creates new value that could not be created by each component system alone.
https://www.global.toshiba/jp/company/digitalsolution/articles/digicon/2019/06.html