News Releases
Toshiba Ships Turbine for World's First Direct-Fired Supercritical Oxy-Combustion CO2 Power Cycle Demonstration Plant to U.S.
high efficiency turbine enables low-cost electricity
1 Nov, 2016
TOKYO—Toshiba Corporation (TOKYO: 6502) today shipped a 25MW gross electric (50MWth) turbine to the world's first direct-fired supercritical oxy-combustion CO2 power cycle generation system demonstration plant, now being built in Texas in the United States. The demonstration plant, jointly developed by Toshiba, NET Power, LLC., CB&I, and Exelon Corporation, will validate the Allam Cycle, a new natural gas power system that operates at high efficiency and collects high-pressure CO2. Toshiba has been developing the turbine and combustor for the plant since 2012.
Commenting on the shipment, Takao Konishi, Vice President of the Thermal & Hydro Power Systems & Services Div. of Toshiba's Energy Systems & Solutions Company said, "I am delighted to reach this milestone of successful shipment of the turbine, which very efficiently uses high pressure, high temperature CO2 to generate electricity. By combining casing technology for the ultra-super critical steam turbine with material technology and cooling technology for the high temperature gas turbine, we have achieved a highly reliable turbine. With our advanced technologies in thermal power generation, we are committed to producing electricity efficiently."
The demonstration plant will start operation in 2017. The companies will use it to establish the technology, and subsequently aim to construct a 250MW class commercial-scale natural gas plant.
The supercritical CO2 power cycle system achieves the same level of generating efficiency as a combined-cycle power plant. It separates and collects CO2 at high-pressure, eliminating the need for separate carbon capture equipment or processes, and secures full CO2 capture without any increase in the cost of electricity. The plant uses supercritical CO2 as a working fluid to generate low cost electricity while eliminating emissions of nitrogen oxides and other pollutants.
Toshiba Energy Systems & Solution Company aims to achieve "green energy" globally, providing society with sustainable energy by advances in generating efficiency and developing technologies to achieve zero emissions.
Outline of the Supercritical CO2 Thermal Power Plant System
The plant burns a mixture of natural gas and oxygen combined with CO2 to produce a working fluid gas, a mix of mainly CO2 and H2O that is used to drive the turbine generator. This working fluid is then cooled through a heat exchanger and H2O is separated out to create a nearly-pure CO2 stream. The CO2 stream is pressurized, and a major part of this flow is fed back to the combustor to begin the cycle anew. The remaining part of the CO2 flow can easily be collected and put into a pipeline for storage or sequestration, without increasing the cost of producing electricity.
Image of the Supercritical CO2 Thermal Power Plant System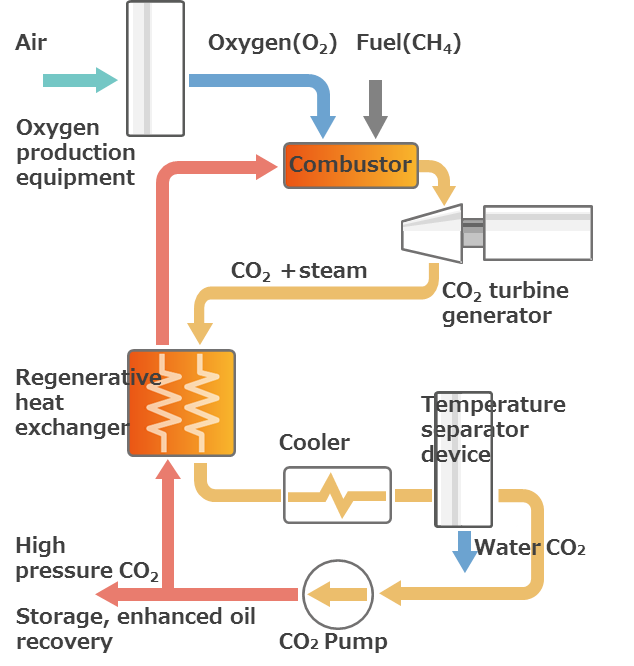 Efficiency Compared with Combined Cycle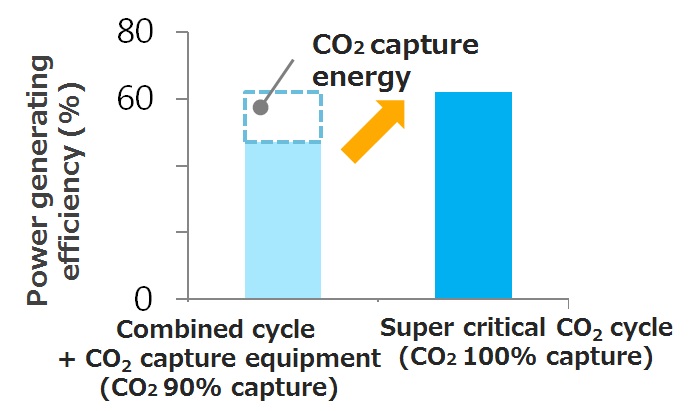 Turbine for Supercritical CO2 Power Cycle System for Demonstration Plant