News Releases
Toshiba and Dell Technologies' Deep Learning Testbed for IoT is First Approved by Industrial Internet Consortium
To promote further use of deep learning in IoT
17 Oct, 2016
TOKYO— Toshiba Corporation (TOKYO: 6502) today announced that a deep learning testbed jointly developed with Dell Technologies has become the first deep learning platform to be approved by Industrial Internet Consortium (IIC). Toshiba will introduce the deep learning testbed in its Smart Community Center in Kawasaki, Japan, and use it in the period to September 2017 to evaluate data amassed in the Center.
IoT is spurring the need for efficient management of edge devices that provide entry points to enterprise networks—that assures their reliability and minimizes risk. Beyond this, efficient management and use of the tremendous volumes of data produced by such devices require the application of deep learning.
Toshiba and Dell Technologies will use the testbed to verify the effectiveness of applying deep learning to IoT platforms and establish best practices that will improve the availability of the machines, optimize monitoring equipment, including sensors, and reduce maintenance costs. In the verification, Toshiba will provide deep learning technology for analyzing and evaluation big data, and Dell EMC, a provider of data storage solutions owned by Dell Technologies, will provide high-speed storage technologies.
Toshiba will draw on its extensive experience in dealing with image and sound recognition and analysis to realize efficient machine control and management for building facilities and factories. In the testbed, it will utilize big data from building management, air conditioning and building security accumulated in its Smart Community Center.
"IIC's approval of the Deep Learning Facility Testbed is a major step forward" said Shigeyoshi Shimotsuji, Executive Vice President of Toshiba's Industrial ICT Solutions Company. "We will use it to apply new big data parallel distributed processing that applies a new learning model and parameter optimization technology. Current deep learning technologies for big data rely on parallel distributed processing to shorten learning times and handle large volumes of data. However, this does not produce a sufficient learning effect. This new technology overcomes these challenges"
"I am delighted with the news that the IIC approved the Deep Learning Facility testbed. This was made possible in collaboration with the distinguished members of Toshiba. With the unprecedented integration of Deep Learning and state-of-the-art Dell EMC Flash storage technologies, we believe that we can accelerate the application of Artificial Intelligence to benefit multiple industries. I am truly grateful for the close collaboration we have established with the Toshiba team. Our relationship and the advanced technologies of both companies made this kind of testbed a reality. Without a doubt, the technology we have developed will have great impact on the future advancement of IoT in smart facilities, autonomous vehicles, manufacturing, healthcare, and many other verticals," said Said Tabet, Ph.D., Technology Lead, IoT Strategy, Senior Technologist of Dell EMC.
"The Industrial Internet Consortium's worldwide, and world-class testbed program continues to accelerate both its own pace and the pace of adoption of the Internet of Things in many industries.", said Richard Mark Soley, Ph.D., Executive Director, Industrial Internet Consortium. "The Consortium welcomes another world-first: a state-of-the-art deep learning testbed, made possible by Toshiba and Dell EMC technologies. Applying these technologies to building control is a major first, and we expect further development to realize practical usage contributing greatly to the advancement of industrial IoT."
Toshiba will use the testbed to establish new solutions that apply deep learning efficient management and control of building facilities, and will aim to co-create solutions with partners to further meet the needs for big facilities, such as hospitals, hotels, shopping malls, factories and airports.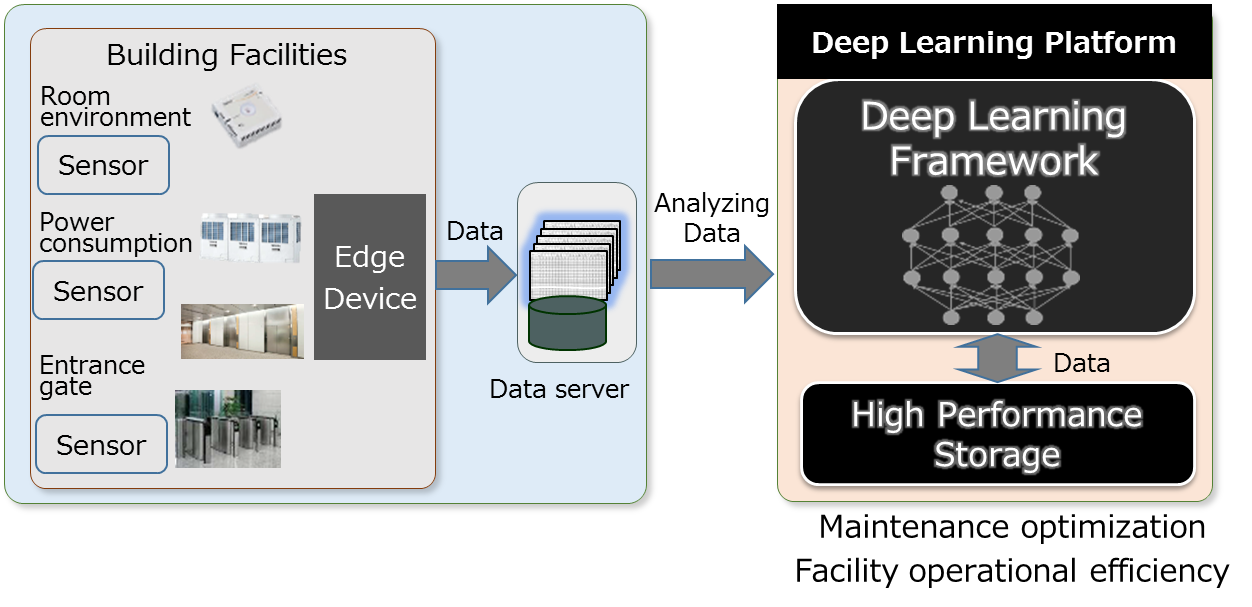 About the Industrial Internet Consortium
The Industrial Internet Consortium® (IIC™) is an open membership organization with over 240 members from 30 countries, formed to accelerate the development, adoption, and widespread use of interconnected machines and devices, intelligent analytics, and people at work. Founded by AT&T, Cisco, General Electric, IBM, and Intel in March 2014, the Industrial Internet Consortium catalyzes and coordinates the priorities and enabling technologies of the Industrial Internet. The Industrial Internet Consortium is managed by the Object Management Group® (OMG®). For more information visit www.iiconsortium.org.
Note:

[1]

Deep learning: A type of "machine learning" in which the system learns data's characteristics and how to recognize and classify them. The characteristics are learnt at a deep level to increase the accuracy.

[2]

Testbed: A platform for testing and verifying products and equipment. It lets to test the potential and usefulness of new technologies, new applications, new products, new services and new processes.

[3]

Edge device: Devices that have an internet connecting function, and that can acquire data on machine status

[4]

Parallel distributed processing: A technique which classifies calculation of deep learning process in parallel.

[5]

Dell EMC is one brand of Dell Technologies Inc.