News Releases
Toshiba H2OneTM Hydrogen Based Autonomous Energy Supply System Now Providing Power to a Kyushu Resort Hotel
Using Renewable Energy, H2OneTM SuppliesElectricity All Year Round
14 Mar, 2016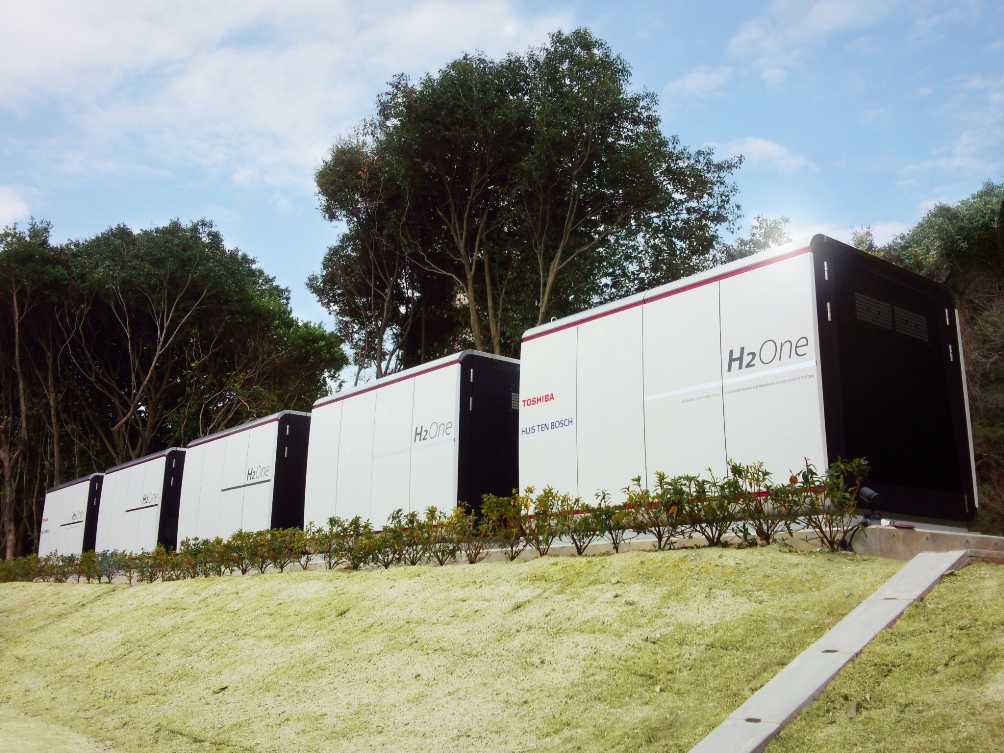 TOKYO—Toshiba Corporation(TOKYO:6502) today announced that H2OneTM, Toshiba's hydrogen based autonomous energy supply system, which integrates renewable energy generation and uses hydrogen as a fuel for power generation, has entered operation in the Phase-2 building of the Henn na Hotel, at the Huis Ten Bosch theme park in Nagasaki, Kyushu.
H2OneTM integrates a photovoltaic power generation system with batteries for storing output power, a hydrogen-producing water electrolysis unit, hydrogen storage alloy tank, and a hydrogen fuel cell unit. In the Resort Model version of H2OneTM installed at Henn na Hotel, this configuration delivers a CO2-free, environmentally friendly solution for hotels and other resort facilities.
Toshiba's unique hydrogen EMS (Energy Management System) is an optimum technology that aligns a number of energy paths to ensure that intermittent power generation satisfies energy demand. The long hours of summer sunshine of Kyushu, the third largest and southernmost of Japan's main islands, allow H2One'sTM photovoltaic energy system to generate enough renewable energy to meet all the requirements of the 12 rooms in the Henn na Hotel's Phase 2, and additional power to electrolyze water and produce hydrogen. The hydrogen is stored in the system's integrated tank, ready for use on demand, and in winter powers fuel cells that generate electricity and warm water. The H2One'sTM capacity is sufficient enough to supply Henn na Hotel's Phase 2 with electricity all year round.
The H2OneTM installed at Henn na Hotel deploys a hydrogen storage tank made with a new hydrogen storage alloy that achieves much improved high-density storage. The tank is less than one-tenth the size of the conventional model it replaces, and suitable for use even in small spaces.
Toshiba Group is channeling its diverse technologies into developing total hydrogen energy solutions, from generation through to utilization.
System structure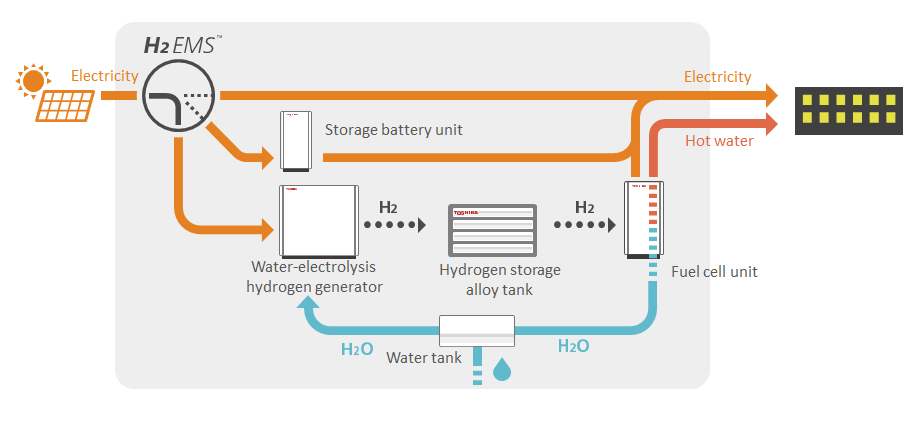 Key system specifications
Photovoltaic capacity: 62 kW
Fuel cell output: 54kW
Electricity storage capacity: 1.8MWh
Hot water supply capacity: 24 liters maximum per minute