News Releases
Toshiba Pot Type Hypochlorous Acid Water Generator is Safe and Highly Effective in Removing Bacteria and Deodorizing

Hypochlorous Acid Water from Electrolyze of Water and Salt is a Match for Various Viruses and Bacteria

3 Mar, 2016
*Toshiba Group withdrew from the hypochlorous acid water business at the end of March 2018, and no longer makes or sells the product.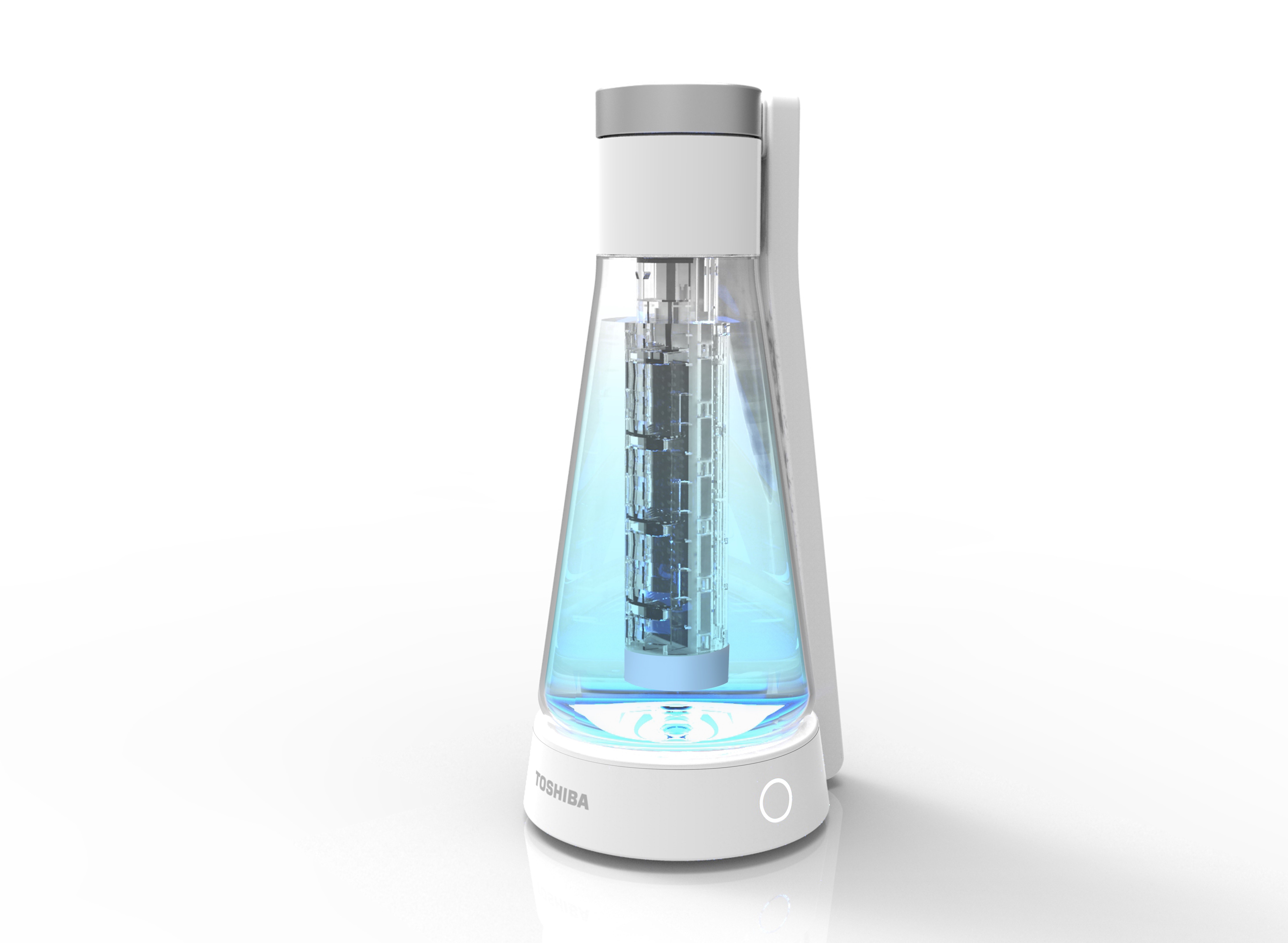 Electrolyzed Functional Water Generator (EWP-001)
TOKYO— Toshiba Corporation (TOKYO: 6502) today announced the launch in the Japanese B2B market of EWP-001, a portable, desk-top electrolyzed functional water generator that produces hypochlorous acid water. At a time of increasing concern for hygiene in settings ranging from restaurants to healthcare facilities, EWP-001 produces a safe, low-cost anti-bacterial sanitizer and deodorizer. EWP-001 will be available from March 15.
Shops, restaurants, medical facilities, nursing care homes and day-care nurseries all require high levels of personal hygiene management. Some sanitizers and deodorizers require the use for hazardous chemical materials, which raises safety concerns such as accidental ingestion and handling of hazardous chemicals.
Hypochlorous acid water is a safe, low cost alternative with high anti-bacterial and deodorizing properties. It is produced by electrolysis of water and salt, without any need for hazardous chemical materials, and is immediately effective against a wide range of bacteria and viruses. It does not cause the rough skin that results from constant use of other major sanitizers. Hypochlorous acid water is also very effective as a deodorant that counteract the odors of ammonia and methyl mercaptan, both released by foodstuffs as they start to age.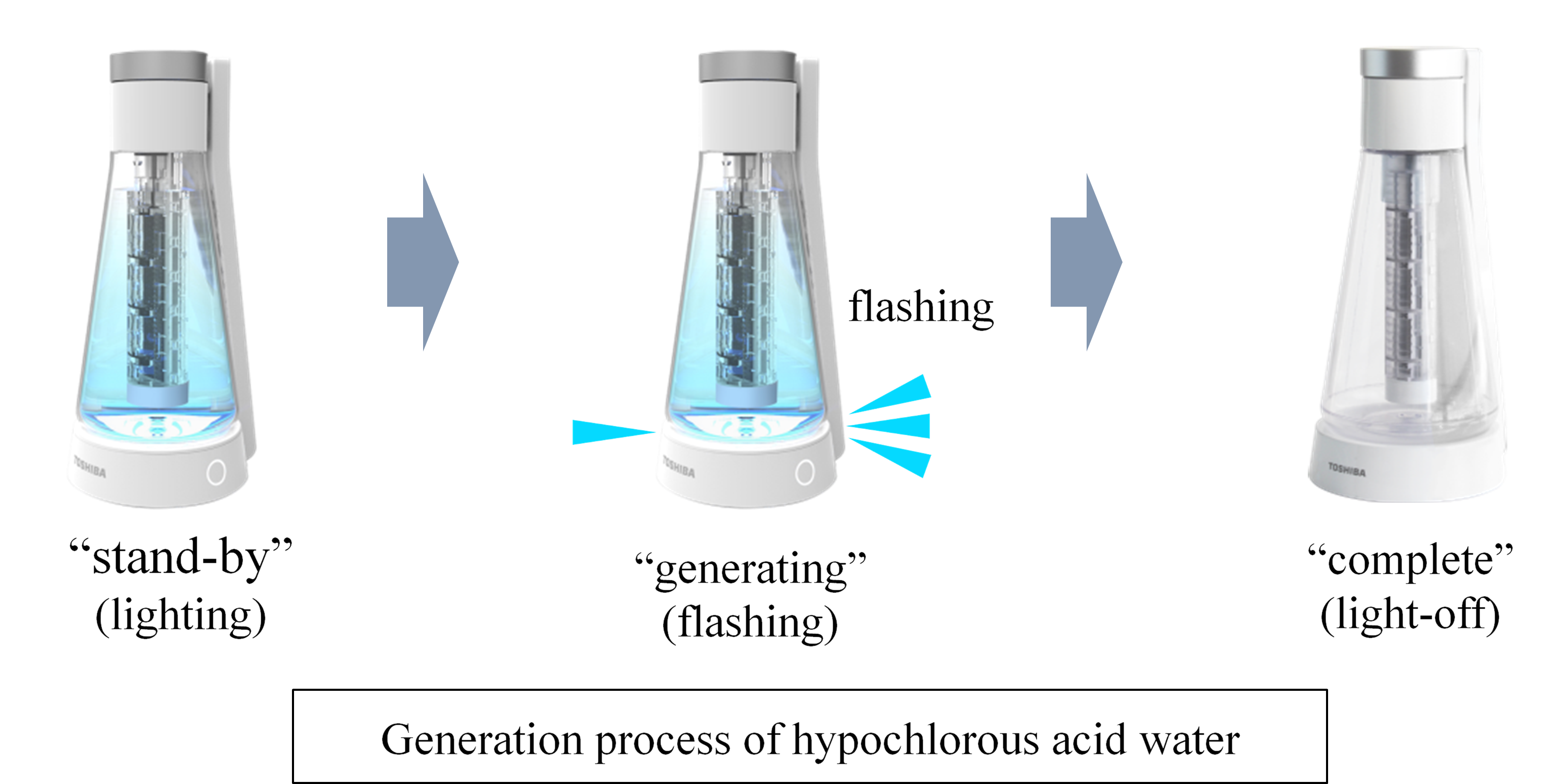 Toshiba's EWP-001 is ideal for small to medium facilities. It is light, compact and portable, similar in size to an electric kettle at just over 30cm tall with a 13cm base, and can produce one liter of weak hypochlorous acid water in 3 minutes. An LED lamp shows its status: "stand-by", "generating" and "complete". It is expected to find a wide range of uses in hygiene management, including sanitization of restaurants, medical facilities, nursing homes and day-care centers, and the sanitization and deodorization of equipment at sports clubs and hotels. It is also expected to find use in agriculture, stockbreeding and in food processing facilities.

Amendments to Press Release (August 5, 2016):
The press release published on March 3, 2016 included some expressions which may have led to the misidentification of Toshiba's Pot Type Hypochlorous Acid Water Generator (EWP-001) as a medical product. Expressions related to the items listed below have been removed.
Specific bacteria and viruses, such as influenza;

Comparisons with rubbing alcohol;

Hygiene management, specifically gargles and hand washes;

Food sterilization

Sanitization of pet's cages
Product Outline
Product name

Electrolyzed functional water generator

Model name

EWP-001

Specifications

Hypochlorous acid water (electrolyzed functional water):

Available Chlorine Concentration 20-40mg/kg (water temperature 18-28 ͦ C); pH5.5-7 (depends on tap water quality)

Output: 1 liter/ 1 operation (in 3 min)

Rated voltage

AC100V

Rated frequency

50Hz/ 60Hz

Power Consumption

Approx. 12W

External dimensions

Power supply stand: 130mm (W) x 150mm (D) x 305mm (H)

Bottle (includes electrolyze unit): φ120mm × 270mm (H)

Weight

Power supply stand: approx. 580g

Bottle (includes electrolyze unit, without water): approx. 420g

Water supply quality

Tap water (drinkable water)

Water supply temperature

10-40 ͦ C

Usage environment

Usable temperature: 10-40 ͦ C, humidity 0-85% RH

Manufacturer's recommended price

98,000 yen
For further information (Webpage is in Japanese)
http://www3.toshiba.co.jp/ddc/kinousui/index_j.htm