News Releases
Toshiba Launches "Wearvue™ TG-01"
Small, Light, Next Generation Wearable Work Support Tool that does not Obstruct the User's View
13 Jan, 2016

WearvueTMTG-01
TOKYO–Toshiba Corporation(TOKYO:6502) today announced the launch of "Wearvue" a next generation wearable device for the B2B market that will help to achieve hands-free working environments1 in such facilities as factories and logistics centers, and in activities including infrastructure maintenance. Wearvue will initially be made available to companies in Japan through on-line reservations, with shipping scheduled to start on February 29.
Wearvue is worn like a pair of glasses and, at only 50 grams2, is designed to be light and comfortable enough for long periods of use. The design also achieves a natural appearance that does not distract or disturb people during conversations. In use, a Toshiba-developed original optical system3 projects data, text and color images, to the right-hand lens of Wearvue, with a 1:1 aspect ratio. The optical system secures a wide viewing area and a depth of field that makes the data easy to see without obscuring the wider view. Wearvue also includes a personal adjuster for changing the angle of image projection, ensuring that it can be worn by an estimated 98%4 of Japanese adults.
Wearvue applications run on Windows, and in operation the glasses must be connected by cable to a Windows device. The software development kit needed for developing application will be available from Feb. 29 at http://www.toshiba.co.jp/tg/index_j.html (Only available in Japanese).
Wearvue is showcased at Wearable EXPO 2016, held from January 13–15 at Tokyo Big Site.
Toshiba will further promote developing glasses-type wearable type devices product that assist work environment, that is applicable for contribute to upgrading working environment for various industries and services.
【Toshiba Cancels Launch of WearvueTM TG-1 Glasses-Type Wearable Device】
22 Feb, 2016
Toshiba Corporation announced the cessation of development and sales of WearvueTM TG-1.
The decision was made under the corporate-wide policy "Review the Business Portfolio and Operational Structure," part of the "Toshiba Rebuilding Initiative."
https://www.global.toshiba/ww/news/corporate/2016/02/pr2201.html
Outline of the new product
Item

Specifications

Display type

Optical see through-type virtual image system (single eye, fixed on right side)

Reflected lenses thickness

2.7mm

Input resolution

1280 x 720 (720P)

Aspect ratio of output image

1:1 (optical correction achieves a 1:1 projected image)

Angle of view

Horizontal approx. 9 degrees × vertical approx. 9 degrees

Displayed colors

18-bit color (approx. 260,000 colors)

Luminance output for projection area (maximum)

500 cd/m2, nt

Transparency rate

70%

Power source (power feed)

Provided via USB cable. Input power voltage: 5V (DC)
Uses external Windows device or mobile USB battery

Power consumption

2.5W

Battery hours

Connected battery dependent

Dimensions

167.9 mm x 162.5 mm x 38.0 mm (excluding cable)

Weight

50g (excluding cable)

Connector

HDMI(type-D), USB Connector(type-A)

Included in the box

Micro USB adaptor, dedicated case, lens cleaner cloth, handling manual, written guarantee

Operating temperature

5℃– 35℃

Connection terminal

CPU: AtomZ3735F 1.33GHz or over
Memory: 2GB or more
OS: Windows® 8.1 (DirectX11)
Uses of Wearvue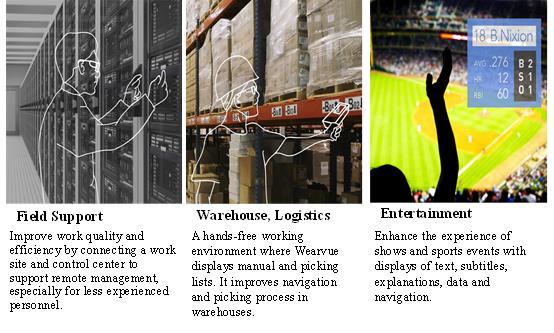 System configuration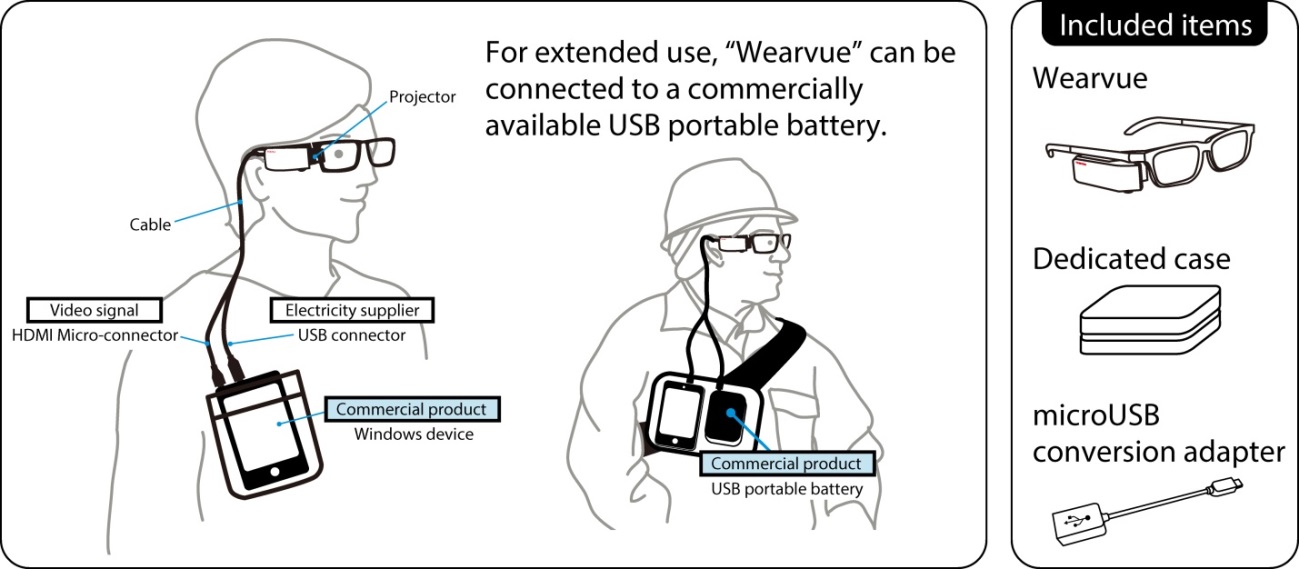 Notes:
1 Applications must run on the Windows OS
2 Weight may vary slightly by product
3 Optical see through image type
4 Source: "Japanese Human Body Measurements Data book 2004-2006"
Research Institute of Human Engineering of Quality Life
※ Company and product names are copyrighted to or owned by each company
※ Atom™ is copyrighted to Intel
※ HDMI is copyrighted to HDMI Licensing LLC.
※ Windows and the Windows logo are trademarks of Microsoft Group
※ Official name for "Windows" is "Microsoft Windows Operating System"
For further information on the products, please refer to following URL(Japanese);
http://www.toshiba.co.jp/tg/index_j.html
TOSHIBA CLIP (Japanese) http://www.toshiba-clip.com/detail/83
All information in this document is as of the date of announcement date and is subject to change with prior notification.