News Releases
Toshiba's Advanced Propulsion System to Drive Seibu Railway's New Trains

24 Aug, 2015

TOKYO- Toshiba Corporation will provide high performance propulsion systems for new Series 40000 trains that Seibu Railway Co., Ltd. will bring into service on lines serving Tokyo and its suburbs in spring of 2017. The propulsion systems comprise totally enclosed permanent magnet synchronous motors (PMSMs) and 4-in-1 variable-voltage, variable-frequency (VVVF) traction inverters.
Seibu Railway, one of Tokyo's largest private rail companies, operates services from Shinjuku and Ikebukuro that serve western Tokyo and northern Tokyo and Saitama, respectively. Toshiba will deliver 24 sets of propulsion systems for eight ten-car trains. This is the company's first volume order for propulsion systems for Seibu trains, and delivery is scheduled to start in spring of 2016.
The PMSM delivers a series of unchallenged benefits, starting with a rated energy efficiency of 97%. The motor's totally enclosed design eliminates the need for cleaning during its service life and minimizes maintenance, and its 4-in-1 VVVF inverter system, which integrates two 4-in-1 inverter units with inverter circuits for each cooling unit, is smaller and lighter than the typical systems now in use. Perhaps most important, the propulsion system cuts power consumption by 30% to 50%, compared to Toshiba's preceding system*1, as the inverter system can drive up to eight PMSMs, significantly reducing traction power consumption*2, and Toshiba's proprietary control system for regenerative braking*3 harvests more energy and boosts the overall energy efficiency of the trains.
Rail companies are increasingly looking for rolling stock offering enhanced environmental performance, particularly high energy efficiency, low noise and reduced maintenance. In these circumstances Toshiba's totally enclosed PMSMs are being widely adopted, in Japan and overseas. Toshiba will continue to develop products with lower life-cycle costs, including totally enclosed PMSMs that are highly energy efficient and need less maintenance, and thereby contribute to the global railroad business.
[*1]

A type of system widely used in rolling stock, combining a VVVF inverter and induction motors.


[*2]

Power consumed when a train uses supplied electricity to accelerate.

[*3]

A braking system that uses the main motor as a generator during braking and supplies the output to the electrical load.
Image of Toshiba's Totally Enclosed PMSM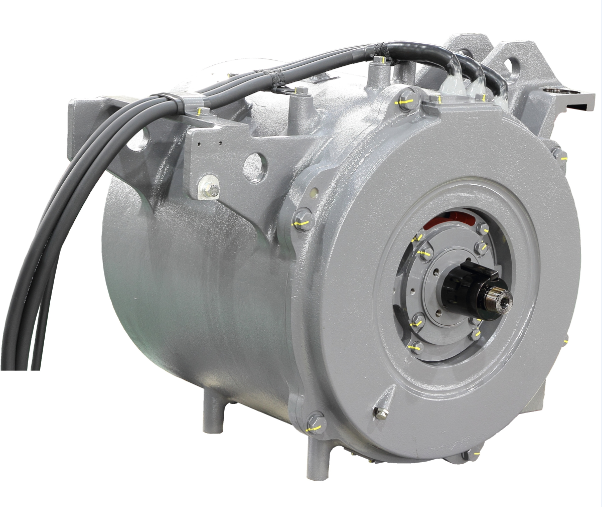 Artist's Impression of the New Series 40000 trains

| | |
| --- | --- |
| | |
| | *This photo is provided by Seibu Railway Co., Ltd. |