News Releases
Toshiba's New Wearable Wristband Fitness Tracker Runs Two Weeks without Recharging
Syncs with smartphones, records physical activity, sleep and diet
11 Aug, 2014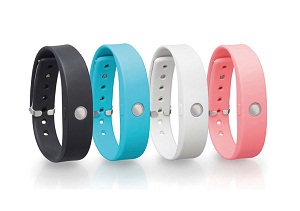 TOKYO—Toshiba Corporation (Tokyo: 6502) today announced the release of a wearable fitness tracker, WERAM1100, for online sales in Japan from Amazon and Yahoo! Shopping. Orders will start to ship on August 20.
An integrated accelerometer enables the WERAM1100 to estimate physical activities, such as steps taken, distance traveled and calories burned. The fitness tracker can also measure sleep states and patterns and hours of sleep per day. A dedicated app syncs information to a smartphone via Bluetooth® and allows users to view accumulated data as graphs. Users can also upload photos and calories counts of meals, to monitor diet along with physical activity and sleep.
The WERAM1100 draws on signal processing technology expertise that Toshiba has cultivated in its semiconductor business, and achieves a design that keeps power consumption to a minimum—the WERAM1100 can run for two weeks without recharging, removing the need for users to carry a charger when traveling.
WERAM1100 automatically determines activity levels and sleep, eliminating the need to change the operating mode manually when going to bed or getting up in the morning.
Operation is simple and allows users to program and log individual, everyday life activities—what time breakfast is eaten, for instance. A built-in vibrator can be set to go off when pace counts, distance and other targets are reached, and also functions as an alarm.
The WERAM1100 is available in four color variations: black, light gray, smoky pink and blue-green. Wristbands will be sold separately, allowing users to change the band according to mood and style of the day.
Toshiba is promoting its healthcare business to support the development of a society where people can lead healthier and happier lives. The company will launch cloud services for wearable products that provide big-data analytics using the company's state-of-the-art engine.
Key specifications
Model number

WERAM1100

Price

Open price

Color variations

4 colors: black, light gray, smoky pink, blue-green

Sensor

Acceleration sensor

Communication

Compliant with Bluetooth® 3.0/4.0 (Class 2)

Operating temperature range

5°C to 50°C

Operating humidity range

20% to 90% (no condensation)

Continuous operation

2 weeks (* varies with usage patterns and conditions)

Dimensions

When buckled at the loosest hole: Approx. 195 mm

When buckled at the tightest hole: Approx. 140 mm

Thickness: Approx. 12 mm

Width: Approx. 19 mm

Internal battery

Rechargeable lithium-ion battery

Charging method

USB charging via a dedicated attachment

Water/dust protection

IPX5/IPX7-equivalent

Weight

Approx. 27 g
Bluetooth® is a registered trademark of Bluetooth SIG, Inc.
Amazon and Amazon.co.jp are trademarks of Amazon.com, Inc. or its affiliates.
Yahoo! and the Yahoo! and Y! logos are trademarks or registered trademarks of Yahoo! Inc.
Contact for the WERAM1100:
Digital Health Business Development Division, Healthcare Company
Phone:

+81-3-3457-2986

E-mail: