News Releases
Sumitomo Corporation, NEC Group, Toshiba, and Morita receive order for supply of airport/aviation security infrastructure in Myanmar
--Concluded agreement on ODA grant-funded "Project for Improvement of Nationwide Airport Safety and Security"--
20 Sep, 2013

Sumitomo Corporation
NEC Corporation
NEC Networks & System Integration Corporation
Morita Corporation
Toshiba Corporation

Sumitomo Corporation (head office: Chuo-ku, Tokyo; President and CEO: Kuniharu Nakamura), together with NEC Corporation (head office: Minato-ku, Tokyo; President: Nobuhiro Endo; hereinafter, "NEC"), NEC Networks & System Integration Corporation (head office: Bunkyo-ku, Tokyo; President: Masao Wada; hereinafter, "NESIC"), Toshiba Corporation (head office: Minato-ku, Tokyo; Director, President and CEO: Hisao Tanaka; hereinafter, "Toshiba"), and Morita Corporation (head office: Sanda-shi, Hyogo Prefecture; President: Masahiro Nakajima; hereinafter, "Morita"), concluded an agreement on September 10 with the Department of Civil Aviation, Ministry of Transport, Republic of the Union of Myanmar on the "Project for Improvement of Nationwide Airport Safety and Security" (hereinafter, "the Project")

This Project is designed to help improve aviation safety at Myanmar's major airports (Yangon, Mandalay, Nyaung U, Heho, Thandwe, and Dawei). To satisfy the International Civil Aviation Organization (ICAO) safety standards, equipment such as Doppler VHF omnidirectional radio range beacons and distance measuring equipment (*1), flight procedure design systems, various aeronautical lights, and communication control units will be supplied to improve air traffic safety; and fire engines, X-ray screening machines, explosive detection devices and other equipment for airport security will be installed as necessary. The Project is expected to enhance Myanmar's airports' capacity to handle the burgeoning air traffic in the region by improving the safety and reliability of air transport and establishing more efficient air routes.

Aviation demand in Myanmar is increasing each year in both the number of passengers and the volume of cargo. It is viewed that the country's aviation sector will most certainly increase in importance as it achieves greater economic development, however the installation of aviation safety facilities and airport security equipment is severely delayed. Many local airports in particular still do not have adequate radio navigation facilities, and aircraft rely on low-precision instruments or visual contact, making it difficult to cope with sudden changes in the weather or other contingencies. Furthermore, some local airports do not have adequate detection equipment for explosives and many improvements in the inspection procedures are necessary. In view of these circumstances, the government of Myanmar requested to the Japanese government for continued assistance in airport/aviation security and the provision of urgently needed equipment. In response to this request, an exchange of notes took place between the governments of Myanmar and Japan on March 22, 2013, with a grant agreement concluded between the Japan International Cooperation Agency (JICA) and Myanmar that pledged 1.233 billion yen in Official Development Assistance (ODA). The Civil Aviation Bureau of Japan's Ministry of Land, Infrastructure, Transport and Tourism has also been supporting aviation infrastructure upgrades internationally since 2011 through various meetings and conferences, and they're expected to start up medium- to long-term assistance programs for Myanmar.
Sumitomo Corporation as the prime contractor for this Project will be responsible for overall coordination. Myanmar is positioned as one of the company's key business regions in Sumitomo Corporation's medium-term management plan. Involved in businesses such as the creation of an industrial park in the Thilawa Special Economic Zone, Sumitomo Corporation in May 2013 received an order with NEC and other partners to make urgent improvements to communications networks, followed in June 2013 by an order for a project to improve railway safety and service, the company has been comprehensively engaged in a full range of infrastructure construction and improvement efforts in Myanmar. It is also steadily building up a record of performance in the area of air traffic control systems, receiving orders in November 2010 from the Philippines and in August 2013 from Laos. Sumitomo Corporation will continue to seek orders for air traffic control projects in Asia and elsewhere to further boost aviation safety.
NEC will be providing the Project with Distance Measuring Equipment (DME) for radio measurement of distances between aircraft and aeronautical stations, while NESIC will be developing the relevant systems for radio communications and undertaking a full spectrum of tasks in building airport/aviation security infrastructure.
The NEC Group has been involved in the construction of Myanmar's communications infrastructure for 35 years, including telephone switchboard equipment, radio communication devices, satellite earth stations and broadcasting systems. An NEC branch office opened in Yangon in February 2013, which, in conjunction with execution management by NESIC (Thailand) Ltd., a NESIC's Thai subsidiary, is putting in place the structures needed to support the development of communications networks in Myanmar. As noted above, it joined with Sumitomo Corporation and others in a project to make urgent improvements to communication networks, receiving orders to build fiber-optic backbone communications networks linking three cities in Myanmar as well as LTE communications infrastructure within these cities. In August 2013, NEC also opened an office in the capital city of Naypyidaw. In addition to undertaking the Project, NEC aims to assist with the future needs of Myanmar's public offices, local companies and other customers by, for instance, providing international communications networks via seabed cables, ICT infrastructure for rapidly developing industrial parks, disaster prevention solutions, security and e-government solutions, as well as servers and other high-volume retail items.
Toshiba will contribute to the Project by supplying three major airports, Nyaung U, Heho, and Thandwe, with Doppler VHF omnidirectional radio range (DVOR) beacons, the Project's principal air navigation systems. Toshiba has extensive experience in supplying air navigation systems in Japan and overseas, and continues to promote technology innovation that help to improve air traffic safety and efficiency.
Toshiba Group has sold home electronics to Myanmar from its base in Singapore since the 1980's, and in social infrastructure, the company provided equipment for the Sedoci Hydropower Plant in 1985. Most recently, Toshiba Asia Pacific opened an office in Yangon in April 2013 that will allow Toshiba will establish a stronger presence in the country and support Myanmar's economic development.. Toshiba will strive to further contribute to Myanmar, and internationally, by providing high-quality, high-performance air navigation systems.
Morita under this Project will be in charge of providing aircraft rescue fire fighting vehicles and equipment for Yangon, Dawei, Nyaung U, and Heho airports. In line with its slogan of "protecting human life and Mother Earth," Morita develops, manufactures and sells a broad range of products, including aircraft rescue fire fighting vehicles and other fire trucks (pumper trucks, ladder trucks, rescue vehicles, and fire engines for industrial complexes). Since its establishment in 1907, Morita as a top manufacturer of fire-fighting and disaster-prevention vehicles has been in great part responsible for the development of fire-fighting technology in Japan, and its sales efforts now extend beyond Japan to countries in Asia, the Near/Middle East and Africa. The foundations of the Morita Group's business lie in its full-hearted commitment to manufacturing and, as it takes on the challenge of manufacturing products of even higher quality, it will be safeguarding the air gateways into Myanmar through this Project as the country pursues rapid development.
By building airport/aviation security infrastructure in Myanmar, where continued economic development is anticipated, Sumitomo Corporation, NEC, NESIC, Toshiba and Morita will work to complete this Project promptly to enhance the country's infrastructure safety and reliability. These companies also intend to cooperate in drafting proposals for upgrading aviation security infrastructure at other major local airports not covered by this Project.
Note:

(*1)

Doppler VHF omnidirectional radio range beacons and distance measuring equipment: A type of radio air signals, it is the "lighthouse for airplanes", and installed in points in the airport and on the runway. DVOR measures the direction of the airplane in relation to the DVOR, and a DME measures the distance from the airplane to the DME. It is standard for a DVOR and DME to be installed together as one set.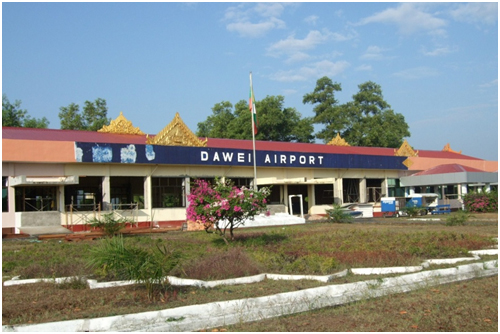 Exterior view of Dawei Airport
(one of the airports scheduled for installation of an air traffic control system)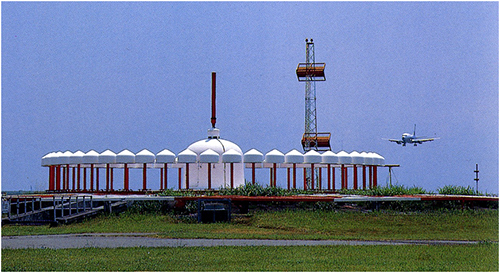 Doppler VHF omnidirectional radio range beacons and distance measuring equipment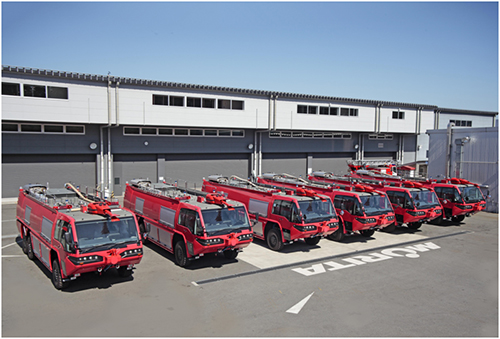 Morita's Aircraft rescue fire fighting vehicles
Map of installation sites