News Releases
Toshiba Publishes English Edition of CSR Report 2013
23 Aug, 2013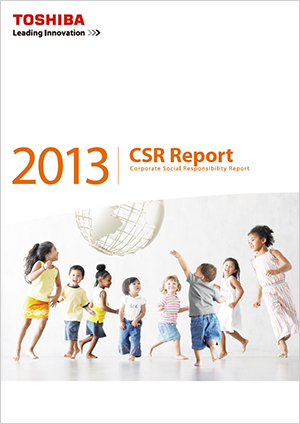 TOKYO — Toshiba Corporation (TOKYO:6502) today announced that the English edition of the Toshiba Group Corporate Social Responsibility Report 2013, a comprehensive account of Toshiba Group's latest CSR activities, is now available at:
http://www.toshiba.co.jp/csr/en/index.htm
Toshiba has published the report since 2004 as a mean to provide the company's stakeholders with an authoritative resource on Toshiba Group's CSR policies, plans, programs and activities; this is the 10th edition. The Report is complemented by Toshiba's CSR website, which reports the latest news and provides video coverage of major activities.
The CSR Report 2013 can be downloaded as a PDF from Toshiba's CSR website, and readers can make their own version by selecting the topics they want to read.
As it has since 2010, reports follow the order of the seven core subjects defined by the ISO 26000 Guidance on social responsibility. Beyond that, the report also covers Toshiba's approach to CSR management and human rights issues in the supply chain, which stakeholders have identified as areas of high interest, and identifies priority themes for each of Toshiba Group's business domains, from the perspective of ISO 26000 core subjects and social challenges.
Toshiba's CSR website provides many links to related information, plus video features that present CSR activities in more detail. A recent addition covers "Minamisoma Solar Agri-Park", a reconstruction project in the area hit by the Great East Japan Earthquake.
Toshiba Group strives to constantly act with unshakable integrity and aims to continue to be trusted as a "corporate citizen of planet Earth."
The Japanese edition of Toshiba Group Corporate Social Responsibility Report 2013 is also available online at: http://www.toshiba.co.jp/csr/jp/index_j.htm
1. Outline of Toshiba Group CSR Report 2013
(1) Published: August 2013
(2) The Report can be downloaded from the following site:
http://www.toshiba.co.jp/csr/en/report/download.htm
(3) Main content:
(a)

Highlights of CSR activities
- Realization of Smart Communities
- Support for recovery from the Great East Japan Earthquake
- CSR management in the supply chain including Toshiba's action to conflict minerals issue

(b)

CSR performance reports
CSR performance reports are grouped according to the seven core subjects of ISO 26000: organizational governance, human rights, labor practices, the environment, fair operating practices, consumer issues, and community involvement and development. Toshiba Group's major achievements and KPI plans are covered.

(c)

Stakeholder engagement
A dialogue with Asia-Pacific representative of BSR, a U.S. CSR promotion organization, on issues to be addressed by Toshiba Group.
* Other reference guidelines
The Report follows the Sustainability Reporting Guidelines, Ver. 3.1, published by the Global Reporting Initiative
2. CSR Website
Details of Toshiba Group's CSR activities can also be found on the CSR website:
http://www.toshiba.co.jp/csr/en/index.htm