News Releases
Toshiba's Electrical Equipment Selected for Rio de Janeiro Trains
27 Jun, 2013
TOKYO—Toshiba Corporation (TOKYO:6502) today announced that it has received a major order from a consortium of China National Machinery Imp. & Exp. Corp. (CMC), a Chinese trading company, and Changchun Railway Vehicles Co., Ltd. (CRC), a Chinese rolling stock manufacturer, for trains operated in suburban Rio de Janeiro by Secretaria de Estado de Transportes (SETRANS), the Rio state transportation authority. The order covers propulsion systems, auxiliary power systems and a train monitoring systems for 60 train sets, a total of 240 cars, and has a value of about 6 billion yen.
Toshiba electrical equipment is already installed in 50 trains, a total of 200 cars, running on SETRANS's suburban Rio railway. Their proven performance and reliability is underlined by the new order, which covers drive systems integrating Toshiba's power saving VVVF inverter and traction motors, auxiliary power systems for in-car lighting and air-conditioning etc., and the train monitoring systems. The equipment will be delivered during the period September 2013 to December 2014.
The Brazilian government is preparing for the World Cup in 2014 and the Summer Olympics in 2016 by promoting a growth acceleration program that includes investments in developing natural resources, electricity generation and transmission, and upgrades of road and rail transportation. Modernization of railway networks is scheduled for big cities that will host the events, including as Sao Paulo and Rio de Janeiro, as a means to upgrade infrastructure and alleviate the chronic traffic jams that plague the cities. Under its growth acceleration program (PAC2) budgets the government will invest over US$26 billion in rail in the 4 years 2011-2014.
Toshiba positions Brazil, which is expected to see significant growth in coming years, as an important emerging market, and is proactively reinforcing its presence in the country across its business lines.
In recent years, Toshiba has won major orders for electrical equipment for rolling stock in Japan, the USA, Taiwan and other markets, and is now proactively promoting sales to enhance the business globally.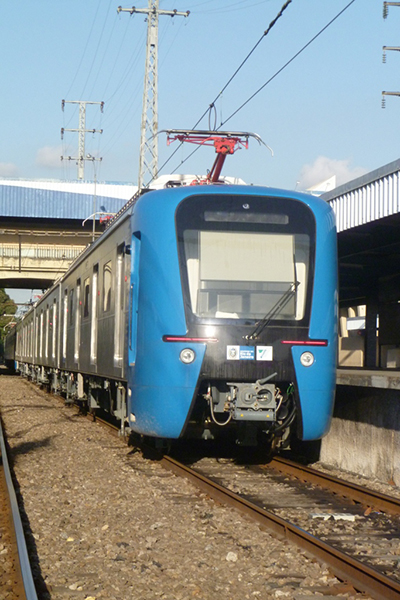 Rio de Janeiro Suburban Train