News Releases
MHI and Toshiba Receive Order from Taiwan High Speed Rail Corporation For Trackwork and E&M Systems for Nangang Extension Project to Extend High Speed Railway from Taipei to Nangang
24 Jun, 2013
Mitsubishi Heavy Industries, Ltd.
Toshiba Corporation

Tokyo, June 24, 2013 — Mitsubishi Heavy Industries, Ltd. (MHI) and Toshiba Corporation have received a turnkey order from Taiwan High Speed Rail Corporation (THSRC) for its Nangang Extension Project in Taipei. The order calls for the two companies to provide trackwork and E&M (electrical and mechanical) systems for approximately 5 kilometers (km) of the 9.2km extension line to connect Taipei Station and the city's new Nangang Station, which will replace Taipei Station as the north terminus of the Taiwan High Speed Rail (THSR) system. The extension line is scheduled to go into operation in March 2016. The order, received with the cooperation from Mitsui & Co., Ltd. (Mitsui), is worth about 20 billion yen.
THSRC's Nangang Extension Project covers the provision of new facilities and equipment, to extend the THSR line from Taipei Station to Nangang Station, which is currently under construction in the northern sector of Taipei. MHI and Toshiba will install the trackwork and overhead electric power lines for the trains, and also design, supply and install E&M systems for signaling, communications, power supplies, operation management, etc.
MHI will be responsible for overall project management, provision of trackwork, signaling, overhead power line equipment, and systems for data transmission, telephone and operation monitoring cameras. Toshiba will be responsible for the provision of the train traffic control system – the THSR's command system – as well as the maintenance management information system, the system to supply power to trains and wayside equipment, the train radio system and passenger information systems.
THSR's trains currently travel the 345km between Taipei and Kaohsiung, Taiwan's two most important cities, in as short a time as 90 minutes. Since its launch in January 2007, over six and a half years of safe operation, the line has seen a steady increase in passengers and become an essential component of Taiwan's transportation network. With completion of the extension project, the THSR system is expected to play an even greater role in vitalizing Taiwan's economy.
The original order for the THSR project was placed in 2000, with a consortium consisting of seven Japanese companies, including MHI, Toshiba and Mitsui. MHI and Toshiba believe the team's track record in the project contributed to the award of the extension project. Going forward the two companies, applying their respective accumulated advanced technologies, knowhow and sophisticated system integration capability, will proactively conduct marketing activities to win high-speed railway projects planned in various countries and regions.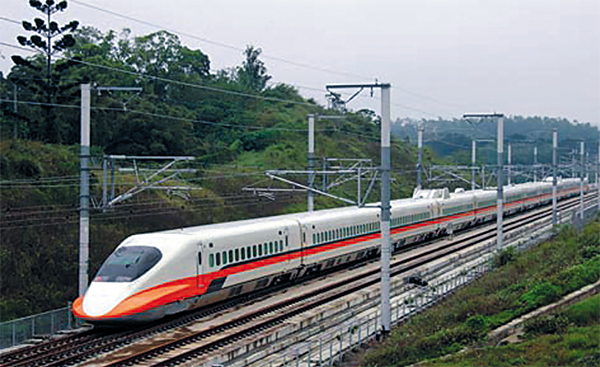 Taiwan High Speed Railway