News Releases
Toshiba Selected by Singapore to Pilot Air-conditioning System
for Data Centres in a Tropical Climate

-To lead a consortium to carry out pilot implementation in Singapore-

26 Apr, 2012
TOKYO—Toshiba Corporation (TOKYO: 6502) today announced that the company has been selected as one of four winners in the Singapore government's Green Data Centre Innovation Challenge, a competition to promote innovations in energy efficiency that cut the high costs of cooling data centres in tropical climates. Toshiba and its partners, Nanyang Technological University (NTU) will now carry out a pilot project to demonstrate the practicality and cost-effectiveness of this solution.
As a major ICT hub, Singapore is host to a major data centre cluster that the BroadGroup has predicted to grow by 50% in scale over the period 2010 to 2015. In Singapore, the 10 largest data centres is known to consume as much energy as 130,000 typical households. Such an expansion will trigger a major surge in electricity demand. With the objective to raise overall data centre energy efficiency and boost competitiveness of the Data Centre industry, the Infocomm Development Authority of Singapore (IDA), initiated the Green Data Centre Innovation Challenge. This challenge encourages companies to innovate solutions that will significantly improve energy efficiency in the data centre sector.
Toshiba has developed and demonstrated a space- and energy-efficient data centre that is cooled by air drawn from outside the data centre whenever possible—the outside air cooling method—and has reworked this design to deal with the cooling demands imposed by the heat and humidity of the tropics. In a consortium with Singapore-based subsidiary, Toshiba Asia Pacific Pte., Ltd., NTU, Toshiba will provide the module and evaluate operation, NTU, a leader in energy-related research, will provide the site and also undertake evaluation.
Toshiba's original outside air data centre cooling system was developed in Japan for more temperate climates based on operating temperature and humidity range recommended by American Society of Heating, Refrigerating and Air-Conditioning Engineers, Inc.(ASHRAE) and has three modes: outer air cooling mode for spring and autumn; mixed air cooling mode for winter, which adds heat from the hot area of the data centre to outer air; and circulating cooling mode for summer, which uses a refrigeration unit to cool the air in the data centre. Last year, operating temperature and humidity range were eased by ASHRAE considering recent improvement in durability performance of server and additional new mode has been developed along with this change: circulate mixed air cooling mode for tropical area, which uses a refrigeration unit to cool mixed air, which adds heat from the hot area of the data centre to outer high and humidity air.
The modified system is designed to meet the demanding operating requirements in the tropics. By developing new mode, the company aims at more efficient air-conditioning system in tropical regions.
Simulations indicate that the new system has the potential to cut the annual power consumption of a data centre by 33%[1] and decrease approximately 2,800 tons of CO2 emissions.
Governments of Southeast Asia, including Singapore, promote favorable tax rates to attract inward direct investment, including data centres. The regional market in data centres is expected to expand from 80 billion yen in 2011 to 100 billion yen in 2015[2] . Building on the momentum from the Singapore project, Toshiba will promote sales of its modular data centres in Southeast Asia, aiming for sales of approximately 20 billion yen sales in 2015.
[1]

When it decreases from PUE (Power Usage Effectiveness) 2.0 to 1.35 in the data
centre of 1,000 kW ICT apparatus

[2]

Source=Toshiba
Outline of module type data centre and facilities
| | |
| --- | --- |
| Place: | in the premises of Nanyang Technological University |
| Completion of Construction: | July, 2012 |
| Size of module: | (W)9.0 x (D) 3.0 x (H) 6.0 (m) |
Artist's impression of module type data centre and facilities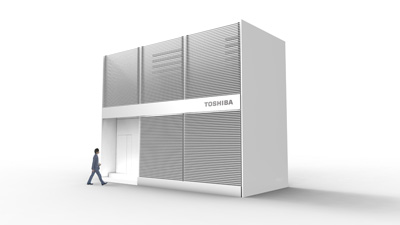 For more information about the products
http://www.toshiba-smartcommunity.com/mdc/en/