News Releases
Toshiba Introduces Enterprise-Class Solid State Drive Family
High Performance SSDs Complement New Near line Drives as Toshiba Offers Complete Storage Solution Set for Enterprise Environments
14 Dec, 2010
TOKYO–Extending its position in the enterprise storage market, Toshiba Corporation (TOKYO: 6502) today announced its new family of enterprise-class solid state drives (SSDs). Developed to meet the market's demand for higher performance and lower power consumption, the new MK x001GRZB series combines Toshiba's hard disk drive (HDD) expertise and its leadership as the inventor of NAND flash technology. The 2.5-type small form factor drives use the latest 32 nanometer (nm) enterprise grade single-level cell (SLC) NAND flash memory from Toshiba and a 6Gb/sec Serial Attached SCSI (SAS) interface. Samples will be available for customer qualification in the first quarter of 2011.
Toshiba also announced a new line up of high capacity near line HDD with a 3.5-type form factor.
The new SSD integrates Toshiba's advanced capabilities in NAND flash and solid state storage solutions with know-how in controller and firmware design for enterprise HDDs.[1] As a result, Toshiba is uniquely positioned to engineer solid state drives that deliver the performance, endurance and reliability required for business critical applications.
Available in capacities of 100GB[2], 200GB, and 400GB, the MKx001GRZB family of SSD drives are designed for ease of integration into new or existing tier-0 enterprise storage systems and designs, including servers, direct-attached storage and network-attached storage. The drives deliver performance that outpaces competing enterprise-class SSDs, with random sustained 90,000 read and 17,000 write IOPS[3] and sequential sustained 510MB/sec read and 230MB/sec write throughput. This realizes read speeds more than 3 times faster[4] than for Toshiba's current enterprise HDD. Combined with a low power requirement of only 6.5 watts in operation, Toshiba's SSD family also delivers an industry-leading power efficiency rating of 13,800 IOPS/Watt.
As the IT world makes the transition to cloud solutions, data that are now stored in individual users devices – desktop and portable PCs and tablet PCs – will increasingly be stored in server farms. The enterprise storage systems required for this are optimized in terms of overall performance, power and cost by structuring high performance devices with different capacities in layers.
The new enterprise SSD line-up and the high capacity 3.5-type near line HDD complement Toshiba's current range of enterprise 2.5-type HDD, and with their addition to its storage solutions portfolio the company has further enhanced its ability to deliver total layered architecture solutions for data centers and enterprise servers.
The Toshiba enterprise SSD lineup forms the pinnacle of a tiered storage architecture that enables organizations to effectively tune the performance, capacity, endurance, and reliability of their storage environments. For data storage that requires high reliability and high capacity – but not the very rapid access to data provided by SSDs – Toshiba has also released the new MK x001TRKB and MKx002TSKB series HDDs, the former with an SAS interface, the latter a SATA interface. These cost-effective near line HDD models feature a maximum storage capacity of 2TB in a traditional 3.5-type form factor and leading-edge 6Gb/sec SAS and 3Gb/sec Serial ATA (SATA) interfaces. Intended for 24 x 7 operation, the drives also include features that are critical to business operations such as Error Correction (ECC), Rotational Vibration (RV) compensation technology for multi-drive systems, and enhanced power condition state technology. Mass production of MK2001 TRKB and MK1001 TRKB starts from the first quarter, 2011, with samples shipments of MK 2002TSKB and MK1002TSKB following in the first quarter of 2011.
Toshiba Corporation will further enhance its storage business which meets varying customers demand from PCs, consumer electronics, automobiles and enterprise markets.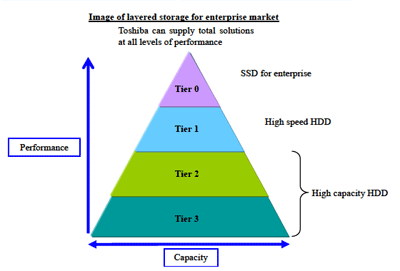 About Toshiba Group Environmental Vision
Environmental Vision 2050 guides Toshiba Group in achieving a ten-fold increase in overall eco-efficiency by 2050, compared to 2000, in order to contribute to the future of a sustainable Earth as a "corporate citizen of planet Earth". Toward this goal, we promote initiatives aimed at realizing a world where people lead affluent lives in harmony with the Earth, based on the concept of three "Greens": Greening of Process (environmentally conscious manufacturing process), Greening of Products (environmentally conscious products), and Greening by Technology (contributing through environmental technology).
Toshiba Group promotes its environmental initiatives under the global brand "Toshiba eco style."
For more details, please visit: http://www.toshiba.co.jp/env/en/management/vision2050.htm
Product specifications
2.5 type Enterprise SSD Line-up
Model number
MK4001GRZB
MK2001GRZB
MK1001GRZB
NAND technology
32nm SLC
Capacity
400GB
200GB
100GB
Sector size
512B, 520B, 528B

Interface

SAS 6Gbps, Dual port

Sequential read (sustained)
510MB/s
Sequential write (sustained)
230MB/s
4KB random read (sustained)
90,000 IOPS
4KB random write (sustained)
17,000 IOPS
Product life
5 Years
Total storage capacity of data written (4kB Random)
No limit within Product life

8PB

External dimensions (WxDxH )
69.85 x 100.0 x 15.0 mm
Weight
152g
Power consumption
6.5 W (+12V/+5V)
Power efficiency
13,800 IOPS/W
Vibration
Operating
9.8 m/s2 (1G)
Non-Operating
49 m/s2 (5G)
Shock resistance
Operating
9,800 m/s2 (1,000G, 0.5ms, ½ sine)
Non-Operating
9,800 m/s2 (1,000G, 0.5ms, ½ sine)
Temperature
Operating
0 ~ 55℃
Non-Operating
-40 ~ 70℃
3.5 type Enterprise HDD Line-up
Model number
MK2001TRKB
MK1001TRKB
MK2002TSKB
MK1002TSKB
Capacity
2TB
1TB
2TB
1TB
Disk number
4
2
4
2
Number of head
8
4
8
4
Average seek time
read
8.5ms
8.5ms
write
9.5ms
9.5ms
Interface
SAS 2.0
Serial ATA 2.6
Interface speed
1.5Gbps, 3.0Gbps,
6.0Gbps
1.5Gbps, 3.0Gbps
Rotational speed
7,200rpm
Buffer capacity
16MB FIFO ring buffer
64MB FIFO ring buffer
External dimensions (WxDxH)
101.6 x 147 x 26.1 mm
Weight
800g max.
Energy consumption efficiency[5]
0.0035
0.0070
0.0035
0.0070
Classification
C
B
C
B
Power consumption
Idle B
7.0W typ.
Ready (Idle A)
9.0W typ.
Idle C
6.0W typ.
-
Noise
30 dB
Vibration
Operating
7.35 m/s2(0.75G, 5-300Hz)
2.45 m/s2 (0.25G, 300-500Hz)
Non-Operating
49 m/s2(5.0G, 5-500Hz)
Shock resistance
Operating
686 m/s2 (70G, 2ms duration)
Non-Operating
2,940 m/s2 (300G, 2ms duration)
[1] The new products offerings expand Toshiba's mobile HDD product line into the highest-capacity segment of the 2.5-type HDD market and represent the company's first mobile HDD platforms developed with the combined engineering resources from the integration of Fujitsu's HDD business, which Toshiba acquired last fall.
[2] One Gigabyte (1GB) means 109 = 1,000,000,000 bytes and one Terabyte (TB) means 1012 = 1,000,000,000,000 bytes using powers of 10. A computer operating system, however, reports storage capacity using powers of 2 for the definition of 1GB = 230 = 1,073,741,824 bytes and 1TB = 240 = 1,099,511,627,776 bytes, and therefore shows less storage capacity. Available storage capacity (including examples of various media files) will vary based on file size, formatting, settings, software and operating system, such as Microsoft Operating System and/or pre-installed software applications, or media content. Actual formatted capacity may vary
[3] 4K random read/write I/O performance.
[4] Comparison between MK4001GRZB and MBE2147RC. The read speed of MK4001GRZB is 510MB/s., and the sustainable read speed of Toshiba's conventional high speed HDD, MBE2147RC (2.5-type HDD, 15,000rpm, 147GB) is approx. 140MB/s.
[5] Energy consumption efficiency is calculated in accordance with the Law Concerning the Rational Use of Energy in Japan, which was enacted in 1979 to promote energy conservation and reduce energy consumption. The Law Concerning the Rational Use of Energy was most recently revised in 2009 with specific measurement criteria reflected in the specification indicated. Calculation of Energy consumption is dividing consumed energy by the capacity. The consumed energy and capacity shall be measured and specified by the Law Concerning the Rational Use of Energy.