News Releases
Toshiba introduces high performance blade-type SSDs
8 Nov, 2010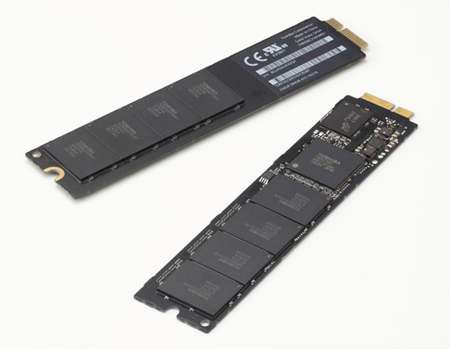 TOKYO–Toshiba Corporation (TOKYO: 6502) today announced an innovative new form factor in high capacity solid-state storage, thin, blade-shaped SSD modules, the "Blade X-gale™" [1] series. The new drives cover 64-gigabyte (GB), 128GB and 256GB capacities and they are ideally suited for integration into space-sensitive products, including mini-mobile and netbook PCs, and give product developers greater freedom and flexibility in product design. The new drives are now available.
As mobile devices gets smaller and lighter, yet even more feature packed than ever, the SSDs inside them – the heart of storing all the music and other entertainment data – must be even smaller, and much thinner. Toshiba's new 64GB and 128GB SSDs are the thinnest, yet added to the company's comprehensive portfolio of SSD solutions. The blade-shaped drive is only 2.2mm thick, 42% thinner than that of a typical mSATA form factor, and Toshiba's advanced wiring technology has assured optimized wiring layouts and data transfer rates in this new form factor. Thanks to Toshiba's base design technology that minimizes board warpage during thinning, it realizes 256GB capacity when mounted on both sides, the largest density in the industry for small type modules.
Toshiba will continue to promote innovations that widen the horizons of the NAND Flash market and support the company's continued leadership in that market. The company will generate demand for SSDs in notebook PCs, netbooks, laptops and digital consumer products by enhancing its line-up, offering products with various densities and interfaces in a range of packages, while also advancing device performance. For more information on Toshiba SSDs, please visit
http://www.semicon.toshiba.co.jp/eng/product/ssd/
Features of the new product
THNSNC064GMDJ
THNSNC128GMDJ
THNSNC256GMDJ
Capacity
64GB
128GB
256GB
Interface
SATA 2.6 (3Gbps)
Voltage
3.3V
Transfer rate
Read: 220MB/s, Write: 180MB/s
Size (mm)
Width: 24.0 mm
Height: 2.2 mm
Length: 108.9 mm
Width: 24.0mm
Height: 3.7mm
Length: 108.9mm
Weight
9.8g
13.2g
MTTF [2]
1 million hours
[1]

Blade X-gale™ is a trademark of Toshiba Corporation.

[2]

The MTTF (Mean Time to Failure) is not a guarantee or estimate of product life;
it is a statistical value related to mean failure rates for a large number of products which may not accurately reflect actual operation. Actual operating life of the product may not resemble the MTTF.