News Releases
Toshiba "dynabook TX/98MBL" is the Industry's First[1] PC Supporting the Blu-ray 3D™ [2] Format
-Can playback both 3D Blu-ray titles and 3D games-
7 Jun, 2010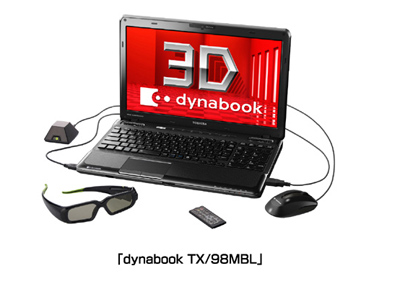 Toshiba Corporation (TOKYO: 6502) today announced the introduction of the industry's first notebook PC featuring playback of 3D[3] content in the Blu-ray 3D™ format. The new "dynabook TX/98MBL" will be available from the end of July in the Japanese market.
"dynabook TX/98MBL" features a 15.6-inch wide LCD display with LED backlighting and a 120Hz scan rate. It employs WinDVD® BD for TOSHIBA to play back content in the Blu-ray 3D™ format and NVIDIA® 3D Vision™[4] software and hardware to deliver a rich 3D experience.
The new 3D notebook PC adopts the active shutter technology that has made 3D a hit in movie theatres around the world. The system's active shutter LCD glasses lighten and darken at the same fast refresh rate of the 120Hz[5]LCD, with an effective refresh rate for each eye of 60Hz. As each eye receives a slightly different image, the result is a dynamic, high quality[6] stereoscopic image: full 3D[7]. High level system performance is secured by integration or NVIDIA's latest graphic processor, the NVIDIA® GeForce® GTS 350M[4], and 1GB Video RAM dedicated to graphics processing.
A pair of wireless 3D active shutter glasses bundled with the dynabook TX/98MBL assures immediate enjoyment of Blu-ray 3D™ titles and 3D game content[8].
The dynabook TX/98MBL complements its high grade visual experience with a combination of harman/kardon® stereo speakers and Dolby® Advanced Audio that delivers full-bodied, vibrant sound. The processor is an Intel® Core™ i7-740QM, and on-board storage is provided by a large capacity 640GB hard disk drive. The latest version of Microsoft® Office Home and Business 2010 are pre-installed.
Toshiba will continue to meet users' needs by developing and commercializing notebook PCs integrating advanced features and functionality.
Notes:

[1]

In the category of notebook PCs featuring the Blu-ray 3D™ Format, as of June 7, 2010. (Source: Toshiba)

[2]

Blu-ray 3D™ is a trademark of Blu-ray Disc Association.

[3]

Some individuals may experience health-related complications when exposed to certain 3D images. Parents should monitor and/or supervise their children's use of 3D Vision™. If you or your child should experience any problem, immediately stop using 3D Vision™ and consult a physician. Carefully read safety instructions included with the NVIDIA® 3D Vision™ kit and take the "User Vision Test" in the setup wizard before you or your child use 3D Vision™. If you see excessive flicker in your peripheral vision, change the refresh rate of your display.

[4]

NVIDIA® 3D Vision™, NVIDIA® GeForce® GTS 350M is a trademark of NVIDIA Corporation in the U.S. and or other countries.

[5]

120Hz scan rate is effective when using Blu-ray 3D™and 3D game content.

[6]

Blu-ray 3D™ titles and 3D game content can be displayed in 3D when displayed on the integrated LCD display.

[7]

Viewing the display from the front is recommended

[8]

3D game content is supported by DirectX 9 (released at the end of 2004) and later versions, and there may be some difference in the 3D effect, depending on the game content. For details, please refer to the following URL: http://www.nvidia.co.jp/object/3D_Vision_3D_games_jp.html
Outline of new product
Model
dynabook TX
Product Number
TX/98 MBL
CPU
Intel® Core™ i7-740QM
Operating Frequency 1.73GHz (when using turbo, boost: 2.93GHz)
LCD
15.6-inch Wide LED LCD (16:9 ratio); 120HZ doubling scanning function
Features
-Playback of Blu-ray 3D™ titles
-Blu-ray Disc Drive
-NVIDIA®3D Vision™ Kit[9]
-640GB HDD
-4GB memory
-Selectable OS
-Card-type remote control
-Velvety black finish
Launch in Japan
End of July
Price
Open
One Gigabyte (1GB) means 109 = 1,000,000,000 bytes and One Terabyte (1TB) means 1012 = 1,000,000,000,000 bytes using powers of 10. A computer operating system, however, reports storage capacity using powers of 2 for the definition of 1GB= 230 = 1,073,741,824 bytes and 1TB = 240 = 1,099,511,627,776 bytes, and therefore shows less storage capacity. Available storage capacity (including examples of various media files) will vary based on file size, formatting, settings, software and operating system and other factors.
[9]

NVIDIA®3D Vision™ Kit includes a pair of active shutter glasses with storage pouch, adjustable nose pieces, USB controller / IR emitter, microfiber cleaning cloth, and USB cable.