News Releases
Toshiba Introduces Industry's Largest-Capacity[1], Single-Platter
1.8-inch HDD, Enabling Next-Generation Portable Media Players

Quietest and Most Power-Efficient 1.8-inch HDD Offers Sizeable Storage and
Ruggedness for Consumer Electronics Products
10 Sep, 2009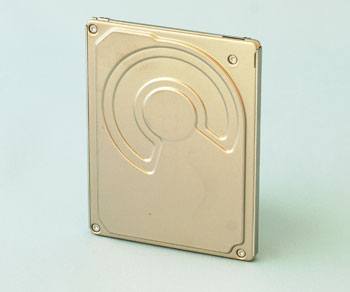 TOKYO – Toshiba Corporation (TOKYO: 6502), the industry pioneer in small form factor hard disk drives (HDDs), today introduced a new line of 1.8-inch HDDs with a capacity of up to 160GB on a single-platter, and a slim five-millimeter high profile targeting next-generation portable media players, digital video cameras and other consumer electronics products.
With an areal density of 723Mbit/mm2 (467 Gbpsi), the industry's highest[2] , Toshiba's new MK1634GAL family of 1.8-inch HDDs offers consumer electronics manufacturers a thin and light package with the industry's largest[1] storage capacity, best power consumption efficiency, highest durability and quietest seek operation of any HDDs on the market.
Equipped with a PATA interface, 4,200 RPM rotational speed and acoustic-reduction features, Toshiba's MK1634GAL HDD is ideal for audio and video playback applications that require high capacity in a small footprint with quiet operation to maximize the entertainment experience of the host device. Leveraging Toshiba's long history of technology expertise in miniaturization and the 1.8-inch HDD form factor, the MK1634GAL is the quietest hard drive produced because of its size and the advanced acoustic management techniques that Toshiba has incorporated into all of its recent mobile HDD platforms.
In operation, MK1634GAL family delivers significant environmentally friendly performance improvements from Toshiba's previous generation of 1.8-inch drive, including a 24% improvement of MK1634GAL in energy consumption efficiency[3] . The MK1634GAL family is also compliant with the European Union's RoHS directive[4] and halogen free.[5]
Shipping now to consumer electronics manufacturers, the compact 160GB model leads the MK1634GAL family with mass production of the 60GB, 80GB and 120GB models scheduled in late September. The series targets a variety of consumer-oriented applications, including product lines that offer a range of capacities and price points.
[1]

As of Sep. 10, 2009, for 1.8-inch single-platter disk, source by Toshiba

[2]

As of Sep. 10, 2009, for 1.8-inch HDD, source by Toshiba

[3]

Energy consumption efficiency is calculated based on power consumption divided by formatted capacity, as defined by Japanese law.

[4]

The RoHS (Restriction of Hazardous Substances) directive, which came into effect on July 1, 2006 in the European Union, limits the use of various materials including lead, cadmium, mercury, hexavalent chromium, polybrominated biphenyls (PBB) and ploybrominated diphenyl ether (PBDE) in electronic and electronic equipment.

[5]

The new drives achieve chlorine and bromine concentrations below 900ppm, and a combined overall total below 1,500ppm, achieving the standard required for recognition as Toshiba environmentally conscious products (ECP).
Key Features
1.
Areal density of 723 Mbit/mm2 (467 Gbpsi) realizes the industry's largest[1] capacity 1.8-inch HDD (MK1634GAL, MK8034GAL)
MK1634GAL and MK8034GAL use Toshiba technology to improve the magnetic head and disk and realize the industry's highest[2] areal density of 723 Mbit/mm2 (467 Gbpsi) and an capacity of 160GB, the industry's largest[1] of single platter 1.8-inch HDD.
2.
Improved energy consumption efficiency (MK1634GAL)
Compared to the 120GB MK1231GAL, the highest capacity model in Toshiba's previous series of 1.8-inch HDD with single platter, the new 160GB model (MK1634GAL) delivers improved energy consumption efficiency, as defined under the Japanese legal standard; a full 24% improvement.
3.
Improved seek noise (all series)
Applying Toshiba's original advanced acoustic management technology, the new series acoustic noise during seek is at 15dB, 5dB decreased compared to the previous MK1231GAL model.
4.
Halogen Free Product, Antimony controlled

(1) Decreased CO2 amount by life-cycle (MK1634GAL)
MK1634GAL decreases CO2 emissions across the product life cycle by 139.8g per year, by decreasing product power consumption and environmental burdens from the raw materials stage.

(2) Meets standards for certification as Toshiba ECP
Toshiba promotes an "Excellent ECP" program to stimulate creation of high value products offering exceptional environmental friendliness. For more information, visit http://www.toshiba.co.jp/env/en/products/ecp.htm

(3) RoHS compliant
The new drives comply with the European Union's RoHS directive on the elimination of six hazardous substances in electrical and electronic equipment.
(4) Halogen Free Product, Antimony controlled
The new drives achieve chlorine and bromine concentrations below 900ppm, and a combined overall total below 1,500ppm. Antimony is also controlled at under 1,000ppm.

Toshiba Group, a corporate citizen of planet Earth, is committed to realizing a better environment. Guided by "Toshiba Group Environmental Vision 2050" the Group is implementing measures to boost environmental efficiency by 10 times in FY2050, against the benchmark of FY2000. The core target is to reduce projected CO2 emissions by a total equivalent to 117.7 million tons a year by FY2025, through the development and sales of highly efficient power supply equipment and systems, and the manufacture of environmentally conscious home appliances and office equipment. By working to mitigate global warming, make efficient use of resources and control management of chemicals, Toshiba Group creates value for people and promotes lifestyles in harmony with the Earth.
Product Specifications
Model Number
MK1634GAL
MK1234GAL
MK8034GAL
MK6034GAL
Capacity
160GB
120GB
80GB
60GB
Number of disks
1
Number of heads
2
1
Average seek time
15 ms
Interface
PATA
Interface speed
100MB/s
Rotational speed
4,200 rpm
External dimensions
(W)54.0 mm x (D)71.0 mm x (H)5.0 mm
Weight
48 g (max)
Energy consumption efficiency
0.0019
0.0025
0.0038
0.0050
Category name[6]
g
g
g
g
Acoustics
Idle
14dB
Seek
15dB
Vibration resistance
Operating
19.6 m/s2 , 2.0G (15-500Hz)
Non-operating
49 m/s2 , 5.0G (15-500Hz)
Shock resistance
Operating
5,880 m/s2 (600G , 2ms half sine wave)
Non-operating
14,700 m/s2 (1,500G , 1ms half sine wave)
One Gigabyte (1 GB) means 109 =1,000,000,000 bytes using powers of 10. A computer operating system, however, reports storage capacity using powers of 2 for the definition of 1 GB = 230 = 1,073,741,824 bytes, and therefore shows less storage capacity. Available storage capacity (including examples of various media files) will vary based on file size, formatting, settings, software and operating system. Examples of the number of photos, songs, movies, and any other files that can be stored on a hard drive are provided for illustrative purposes only. Your results will vary based on file size and format, settings, features, operating system, software and other factors.
[6]

Category names defined by Japan's Ministry of Economy, Trade and Industry are applied in the Japanese market.