News Releases
Toshiba Group 18th Environmental Exhibition
5 Feb, 2009
TOKYO--Toshiba Corporation (TOKYO: 6502) today announced that it will showcase its latest environmental initiatives for the general public at the "18th Environmental Exhibition," to be held at the company's Tokyo headquarters on February 5 and 6. The wide-ranging exhibition will introduce 100 environmentally conscious products and technologies, spotlight pro-environment activities, and seek to raise understanding of Toshiba's efforts and achievements in environmental protection. In conjunction with the exhibition, Toshiba today unveiled its new environmental targets for FY2009.
Originally directed at Toshiba Group employees and business partners, the exhibition has been open to the general public since 2001.
Guided by "Toshiba Group Environmental Vision 2050" the Group is implementing measures to boost environmental efficiency by 10 times in FY2050, against the benchmark of FY2000. Toshiba aims to reduce projected CO2 emissions by a total equivalent to 117.7 million tons a year by FY2025, through the development and sales of highly efficient power supply equipment and systems, and the manufacture of environmentally conscious home appliances and office equipment. By working to mitigate climate change, make efficient use of resources and control management of chemicals, Toshiba Group creates value for people and promotes lifestyles in harmony with the Earth.
Main Highlights of the Exhibition
The exhibition follows the thematic framework of four approaches that Toshiba applies to its own environmental activities.
Long life and sustainable operating technology for nuclear power plants
Carbon Capture and Storage technology for thermal power plants
Stable and powerful solar photovoltaic system
"E-CORE" LED lamps series
"Super power eco cube" commercial air-conditioners, for shops and offices, winner of the Energy Conservation Award 2008
Heat pump hybrid drum washing machine TW-4000 VF, noted as an excellent ECP of FY2008
The new LED pear shaped light bulb with 4.3W, announced by Toshiba's group company, Toshiba Lighting and Technology Corporation
Energy reducing measures of clean rooms in semiconductor fabs
Notebook PCs recycling programs
Toshiba's environment audit system, EASTER
The environment activities awarded by the Philippine governments
Purification business for soil contaminated with PCBs
Toshiba Group aims to be a leading force in the move toward a society rooted in sustainable development. The company uses the Environment Exhibition to introduce its stakeholders to pro-environmental activities and to deepen understanding of Toshiba's environmental management.
Voluntary Environmental Plan, Target for FY2009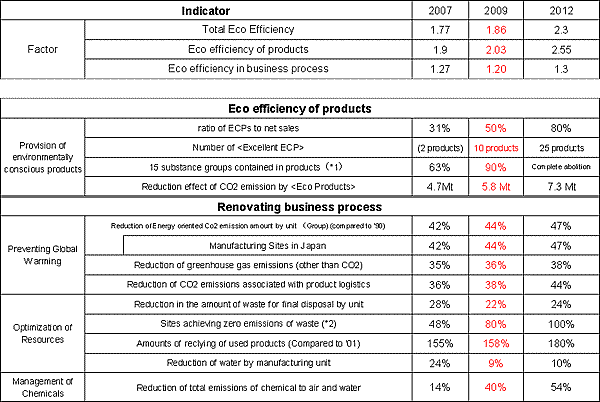 Unless otherwise specified, the targets are based on comparison with FY2000 and cover manufacturing and non-manufacturing sites worldwide.
*15 substance groups subject to restriction: bis (tributyl tin) oxide (TBTO), tributyl tins (TBTs), tryphenyl tins (TPTs), polychlorinated biphenyls (PCBs), polychlorinated naphthalenes (PCNs with More than 3 or more chlorines), short-chain chlorinated paraffins, asbestos, azo colorants, ozone-depleting substances, radioactive substances, cadmium and its compunds, hexavalent (Detailed definitions and specific applications to be excluded are specified seperately)