News Releases
Toshiba Corporation to publish Toshiba Group Environment Report 2008
Toshiba Corporation to peak out the total amount of greenhouse gas* beyond FY2012
3 Oct, 2008
TOKYO--Toshiba Corporation today provided its stakeholders and other interested parties with an authoritative resource on Toshiba Group and the environment with the publication of Toshiba Group Environmental Report 2008. The comprehensive coverage includes the first publication of Toshiba's ambitious targets for reducing total greenhouse gas emissions from business activities: CO2 will peak in FY2012, when total emissions of greenhouse gas will measure 70% versus FY1990, while securing continued business growth in main business such as semiconductors. Beyond that, Toshiba will target an absolute reduction in all greenhouse gas, and work toward a 10% cut in emissions by FY2025.
Toshiba will enhance environmental measures and cut greenhouse gases, such as CO2, by applying next generation solutions in its businesses including energy saving clean rooms, gas eliminations equipments and high efficiency equipments. The company will also seek alternatives to the use of greenhouse gases in manufacturing equipment for products such as semiconductors and LCDs.
Details of CO2 emissions and waste production by region and business were unveiled in the report for the first time.
The Japanese edition of the Toshiba Group Environment Report 2008 was released today, and the English edition will follow in November. Toshiba has published a comprehensive annual Environmental Report since 1998. It published separately until FY2003, and from FY2004 to FY2007 was merged into the company's annual CSR Report. This year reverts to the dedicated publication.
Toshiba Group, a Corporate Citizen of the Planet Earth, is committed to realizing a better environment. Guided by "Toshiba Group Environmental Vision 2050" the Group is implementing measures to boost environmental efficiency by 10 times in FY2050, against the benchmark of FY2000. The core target is to reduce projected CO2 emissions by a total equivalent to 117.7 million tons a year by FY2025, through the development and sales of highly efficient power supply equipment and systems, and the manufacture of environmentally conscious home appliances and office equipment. By working to mitigate global warming, make efficient use of resources and control management of chemicals, Toshiba Group creates value for people and promotes lifestyles in harmony with the Earth.
* Six types of greenhouse gases subject to the Kyoto Protocol: Carbon Dioxide (CO2), methane (CH4), dinitrogen monoxide (N2O), hydrofluorocarbons (HFCs), perfluorocarbons (PFCs), sulfur hexafluoride (SF6).
Actual and Projected Emissions of Greenhouse Gases, FY1990-FY2025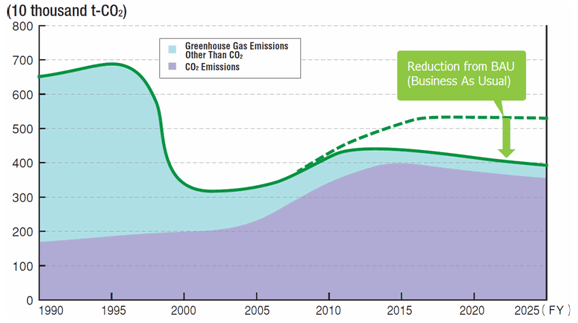 * Data is for Toshiba's worldwide operations, both manufacturing and non-manufacturing sites. Figures for 2008 and beyond are projections. Projection includes anticipated reductions in CO2 emission from the reduction of the electricity conversion coefficient to 2020. (Presumption based on the program to raise the proportion of zero-emission energy sources release introduced in "Action Plan for Achieving a Low-carbon Society", by the Government of Japan on July, 2008). BAU represents projected emissions without any measures for reduction. Green house gas other than CO2 refers to the Kyoto protocol greenhouse gases other than CO2