Toshiba Introduces Industry's First Quarter-Terabyte 1.8-inch HDD in High-Performance Configuration for Mobile PCs

25 September, 2008


---
- Thin-and-Light PCs and Sub-Notebooks Get Desktop-Class Capacity with 5,400 RPM and SATA 3.0 Gb/s Performance -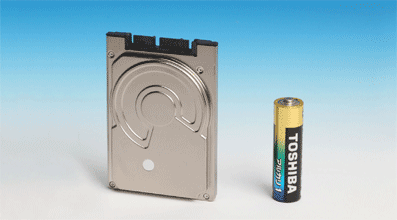 TOKYO--Toshiba Corporation, the industry pioneer in small form factor hard disk drives (HDDs), today announced expansion of its market-leading 1.8-inch lineup with three new high-capacity, high-performance Serial ATA HDDs for mobile PC applications, including the industry's first 250GB1) 1.8-inch HDD.
Toshiba's third-generation 5,400 RPM SATA 1.8 HDD family also features 120GB and 160GB capacities, along with the throughput power of the SATA 3.0Gb/s interface. In addition, the new series includes Toshiba's state-of-the-art free fall sensor option, which enhances protection from external shock and vibration events by responding to drops as low as five inches in height.
This powerful, high-capacity family further broadens Toshiba's full line of 1.8-inch HDDs to meet the diversified storage needs of both PC and CE manufacturers with products suited to the specific capacity, performance and configuration requirements of each application. Building on Toshiba's recent introduction of PATA 1.8-inch HDDs with up to 240GB capacities, this new SATA 1.8-inch HDD series enables PC manufacturers to further miniaturize notebook designs without sacrificing functionality.
Toshiba's concentration on the 1.8-inch HDD platform and leadership in advanced recording technologies have enabled the company to continually push areal densities, to 378.8Gb/in2 in the new series, and to deliver storage capacities that were previously available only from larger form factor HDDs, while decreasing the power consumption required by the storage device. The new 250GB 1.8-inch HDD ( MK2529GSG) achieves a new low of 0.0016 watts-per-GB in energy consumption efficiency2). In addition, incorporation of high-performance features, such as SATA 3.0Gb/s and 5,400RPM disc rotation, will bring to all mobile PCs the benefits of a mature, field-proven storage platform supporting longer battery life, increased shock.
With more than 60 million 1.8-inch HDDs shipped, Toshiba has consistently held the number one position3) in the 1.8-inch HDD segment since introduction of its first model in 2000.
Toshiba Group, a Corporate Citizen of the Planet Earth, is committed to realizing a better environment. Guided by "Toshiba Group Environmental Vision 2050" the Group is implementing measures to boost environmental efficiency by 10 times in FY2050, against the benchmark of FY2000. The core target is to reduce projected CO2 emissions by a total equivalent to 117.7 million tons a year by FY2025, through the development and sales of highly efficient power supply equipment and systems, and the manufacture of environmentally conscious home appliances and office equipment. By working to mitigate global warming, make efficient use of resources and control management of chemicals, Toshiba Group creates value for people and promotes lifestyles in harmony with the Earth.
Environmentally conscious products
(1) Halogen Free Product
The new drives are Toshiba's first 1.8-inch HDD that achieve chlorine and bromine concentrations below the standard required for recognition as Toshiba environmentally conscious products, an ECP (below 900ppm for each, and an overall total below 1,500ppm).
(2) Improved energy consumption efficiency.
Compared to the 160GB model (MK1617GSG), the new 250GB model (MK2529GSG) improves energy consumption efficiency, as defined under the Japanese legal standard, to 0.0016W/GB, a 43% improvement.
(3) Lower CO2 emissions during the product lifecycle
During their lifecycle, the new drives will lower CO2 emissions by approximately 54g a year4).
(4) RoHS compatible
The new drive complies with the European Union's RoHS directive for eliminating use of six hazardous substances in electrical and electronic equipment.
(5) The new series meets standards for certification as a standout Toshiba ECP
Toshiba is promoting an "Excellent ECP" program to stimulate creation of high value products offering exceptional environmental friendliness. For more information, visit http://www.toshiba.co.jp/env/en/products/index.htm
| | |
| --- | --- |
| *1 | The industry's largest commercially available capacity in 1.8-inch hard disk drive,as of Sep 25,2008(source: Toshiba) |
| *2 | Energy consumption efficiency is calculated based on power consumption divided by formatted capacity, as defined by Japanese law. |
| *3 | Source: Techno Systems Research, as of August, 2008. |
| *4 | Comparison against Toshiba's one-platter, MK2001MPL (Year 2000 model). |
Product Specifications
MK2529GSG
MK1629GSG
MK1229GSG
Capacity
250GB
160GB
120GB
Number of disks
2
1
Number of heads
4
2
Average seek time
15msec
Rotational speed
5,400rpm
Interface
Serial ATA
Interface speed
3.0Gbps/1.5Gbps
Dimensions
(W)54.0mm×(D)78.5mm×(H)8.0mm
Weight
62g(max.)
60(max.)
Energy consumption efficiency
0.0016W/GB
0.0025W/GB
0.0033W/GB
Shock
resistance
Operating
4,900m/ s2 (500G,2msec)
Non-operating
14,700m/ s2 (1,500G,1msec)
One Gigabyte (1 GB) means 109 = 1,000,000,000 bytes using powers of 10. A computer operating system, however, reports storage capacity using powers of 2 for the definition of 1 GB = 230 = 1,073,741,824 bytes, and therefore shows less storage capacity. Available storage capacity will also be less if the computer includes one or more pre-installed operating systems, pre-installed software applications or media content. Actual formatted capacity may vary.
| | |
| --- | --- |
| | Information in the news releases, including product prices and specifications, content of services and contact information, is current on the date of the press announcement,but is subject to change without prior notice. |