Stock Information
General Stock Information
| | |
| --- | --- |
| Ticker Code on the Tokyo Stock Exchange | 6502 |
| Stock Exchange Listings. | Tokyo Stock Exchange and Nagoya Stock Exchange |
| Authorized Number of Shares | 1 billion shares |
| Number of Shares Issued | 433,137,955 shares (As of March 31, 2022) |
| Minimum Trading Unit | 100 shares |
| Total Number of Shareholders | 228,187 (As of March 31, 2022) |
| Shareholder Registration Agent | Sumitomo Mitsui Trust Bank, Limited |
| Fiscal Year | April 1 to March 31 |
| Shareholders' Meeting | June |
Shareholders
Major Shareholders (Shareholding ratio)
(As of March 31, 2022)

| Name of Shareholder | Number of shares (in thousands) | Shareholding ratio (percentage) |
| --- | --- | --- |
| The Master Trust Bank of Japan, Ltd. (Trust Account) | 49,973 | 11.6 |
| SUNTERA (CAYMAN) LIMITED AS TRUSTEE OF ECM MASTER FUND | 20,000 | 4.6 |
| CHINOOK HOLDINGS LTD | 15,392 | 3.6 |
| Custody Bank of Japan, Ltd. (Trust Account) | 15,300 | 3.5 |
| 3D INVESTMENT VALUE MASTER FUND | 14,623 | 3.4 |
| BCSL CLIENT RE BBPLC NYBR | 12,569 | 2.9 |
| The Dai-ichi Life Insurance Company, Limited | 11,515 | 2.7 |
| Nippon Life Insurance Company | 11,035 | 2.6 |
| GOLDMAN SACHS INTERNATIONAL | 11,003 | 2.5 |
| MSIP CLIENT SECURITIES | 10,683 | 2.5 |
(Notes)

For the purpose of calculation of shareholding ratio in the above table of principal shareholders, treasury shares are excluded from total number of issued shares (denominator).
The change report on large volume holdings offered for public inspection on June 1, 2018 notes that, as of June 1, 2018, Farallon Capital Management L.L.C. and CHINOOK HOLDINGS LTD jointly held 350,398K shares (ratio of stock certificates, etc. held: 5.37%) as shown below. As the Company cannot confirm the beneficial ownership or number of shares held by Farallon Capital Management L.L.C. and CHINOOK HOLDINGS LTD as of the end of the current fiscal year, Farallon Capital Management L.L.C. is not included in the above table and data for CHINOOK HOLDINGS LTD stated in the above table is based on the details of the shareholder registry. The number of shares referred to in this note is the number of shares prior to share consolidation in October 2018.

Name of company
Number of stock
certificates, etc. held
(in thousands)
Ratio of stock
certificates, etc. held
(percentage)
Farallon Capital Management, L.L.C.
138,475
2.12
CHINOOK HOLDINGS LTD
211,923
3.25
Total
350,398
5.37

The change report on large-volume holdings offered for public inspection on March 4, 2021 notes that a total of 11 companies as noted in the table below, including BlackRock Japan Co., Ltd., held 23,720K shares as of February 26, 2021 (percentage of stock certificates, etc. held: 5.21%). However, as the Company was unable to confirm the beneficial ownership or number of shares held as of the end of the fiscal year under review, these companies are not included in the table above.

Name of company
Number of stock
certificates, etc. held
(in thousands)
Ratio of stock
certificates, etc. held
(percentage)
BlackRock Japan Co., Ltd.
4,124
0.91
BlackRock Advisers, LLC
455
0.10
BlackRock Financial Management, Inc.
631
0.14
BlackRock Investment Management LLC
482
0.11
BlackRock (Netherlands) BV
782
0.17
BlackRock Fund Managers Limited
850
0.19
BlackRock Asset Management Canada Limited
517
0.11
BlackRock Asset Management Ireland Limited
1,676
0.37
BlackRock Fund Advisors
5,725
1.26
BlackRock Institutional Trust Company, N.A.
7,625
1.67
BlackRock Investment Management (UK) Limited
848
0.19
Total
23,720
5.21

The report on large-volume holdings offered for public inspection on April 2, 2021 notes that 3D Investment Partners Pte. Ltd. held 32,791K shares as of March 29, 2021 (ratio of stock certificates, etc. held: 7.2%). However, as the Company was unable to confirm the beneficial ownership or number of shares held as of the end of the fiscal year under review, 3D Investment Partners Pte. Ltd. is not included in the above table.
The change report on large-volume holdings offered for public inspection on March 31, 2022 notes that Effissimo Capital Management Pte Ltd. held 42,868K shares as of March 24, 2021 (ratio of stock certificates, etc. held: 9.90%). However, as the Company was unable to confirm the beneficial ownership or number of shares held as of the end of the fiscal year under review, Effissimo Capital Management Pte Ltd. is not included in the above table.
The change report on large-volume holdings offered for public inspection on May 16, 2022 notes that Barclays Bank PLC and Barclays Capital Securities Limited jointly held 20891,K shares as of May 9, 2022 (ratio of stock certificates, etc. held: 4.82%). However, as the Company was unable to confirm the beneficial ownership or number of shares held as of March 31, 2022 by Barclays Bank PLC and Barclays Capital Securities Limited, the data stated in the table below is based on the details of the shareholder registry.

Name of company
Number of stock
certificates, etc. held
(in thousands)
Ratio of stock
certificates, etc. held
(percentage)
Barclays Bank PLC
15,476
3.57
Barclays Capital Securities Limited
5,414
1.25
Total
20,891
4.82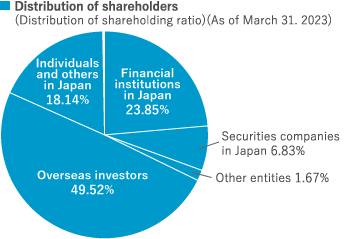 Shareholding Ratio by Category:(As of March 31, 2022)
Category
Status of share (100 shares per share unit)
Status of share below
the share unit
Government and
local public entities
Financial
institutions
Securities
companies
Other
entities
Overseas entities
and others
Individuals
and others
Total
Other than
individuals
Individuals
The number of
shareholders
-
62
67
1,284
752
299
183,799
186,263
-
Shares
(Share unit)
-
1,114,870
120,310
69,315
2,279,377
1,415
729,912
4,315,199
1,618,055
Ratio of
share unit
(Percentage)
-
25.84
2.79
1.61
52.82
0.03
16.91
100.00
-
(Notes)

The number of treasury stock of 489,871 is described in 4,898 share units in "Individuals and others" and in 71 shares in "Status of share below the share unit"
23 share units registered by the name of Japan Securities Depository Center, Incorporated are included in "Other entities" above.
Stock Split
The latest stock split (including free distribution of shares) was on Nov. 21, 1983.
Equity-Linked Financing
Convertible Bonds (As of Jun. 2022)
None
Stock Price Information
(¥)
Stock price trends for the past 5 years (Fiscal year)
2018/3
2019/3
2020/3
2021/3
2022/3
High
347
3,980
(355)
4,030
4,010
5,245
Low
193
2,842
(284)
1,982
2,301
3,825
Note: The prices for the fiscal year ended March 2019 are those after the share consolidation in October 2018, and the prices before the share consolidation are also described in the brackets.
This Web site contains projections of business results, statements regarding business plans and other forward-looking statements. This information is based on certain assumptions, such as the economic environment, business policies and other factors, as of the date when each document was posted. Actual results may differ significantly from the estimates listed here.