Toshiba Group Management Policy
(Challenges and Solutions)
Toshiba Group's Challenges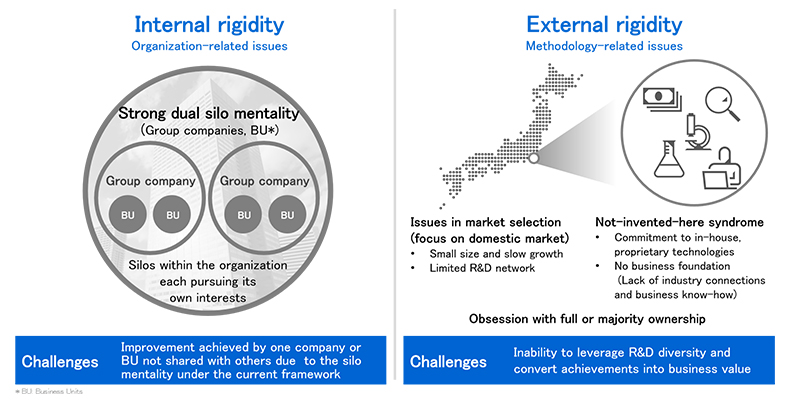 Toshiba's challenges in achieving the goal are two rigidities.
The entrepreneurial spirit within Toshiba has led to many successes, as the company has challenged itself in one new area after another.
However, over time, many successful businesses have become confined within their own business units.
What was once the right business unit at the time of its inception is no longer relevant in today's digitalized, service-oriented age.
This is "internal rigidity."
The appeal of Toshiba is its ability to develop technologies that are completely new to the world. There are many world firsts that originated from Toshiba.
However, Toshiba has not fully capitalized on the business seeds.
Toshiba tries to do everything by itself.
However, today is the age of ecosystems and platforms. Rather than launching a completely proprietary technology solely on its own, Toshiba can leverage its ecosystem to launch a business at an early stage, thereby greatly expanding its corporate value.
This is "external rigidity."
Approaches to Resolving Corporate Challenges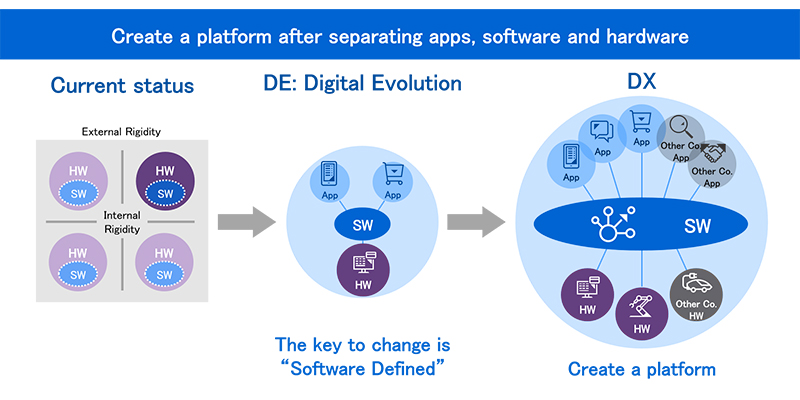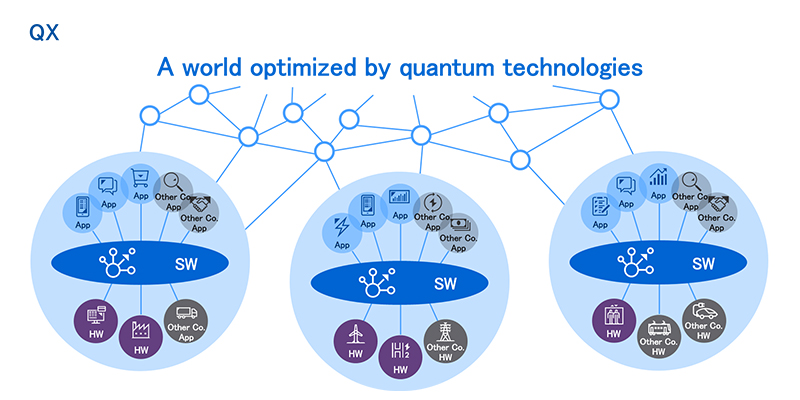 We will resolve internal rigidity, through Software Defined Transformation.
Currently, the product is developed in a vertically divided organization, and the software is incorporated into hardware.
To take this to the Digital Evolution (DE) stage, it is important to separate the software from the hardware.
This will make it possible to add a variety of applications, which will generate new services, as well as to enhance recurring or SaaS business. These will contribute greatly to making the business more profitable.
By standardizing this next layer of software, it will be possible to connect to other companies' hardware, making it possible to create a platform.
Once this is done, services can be greatly expanded, and the scale-free network that will be formed here will enable data-centric service development. This is the second stage of DX. It will be an extremely asset-light and scalable business model, allowing for exponential growth.
Beyond that, various platforms made under DX stage will emerge, and a quantum world of Quantum Transformation (QX) will emerge, in which optimal solutions are identified from a complex interplay of platforms.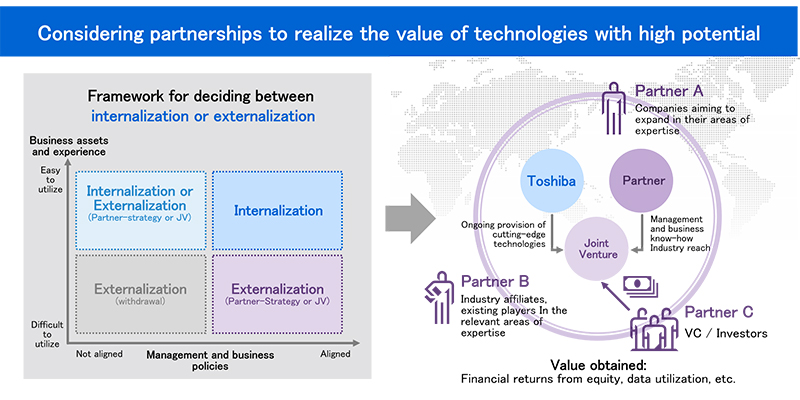 Toshiba's strength lies in its diversity in development.
In the past, the company has created and introduced products that have never existed before by combining technologies in many areas.
However, Toshiba has not fully capitalized on these business seeds.
We will promote measures to ensure that the high-potential technologies are manifested as value as quickly as possible.
If we determine that value can be realized at an early stage through collaboration with external parties, we will consider using partners such as companies seeking to expand their business in that specialized field or existing players in that field.
As a result, we believe that a variety of value can be obtained, including data utilization and financial returns.
This Web site contains projections of business results, statements regarding business plans and other forward-looking statements. This information is based on certain assumptions, such as the economic environment, business policies and other factors, as of the date when each document was posted. Actual results may differ significantly from the estimates listed here.