Toshiba Group Management Policy
(Mid-to-Long Term Target)
Toshiba Group Mid-to-Long Term Target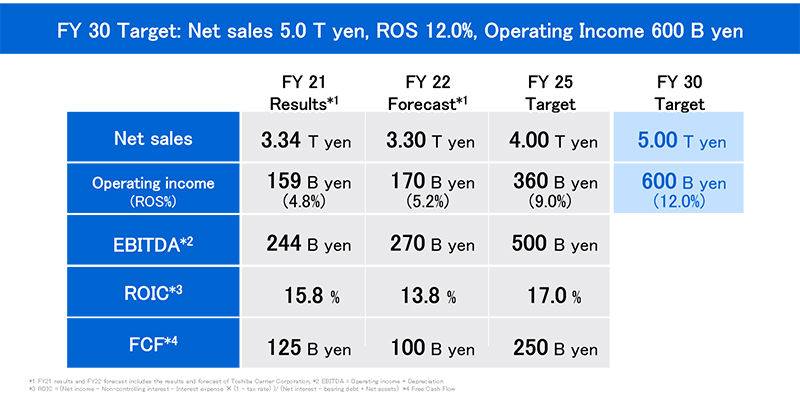 The target for FY25 is net sales of 4.0 trillion yen, operating income of 360 billion yen, operating income margin of 9.0%, EBITDA of 500 billion yen, ROIC of 17%, and free cash flow of 250 billion yen.
For FY30, we target to achieve net sales of 5.0 trillion yen, operating income of 600 billion yen, and an operating income margin of 12.0%.
Plan by Functional Classification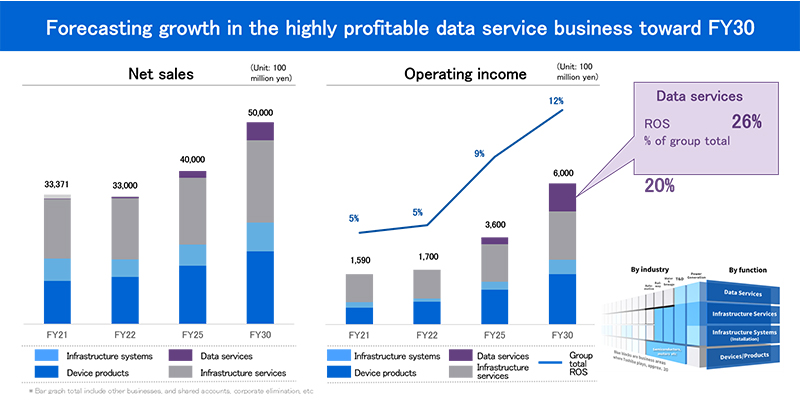 Toward FY30, we aim to transform ourselves to a company with a data service as the pillar that generates our earnings.
In the area of data services, we plan to achieve extremely high profitability with an operating income margin of 26%, and we expect it to generate approximately 20% of the company's operating income.
This Web site contains projections of business results, statements regarding business plans and other forward-looking statements. This information is based on certain assumptions, such as the economic environment, business policies and other factors, as of the date when each document was posted. Actual results may differ significantly from the estimates listed here.