Toshiba Group Management Policy
(Vision)
Toshiba Group's Vision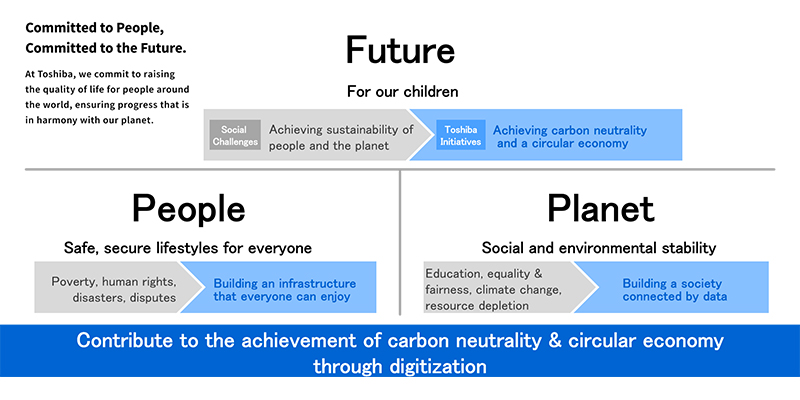 Toshiba Group commits to raising the quality of life for people around the world, ensuring progress that is in harmony with our planet.
People:
it is important to first protect the safety and security of everyday life of each individual. It is to make a world without poverty, disasters, or conflicts. Toshiba will "build an infrastructure that everyone can enjoy."
Planet:
Once "People" is satisfied, the next step is to consider "Planet." Realization of social and environmental stability becomes the next important step, and Toshiba aims to "build a society connected by data."
Future:
Once the society is further stabilized, we will move on to consider the "Future." In other words, the greater question becomes the future of our children and the sustainability of people and the planet. What Toshiba can do and should do is to "realize carbon neutrality and circular economy."
Toshiba Group will contribute to the achievement of carbon neutrality and circular economy through digitization.
Evolution of the Digital Economy and Changes in the Business Environment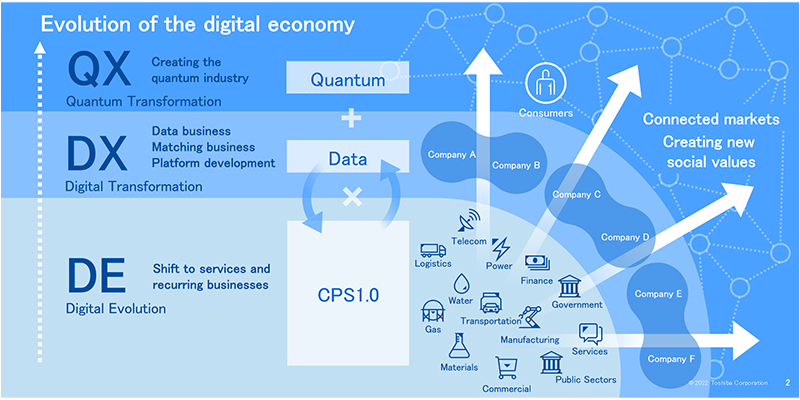 An important means to realize the vision is "Digital".
Along with the evolution of the digital economy, new social value will be created in the future having various companies get connected across industrial boundaries.
Toshiba has identified its DE, DX, QX strategy to accommodate itself to those changes.
The first stage of its development is the digital evolution (DE) where it enhance service and recurring business.
Then, the digital transformation (DX), which is a stage to build platforms.
We will further develop this into a Quantum Transformation (QX), a quantum world where various platforms are connected across industries.
This Web site contains projections of business results, statements regarding business plans and other forward-looking statements. This information is based on certain assumptions, such as the economic environment, business policies and other factors, as of the date when each document was posted. Actual results may differ significantly from the estimates listed here.