Market Positions
Toshiba promotes "decarbonization" with strong track records and high technological potential. In related areas, Toshiba has the following top-share businesses and the world's No. 1 technologies.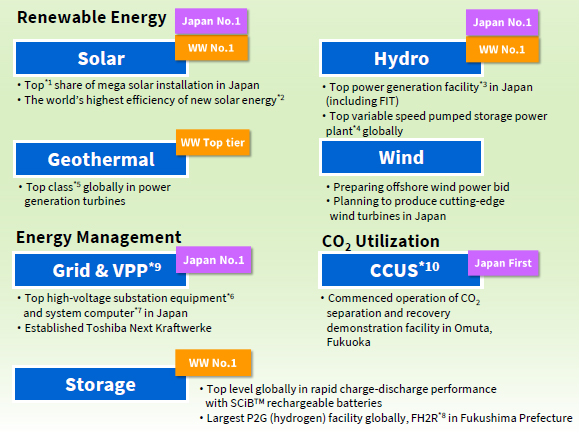 *1: EPC operators with capacity of exceeding 2MW which launched operations by May 2019 (Source) RTS Corporation
*2: Perovskite solar panel; biggest in size and highest efficiency among film-based modules
*3: Based on the number of units, (Source) Toshiba
*4: Based on the number of plants, (Source) Toshiba
*5: Based on facility capacity, (Source) Toshiba
*6: Voltage of over 154kV, (Source) Toshiba
*7: Load dispatching center system, (Source) Toshiba
*8: Fukushima Hydrogen Energy Research Field (technology development project with NEDO (New Energy and Industrial Technology Development Organization), Tohoku Electric Power Co., Inc., Iwatani Corporation, Tohoku Electric Power Network Co., Inc., and Asahi Kasei Corp.)
*9: Virtual Power Plant
*10: Carbon dioxide Capture, Utilization and Storage
This Web site contains projections of business results, statements regarding business plans and other forward-looking statements. This information is based on certain assumptions, such as the economic environment, business policies and other factors, as of the date when each document was posted. Actual results may differ significantly from the estimates listed here.